5 Ways to Connect with your Teen Sons
When I was a teenager, I always wanted to be with my parents. Believe me – I know it's not always like this, but it's true – I just genuinely always wanted to be with them. They were fun. They were cool. And (thank goodness) they loved to be with me as much as I loved to be with them. Now that I have 2 teenagers – and BOYS – I'm in the same position my parents were in so many years ago with me. But here's the big difference, times have changed. There weren't cellphones years ago showing me what I was missing out on with my friends. There wasn't the great wide world of the internet with millions of videos distracting me around the clock. There weren't video games that took all of my attention away from my parents. Teens today are dealing with a heck of a lot more "things" than I was years ago. It's actually crazy to think just how different it is nowadays.
5 Ways to Connect with your Teen Sons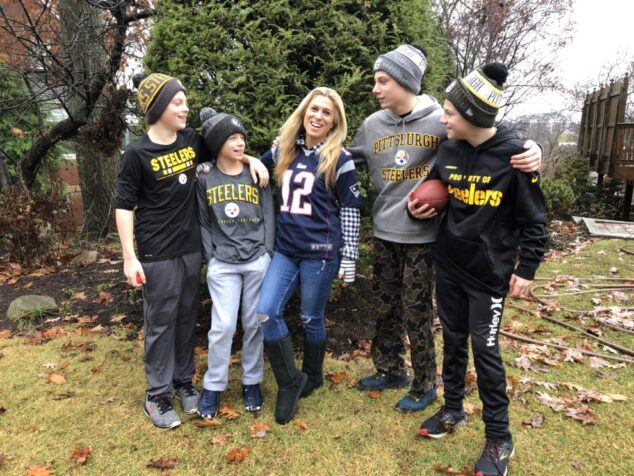 But there's one truth – I still want to connect with my teens. It's that simple and it's that important.
So how can you connect? What can you do? I'm sharing 5 Ways to Connect with your Teen. Now listen – I'm not proclaiming to be an expert by any stretch of the imagination. I'm sharing with you what I'm doing and (so far) it's working. It's not easy either – teens can be moody – I'm just being mad real here. You need to know when to push and when it let go. I really want to be close with my sons. I want them to know I'm here for anything, but I also want them to know that they can have fun with me, too. I want them to see me as someone that they want to be around, not someone that they want to escape from every single second that they can!
5 Ways to Connect with your Teen Sons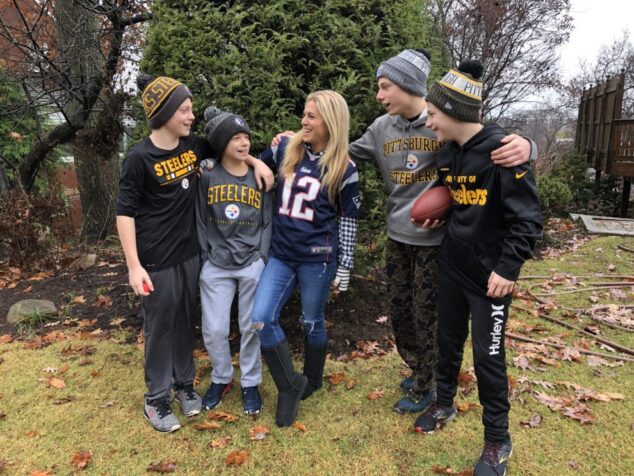 1) FIND COMMON INTERESTS – We're a football family. We all love football and it's something that really does connect us all. Here's the only thing. My sons are Steelers fans and I'm a Patriots fan. This actually helps us out because it makes us connect on a funny level, too. We love to egg each other on during game days. It's hilarious to see their faces when I come downstairs for games in head to toe Patriots gear! It drives them crazy, but it's a good crazy. We watch the games together and scream and shout and laugh. It's a wonderful way to connect because nobody is on their phone, we're all there – watching and eating and enjoying! It's fantastic! I actually look forward to game days because it's turned into family day!
2) CAR RIDES – I hear more about my son's day while we're driving in the car together. The second they walk through the door I get one word answers. How was your day? "Good." What did you do today at school? "Nothing." OK… ! But when I'm in the car with one of them – one on one – driving it's like a vessel has been opened up. It's a great way to connect with your teen. You can ask questions and I think because you have the distraction of the road and movement it's easier for them to open up. I actually crave car rides with the boys because I know it's going to be a great update!
3) FAMILY DINNERS – When we have dinner – it's all of us together. I'm a stickler on this. We actually wait till 8PM every single night to eat dinner because I want everyone to eat together. It's important for me to see everyone together and talk about stuff. I want the kids to be engaged and talking and laughing. I love sitting with everyone and being fully in the moment with them. No cellphones at dinner. Everyone needs to be tuned into the conversation and I STILL go around and ask them their favorite part of the day. I know it's silly because they're so "old" now – but I just pretend we're doing it for their little sister!
4) MAKE THE TIME – I know this one thing about being a parent now – kids like to know you're making time for them. It's a simple truth, but it's important. When my teen sons see me at the bus stop waiting for them or a note in their lunch… they know that I'm thinking about them. I try my hardest to always make the time. Whether it's showing them little ways that I love them – packing their backpack, staying up with them while they're finishing homework, driving them to school because they missed the bus – whatever it is – making the time is connecting. It's being present. It's being there. This is one thing that we can all do. We're all busy, but just even watching a movie together on a Friday night – THAT is important.
5) I LOVE YOU – 3 simple words. I say it ALL the time. I say it so much it probably drives them cra-zy! But I do… I feel like them hearing these 3 simple words all the time, it helps. It makes them know and feel and see and hear it over and over again. When you want to connect with someone, you want to show them you care and saying I LOVE YOU lets them know that to the core. It's also wonderful that they still say it back to me – in the morning, before bed and when I'm heading off on a business trip. Hugging and kissing your kids and saying I love you connects you to them.