Messy Bun with Braid is probably the simplest and easiest hairstyle to rock on a little girl. There, I said it.  When I was a little girl I used to love to do my little sister's hair. I would do pigtails. I would do french braids. I would do buns and twists. She used to let me sit and play with her hair while she watched TV. I used to pretend I was a hairdresser and she was my client coming to get something fabulous done to her hair! Those memories make me smile so much! As soon as I had Victoria, I thought – "history can repeat itself!" I'm going to be totally honest here – I'm not great at doing my own hair.
I definitely need some help on the hair level. I can curl and straighten my hair, but that's about it. I can't do anything other than that on it. It kills me because I have the love of hair, but I'm limited on myself. Victoria on the other hand, she has the most gorgeous hair of all! I love brushing her hair and doing some fun and different things to it. This weekend I attempted a hairstyle I saw while we were shopping last week – messy bun with side braids. I don't know what else to call it, but it's such a cute hairstyle and when I saw this little girl rocking this hairstyle – I knew I needed to try it on Victoria!
Messy Bun with Braid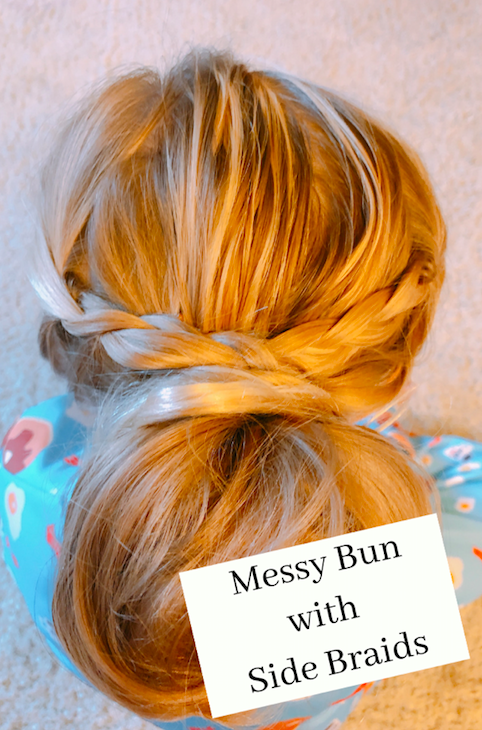 As much as I love playing with Victoria's hair, it's not always easy for me. She doesn't like to sit still. She doesn't like to wait for the full hairstyle to be complete. And she definitely needs to be doing something. I started giving her my iPhone or iPad so she can be distracted. She has snarly hair, so it always take me a bit of time to get it smooth and brushed first! She HATES this part, so I'm always trying to distract her as much as can be. It doesn't matter what style I'm doing, she doesn't love to sit still. What I love about this style is that the Messy Bun with Braid is quick and easy to create! I mean – lightening speed fast!
What you need for Messy Bun with Braid:
1) Bobby Pins (I use 4)
2) Brush
3) Hair Elastic (I use 2)
4) Leave-in Conditioner
I created a short hair tutorial video, but I will also write out the directions below the video, too!
Messy Bun with Braid TUTORIAL
How do you create the Messy Bun with Braid?
1. Part the hair in 3-sections. Make the middle section the thickest because this will be where the messy bun is created from for the hairstyle.
2. Take the middle section and actually go ahead and create a messy bun. Just toss the hair up in a quick bun, not caring if pieces fall or not!
3. Then take both of the smaller sections and decide what one you want to go with first. Regardless of what one you chose, start braiding the section straight back. It's going to be tucked into your bun, so pull back as you braid to the bun.
4. Once the braid touches the bun, take a bobby pin and pin it into the bun.
5. Repeat the same steps on the other side.
6. If you have any leftover hair hanging down, just take a bobby pin and add it into the bun.
*Remember – the bun is supposed to look messy, so don't worry about any hair and strands hanging over!
Check out more of our hairstyles on our Instagram page!
Easy as can be!! Hope you enjoy this hairstyle on yourself or your little girl!!!
I'm all about creating some fun looks on my daughter's hair! Check out how we do some Dutch Braids, too!