We went on our 1st SKI TRIP this past weekend and had the time of our life!! It was incredible to be on the slopes with my kids and really enjoy this incredible experience. When we were invited to head to Mount Snow – the first thing I thought about was WHAT TO WEAR SKIING? I mean – we don't ski. We play in the snow. We sled with our family. We go on walks when it's cold. But skiing? That's just not in our wheelhouse. I reached out to a bunch of my friends and family to see what to wear skiing and everyone pretty much gave me the same answer (which was comforting).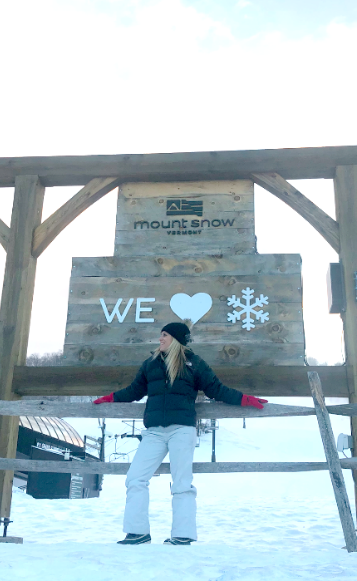 What to Wear Skiing
First things first – you need to think warmth here. You need to make sure you're bundled up and can withstand the hours of being out on the slopes. Sure you can come in and enjoy a cup of hot cocoa every now and then, but you really need to make sure you're wearing clothing that will keep you warm on the chairlifts, the slopes and waiting in line before you actually get on the chairlifts! There's lots to think about and these are things you genuinely need to keep in mind whenever you're on the slopes. It's not just like heading out front to play in the snow… it's actually SKIING up and down the mountain and trying to keep every single ounce of your covered and warm.
Dare I say it when it came to What to Wear Skiing – my mission was accomplished! I hit it out of the park because the kids actually asked me if they could take layers off!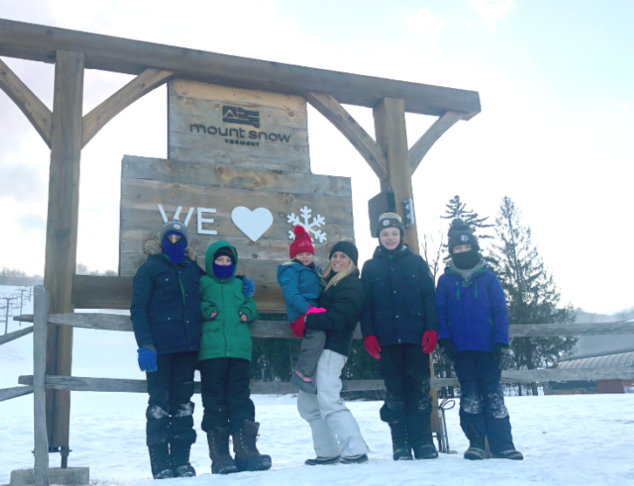 What to Wear Skiing – Base Layers
First things first, you need base layers. I found some base layers (top and bottom) at Target for $10 for the set. I couldn't believe it, I think I hit a really good sale – but all in all – you can get base layers for under $20. You want to make sure you get sizes that fit your kids perfectly. You don't want them too big or too small. You want the layers to really fit because this will be the base layer of all of the ski clothes.
What does base layer mean?
In the most general sense, a base layer is a layer of clothing. It could be a t-shirt, long-sleeved top, or leggings. Most base layers are worn next to the skin or close to the skin, as in a system of wearing one base layer over another. To work effectively, base layers should fit snugly on your body.
What to Wear Skiing – Mid Layers
After you've out on your base layers, you want to make sure you have a comfortable mid layer, too! I suggest wearing sweatpants or a sweatshirt or a fleece (top and/or bottom) over your base layers. I had all of my kids (and myself) wear a sweatshirt and sweatpants over the base layers. These were to protect them against any additional cold weather while on the mountain. I've skied before freezing cold, it's not fun and I just wanted to go into the lodge. Since this was the first time skiing with my kids – I wanted to make sure they were perfectly covered and comfortable and comfy in their clothes. Make sure these layers fit you well, too! You don't want anything hanging off of you either!
What to Wear Skiing – Outer Layers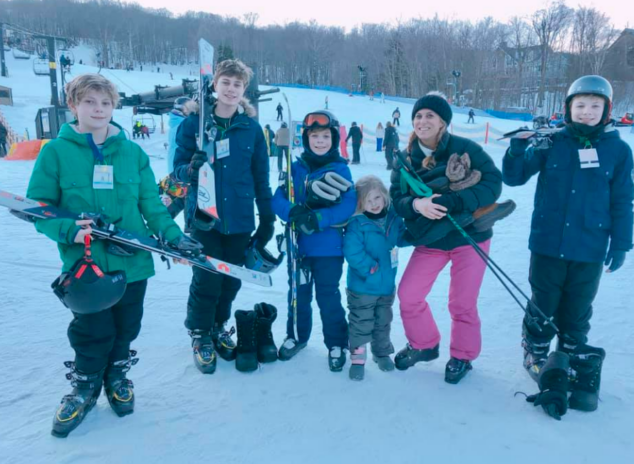 This is where it gets REAL! There's a checklist you need to make sure you keep in mind while you're dressing yourself in your final outer layer:
1) Socks. Thin, warm, long socks made from wool are the best option for skiing and snowboarding.
2) Winter jacket with down. I'm telling you – you want to make sure you're wearing a WINTER COAT, not a one-layered toss on coat. You want this coat to be like a pillow wrapped around you.
3) Ski pants – bib or no bib.
4) Fleece neck warmer. You want to make sure you're wearing something to protect your neck because it gets cold! REAL REAL cold out there.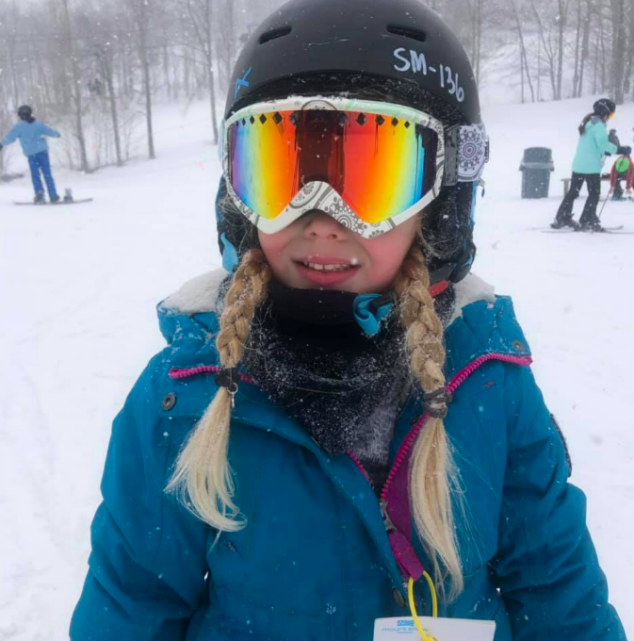 5) Heavy ski gloves. DO NOT wear mittens like my kids wanted to wear! No No No! You want to make sure you're wearing insulated gloves! I had my daughter and sons wear a pair of regular gloves underneath, which helped with a little extra warmth.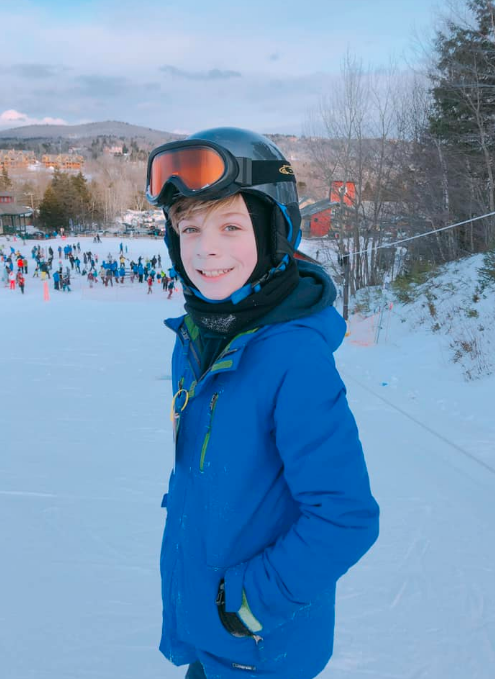 6) Goggles to protect your eyes, especially if it's snowing!
7) Helmet (neck warmers come with a hood now, which add as an extra layer under the helmet!).
And that's it!! See – What to Wear Skiing – there's a lot, but it's doable. I reached out to friends and family and borrowed items. I also was able to find some amazing things locally at Target and BJ's. The best part is too that you can rent helmets and skis and ski boots… so this piece of the equation is taken care of if you want to take that route.
Love for you to PIN AWAY (pretty please)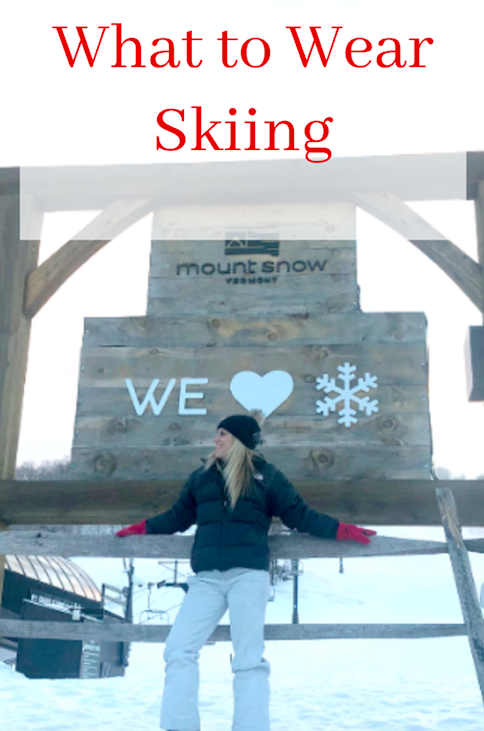 Check out our 1st time experience SKIING AT MOUNT SNOW in Vermont!!