With teens in the house, I've been on top of the best face wash for teens for awhile now. Teens and skin can be a tough topic, but it's one that needs to be addressed. I don't know about your teens, but my teens follow a skincare routine every single night.
Best Face Wash for Teens
I'm BIG on making sure faces are washed and creams/ointments are put on, too. I think it's important to get your kids started early about proper skincare because right now is when teen acne can really start to creep up.
When I was in high school I started to get pretty bad acne during my sophomore year. I remember my forehead breaking out like crazy. It was so bad for me that I cut bangs, just so I could avoid having people look at them.
I remember my mother taking me to a dermo and having him walk me through a solid plan for my skin. I had never really had a skincare routine and it (literally) changed everything for me.
Now that I'm a mother myself, I want to try and nip any unnecessary acne in the bud now. I know I can't actually eliminate pimples for my sons, but I can teach them proper skincare routines in maintaining and taking care of their skin.
As they get older and hormones are changing, skin changes. You get oil build up or dry skin and it's tough on kids. I know for my sons that each of them seem to have different skin types, so this is something that I want them to be aware of, too.
My big rule of thumb for my sons is face washing. They need to wash their faces at night and get off away dirt or oils or anything "yucky" that might be lurking. My kids are big athletes, so they're always sweating, too.
It's important for them to have clean skin, so we're all about identifying the best face wash for teens. Your teen's skin is different than your skin, so you want to make sure they're using the best products for their own skin.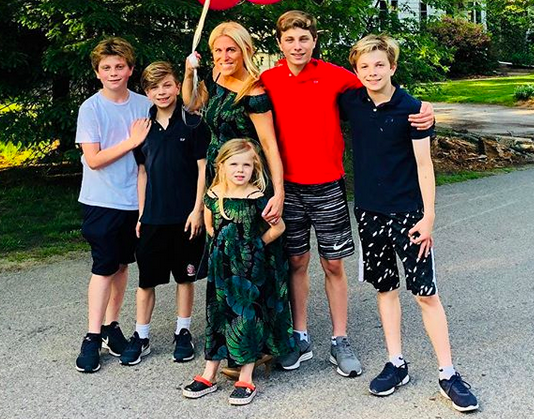 When it comes to finding the best face wash for teens, my advice is to try and try and try again. You want your teen to feel comfortable with what they're using and to actually like what they're using.
There's different textures and odors and consistencies with face washes. I'm someone who hates anything that's too foamy. I make sure not to ever get anything like that for my own skin.
These are (for my sons) the Best Skincare Routine for Teens:
Clean & Clear Morning Burst Facial Cleanser – My sons use this one every single morning. It actually (I swear) gives your skin a morning boost! It's pretty incredible. They've been very happy with it and it doesn't dry their skin out or anything like that.
8-fl. oz of Clean & Clear Morning Burst Facial Cleanser with vitamin C & ginseng to cleanse skin
Daily face wash that nourishes skin while removing dirt, oil & impurities that build up overnight
Its unique oil-free formula is made with vitamin C and ginseng for a burst of energy and vitamins
Daily face wash contains BURSTING BEADS® to help gently remove dead skin cells & cleanse skin
Its invigorating citrus fragrance features grapefruit and ginger extract to energize your senses
Cetaphil Daily Facial Cleanser – This is a great option, too. Our doctor had recommended this face cleanser, too.
Designed for normal to oily skin
Removes excess oil without drying
Rinses clean for an all-day fresh feeling
Non-comedogenic and fragrance-free
Neutrogena Ultra Gentle Daily Foaming Facial Cleanser – This one is a new product. I love the fact that it's gentle. Teen skin can be very fragile, so it's important to make sure you're bringing in gentle products.
12-fl. oz bottle of NEUTROGENA® Ultra Gentle Daily Cleanser for gentle, daily facial cleansing
Face wash effectively cleanses skin while protecting its natural moisture barrier
Our effective yet gentle face cleanser helps thoroughly remove excess oil, dirt and makeup
Gentle foaming cleanser is designed specifically for sensitive skin & skin conditions
Unlike other cleansers that can leave behind residue, this daily face wash rinses completely clean
CeraVe Foaming Facial Cleanser – My mother in law swears by CeraVe, so when I saw this facial cleanser I tried it for myself. I loved that it was soft and gentle and felt good on my skin. I've let the boys use it and they've loved it, too.
CeraVe Foaming Facial Cleanser for Normal to Oily Skin has a unique formula with three essential ceramides (1, 3, 6-II) that cleanses and removes oil without disrupting the protective skin barrier.
The gentle foaming action refreshes and cleanses skin, including removing excess oils. CeraVe Foaming Facial Cleanser is formulated with hyaluronic acid to help retain skin's natural moisture and niacinamide to help calm skin.
Remember a teen skin routine is essential for them. You want to get them in a regular routine that will help their skin stay healthy and young and radiant.
I'm going to be sharing, too some of the best teen acne products for guys. I'm all about sharing what we love and what we use. It's essential to make sure you're sharing on the teen front because we're all in this together!