Are you ready for sweater weather? I know I am! I can't wait to start wearing some of my fun new sweaters that I've bought recently! I'm sharing with you my Old Navy Try On session with you on some of my fave sweaters from them. Old Navy's always a great standby when it comes to seasonal essentials. The prices aren't ever too crazy and the styles are truly always on-trend. They do a great job at making fashion accessible and fun.
Old Navy Try On: It's Sweater Weather
I love these Try On series, I did one a H&M Fall Try On and a Kohl's Try On recently and people loved that I was sharing the clothing up close and personal, not just a screenshot of items. I figured I would do these as much as I possibly could because it do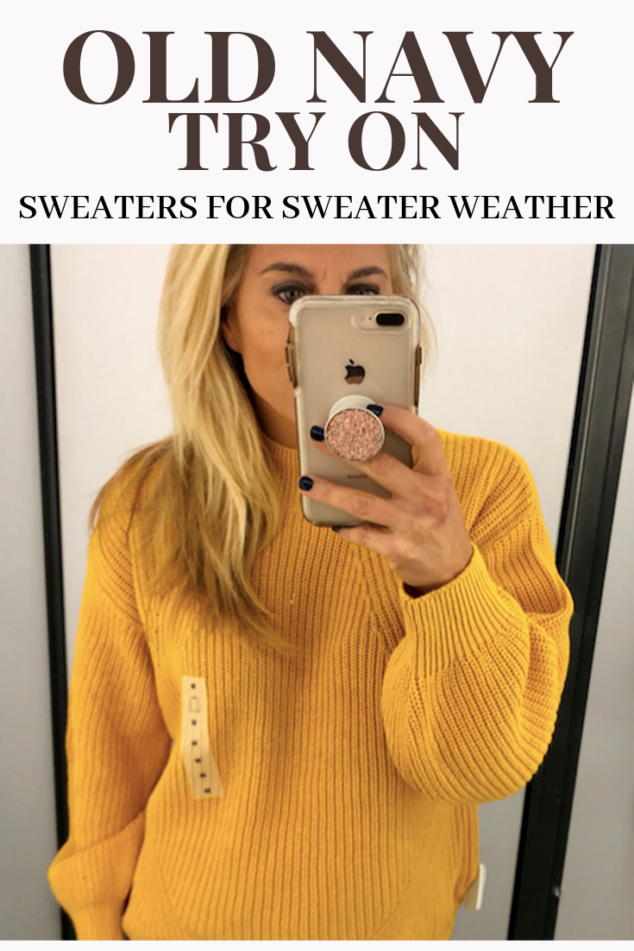 es help give a better gauge as to what you can and should be looking for when it comes to buying out there. It's not always easy!
Excited to be sharing my Old Navy Try On – sweater edition today with you! I'm telling you, everyone needs a new sweater for the season! Loving that Old Navy has so many beautiful options right now!
There are some beautiful classic styles right now over at Old Navy. The best part is that they're the kinds of sweaters you can wear a hundred different ways. You can wear with jeans, skirts, trousers, under blazers, on their own. You can really get some great fashion longevity out of it. That's my BIG thing when it comes to fashion – how many times can you wear it. You want to wear something more than once. Right?
I scoured Old Navy for some soft and cozy sweaters. I wanted colors that I could wear again and again. I wanted to make sure the style/cut worked for me, too. I love a fabulous sweater that's going to make me feel warm and toasty all season long. I love in Rhode Island, so warmth is a must. And I'm going to be honest with you, too – style is a must. If I can find both, it's a fashion win.
When it comes to my Old Navy Try On, I wanted to share that when I was shooting these (10/1), Old Navy was having a sale! I'm going to be mad real here – they ALWAYS have sales, so be on the lookout. This one was 30% OFF already sale prices! I'm getting these sweaters for $30 and under! These are major sweater scores and I love it!
Old Navy Try On HAUL
Look #1: Soft-Brushed Crew-Neck Sweater for Women – The second I saw this one, it looked soft. The second I felt it, I was in fashion love. It was super, duper soft and cozy! I almost felt as soft as cashmere (and I don't say that lightly).
Look out, there's a hot new color in town. Mustard is a must-have for fall. And paired with the soft-brushed yarn of this sweater, the result is one cozy latte-season staple. (OK, we made some other colors too, 'cause we don't feel like doing laundry all the time).
Rib-knit crew neck.
Long sleeves, with rib-knit cuffs.
Rib-knit hem, with vented sides.
Cozy, soft-brushed sweater-knit yarn, with comfortable stretch.
Fitting: I'm wearing a MEDIUM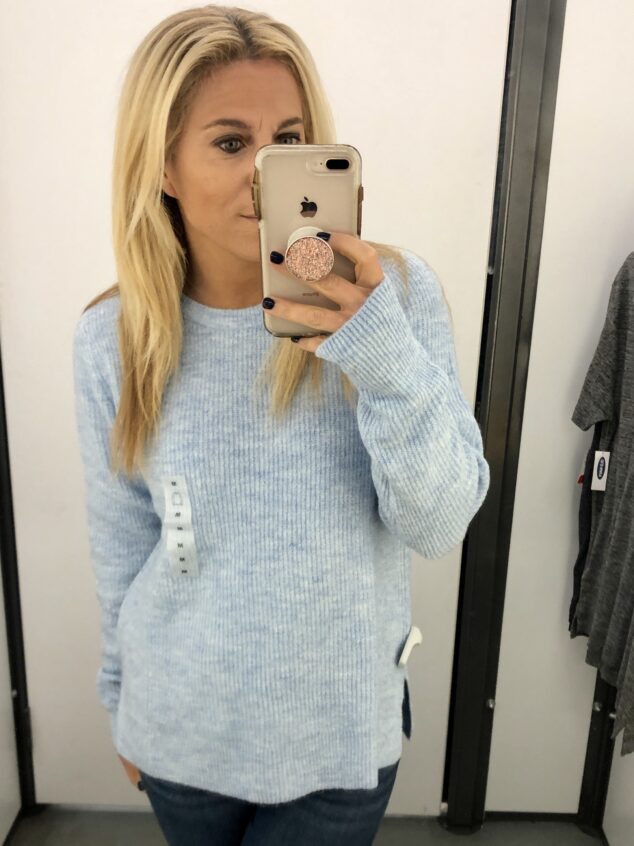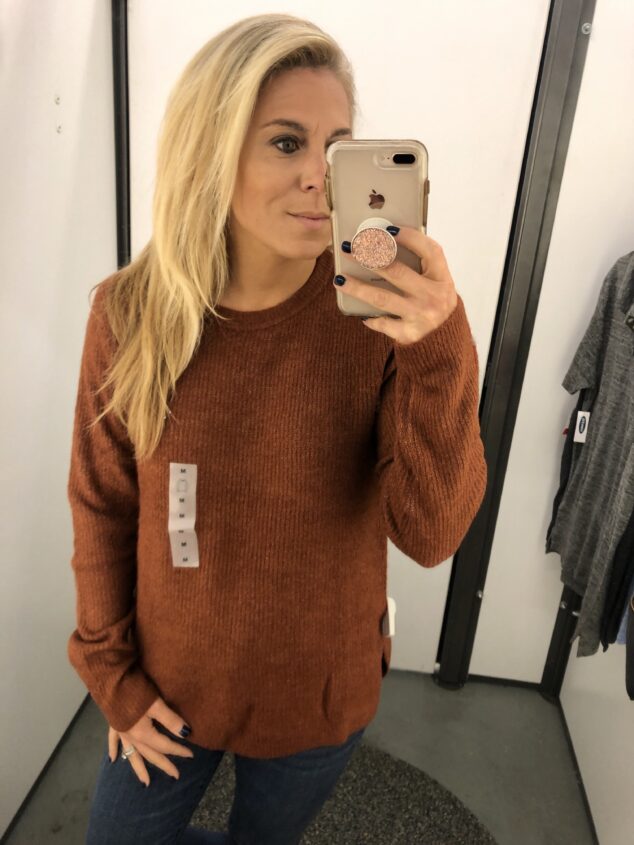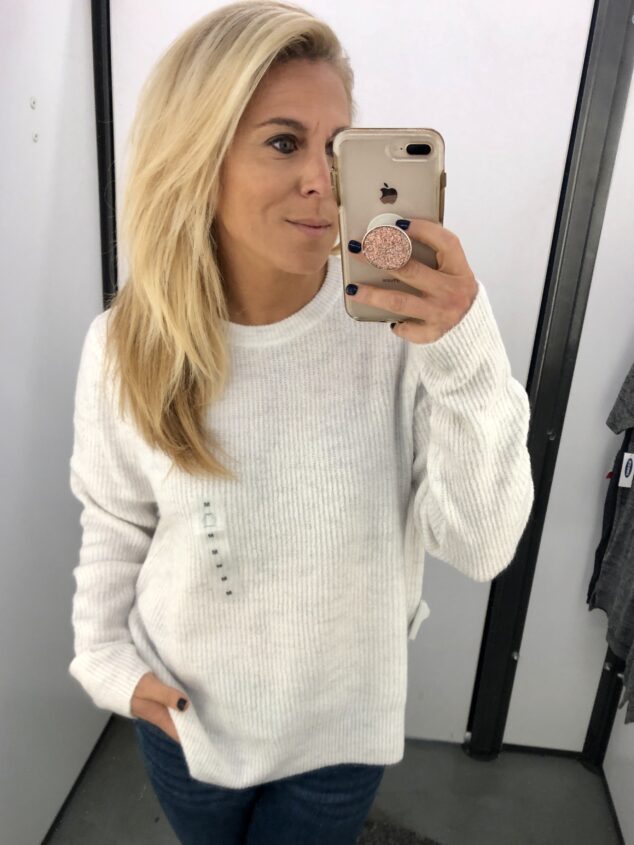 Look #2: Textured Mock-Neck Blouson-Sleeve Sweater for Women – I wasn't sure I was going to love these puffy sleeves, but I did! I love this sweater so much and I personally even love the color even more. I'm all about trying to go out of my color comfort zone this fall and winter, so I thought yellow would be fun. I think this one is really cute and can easily be dressed up or down!
Besides having the perfect on-trend look (all about that blouson sleeve), this mock-neck sweater has just enough cozy to take you into fall. You'll thank us when it gets chilly.
Rib-knit mock turtleneck.
3/4-length blouson sleeves, with rib-knit cuffs.
Hi-lo rib-knit hem.
Flattering directional rib-knit trim at bodice and along waist.
Soft, thick textured cotton-blend yarn.
FITTING: For reference, this is a MEDIUM.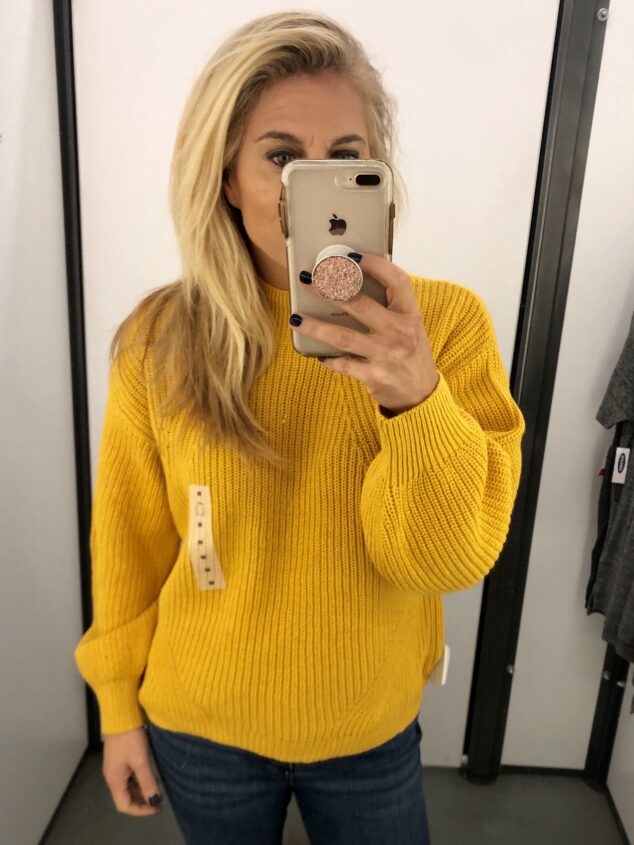 Look #3: V-Neck Shaker-Stitch Sweater for Women – I love this sweater because it reminds me of my fave sweater from when I was in high school. It's just versatile and beautiful. It also comes in a variety of colors, which I personally love because once you find a sweater that works – you just kinda want it in EVERY color imaginable anyway!
We have a vision… autumn strolls, drinks with whipped cream, your Netflix queue all lined up. You, this comfy sweater, and that cozy spot on the couch. A girl could get used to this.
V-neck.
Long blouson sleeves, with rib-knit cuffs.
Hi-lo rib-knit hem.
Soft, thick Shaker-stitch yarn.
Rainbow color only: 64% cotton, 31% acrylic, 5% polyester.
Salmon Pink & Terracotta color only: 86% acrylic, 9% nylon, 5% polyester.
FITTING: For reference, this is a SMALL.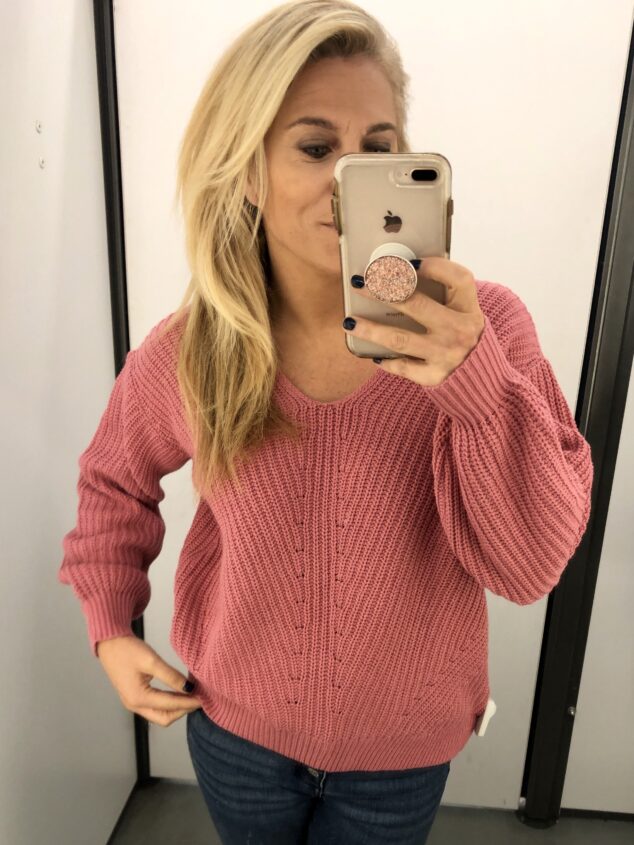 Recapping, click right on the one you love:
Let me know what you think!
I also have a Fashion Over 40 group that I would LOVE for you to join! I share trends and styles every single day in there, along with the best sales online for fashion. I fully believe that you can and should be able to look your best without breaking the bank. You want to feel confident and beautiful and you CAN! I hope my info helps! We have a ton of fashion fun in there!
Head on over to join here.