I'm just going to say it, I love a good holiday sweater. I'm always on the hunt for new ones each season because I feel that holiday sweaters really do make a good fashion statement during this time of year. It's all about spreading cheer and being festive and (let's face it) you can't get much more in the holiday fashion spirit than when you're wearing a holiday sweater.
10 Cute Holiday Sweaters
I started looking for some cute holiday sweaters right before Thanksgiving. I knew that with the holidays coming up soon, I wanted to make sure I had some holiday sweaters that were perfect for my holiday needs. I'm someone who isn't a huge fan of ugly holiday sweaters, so when it comes to finding the best ones – I ALWAYS gravitate towards cute (dare I say it) chic ones.
I found one particular sweater this holiday that really just spoke to me! I'm all about adding more red into my closet and really wanted to make sure I did what I could to do that very fashion need. I also love reindeer during the holidays because they're so iconic and so beautiful. My daughter loves to sing Rudolph, so whenever she has the opportunity – she takes it! I knew when she saw my sweater she'd be ALL OVER the song!
Here's my favorite holiday sweater this season: Dearlovers Holiday Sweater!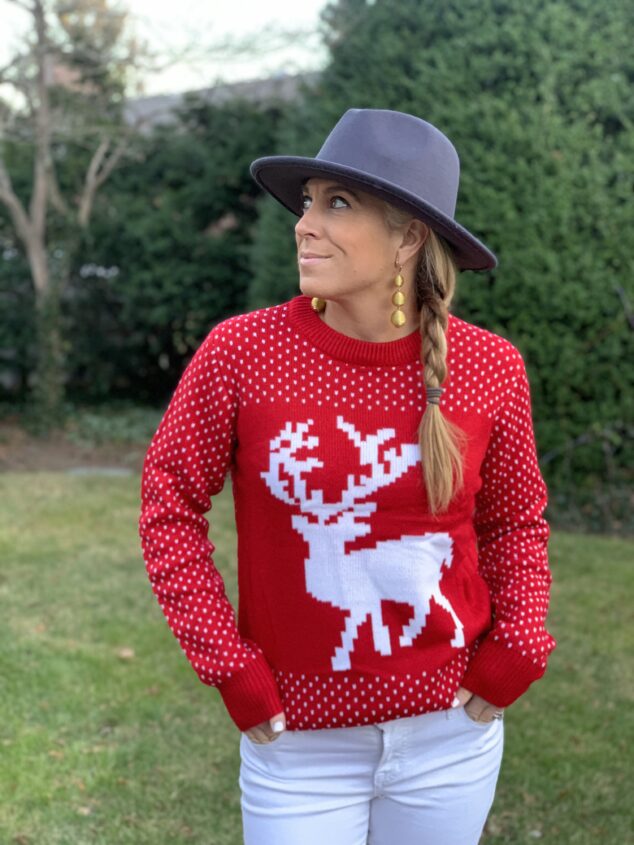 Let me breakdown the features on this Holiday Sweater:
80%Acrylic 20%Nylon

Imported

Dearlovers Womens Reindeer Christmas Knit Sweater Pullovers

Holiday Christmas Sweaters Features Festive Reindeer and Christmas Tree Pattern

Round Neck Long Sleeve Winter Sweaters for Women
Small – XXL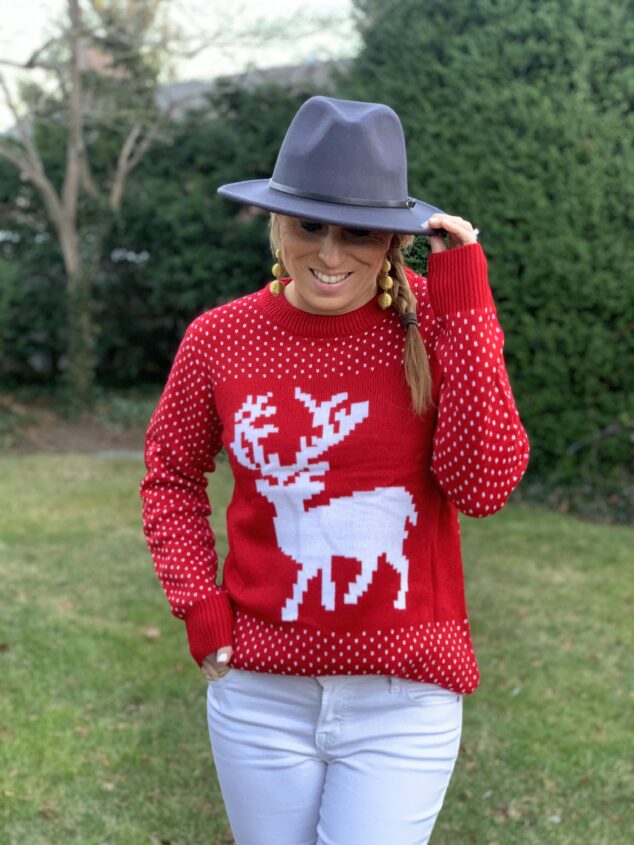 I'm all about pairing my holiday sweaters with white jeans because I think it's just such a crisp and fun winter look. I love wearing white jeans in the winter and feel like it's when I usually wear them the most! I think it's so different and fashionable, so when I do break them out – it's fun! I'm someone who believes in not listening to many fashion rules – you need to go with what works best for YOU and that's IT!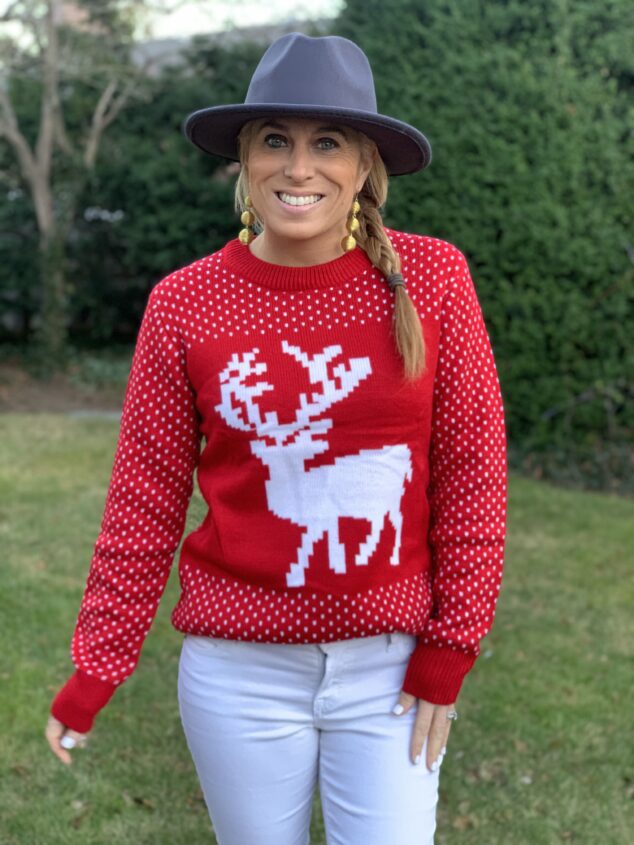 When it comes to accessorizing – this is what you need to think about – gorgeous accessories! I love these gold drop earrings! They are my favorite and really do a great job at beaming so fun light from my outfit, too! Winter fashion is so much fun, so I adore being able to take out my hats and boots and all those things! It makes it easy because in the summer – you want bare minimum because it's so hot!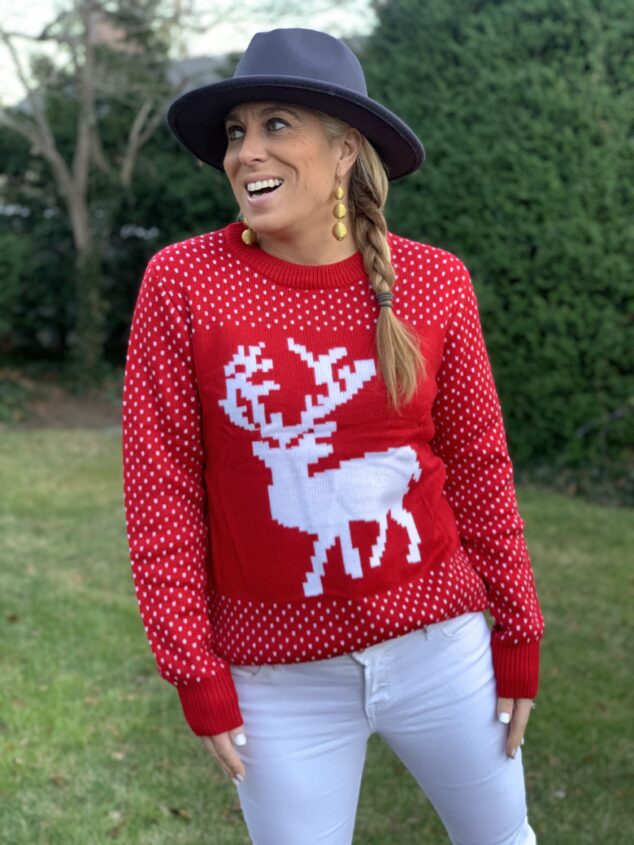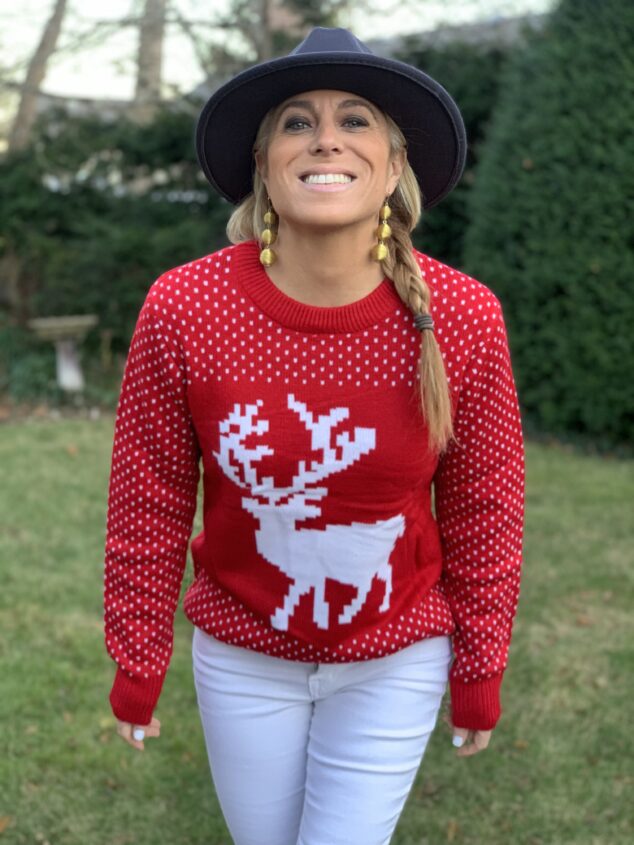 Let me share with you how I find and look for the perfect kind of holiday sweaters:
1. I always look for a design that speaks to me. Like I said above, I adore reindeers – so the second I saw this one – I knew it would be perfect for me!
2. I always try to find one that I can wear again! I know that many times during the holiday we have various parties, think about seeing how far you can extend the look on something!
3. Will the sweater match well with other items you have? Ask yourself that question. I know I said I love a good white jean in the winter, but I also adore wearing other things, too! I have a black pencil skirt this would look gorgeous with and even a some of my dark wash jeans!
I'm excited to share with you 9 other cute holiday sweaters that I'm crushing on right now for the holiday! Check ANY of these out!
Please don't forget to join my Daily Dose of Style FACEBOOK GROUP!
And for all of my mama friends! I also have a Fashion Over 40 – Daily Does of Style Facebook Group that I would LOVE for you to join! I share trends and styles every single day in there, along with the best sales online for fashion. I fully believe that you can and should be able to look your best without breaking the bank. You want to feel confident and beautiful and you CAN! I hope my info helps! We have a ton of fashion fun in there! And you don't need to be 40 years old!!!!!!!

HEAD ON OVER AND JOIN US HERE!!!
Make sure you keep sending me what kinds of fashion and styles you'd like to see me share! It makes it so much more fun to create content when I know people are looking for certain things. I've been getting lots of requests for winter holiday dresses and jackets! I love when people let me know! So keep them coming!