Think wearing white in the winter is taboo? No way! Here is how to pull off wearing white in the winter and all year long!
It's the winter and it's time to wear winter whites! I'm all about making sure I wear white throughout the year, not just during the summer months. I love being able to wear my white jeans and my white tops in the winter because I think it adds such a fun later to winter fashion!
Winter Whites – Wearing White in the Winter
I'm all about celebrating the winter season the best way possible! The first snow of the season fell yesterday in Rhode Island and I grabbed my winter whites and put them right on! With the snow, everything is just serene. I always love the first snow of the season because I feel like it's the best way to begin anew! I love that it's like creating a blank canvas for the season ahead!
I know so many people ask me about white jeans in the winter, I'm someone who is full all IN! I love that white jeans can and should be used after Labor Day. I remember as a kid I always remember my mom putting her whites away, this is a new day! White jeans stay out and it's no longer that whites are just meant for the summer – winter whites are fabulous!
Related Article: 21 Ways to Wear White Jeans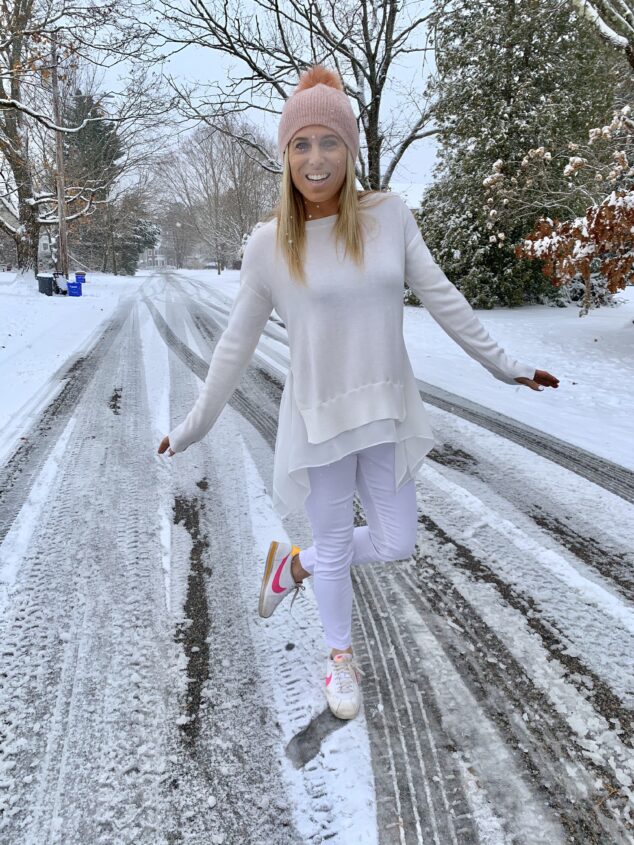 My top is my new winter fave! It's a gorgeous sweater from Peach! If you're not familiar with Peach, I'm excited to share! Peach is an incredible clothing brand built around and for the everyday woman. Peach was founded on the simple idea that a lifestyle brand could help women elevate their everyday. It's that simple.
Their mission? Their mission is to help you and your community thrive — from the inside out and the outside in. We build this philosophy into everything we do, creating a new kind of a company made for women by women. I personally love a company and/or brand that wants to make a woman feel beautiful and her most confident self.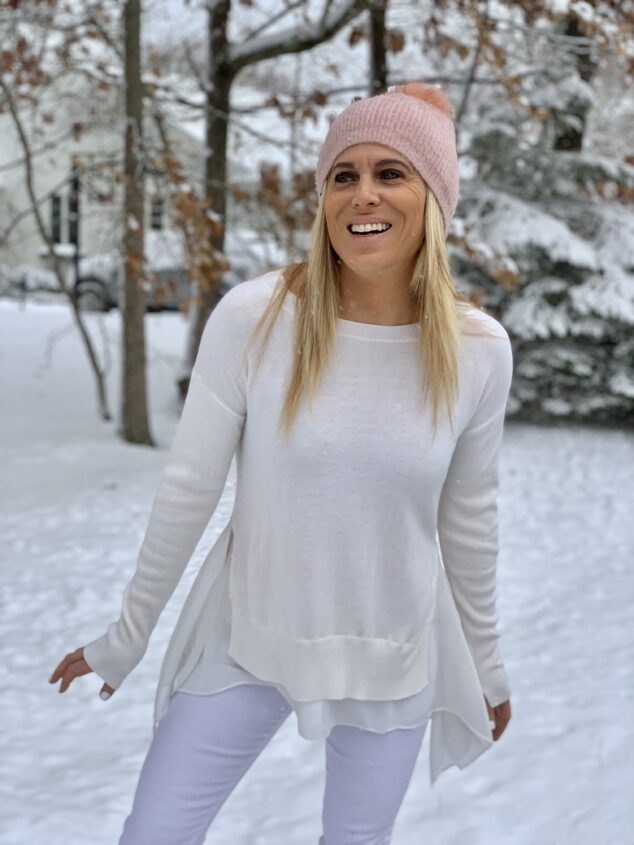 You see this white sweater? This is Peach's Ari Sweater. It's FABULOUS. I mean – FABULOUS. I am obsessed with it so much and I even have it in black, too! It's the perfect addition to your winter whites collection. It's classic. It's trendy. It's chic. It's EVERYTHING.
Here let me tell you all about the Ari Sweater, you're going to fall in love with this style ASAP!
Smart casual. The dinner party. Brunch with friends. The stylish Ari Sweater is just the right amount of special, combined with a lot of cool. Dress this airy silhouette up with the Dane or Ponte pants. For a more casual look, pair with leggings or jeans.
Features:
Premium fine gauge knit
Open neckline with ribbed trim finish
Chiffon inset at the side and bottom hem
Dropped shoulder
Slim fitting sleeves perfect for layering
Slits along sleeve opening for added style
Longer length provides bottom coverage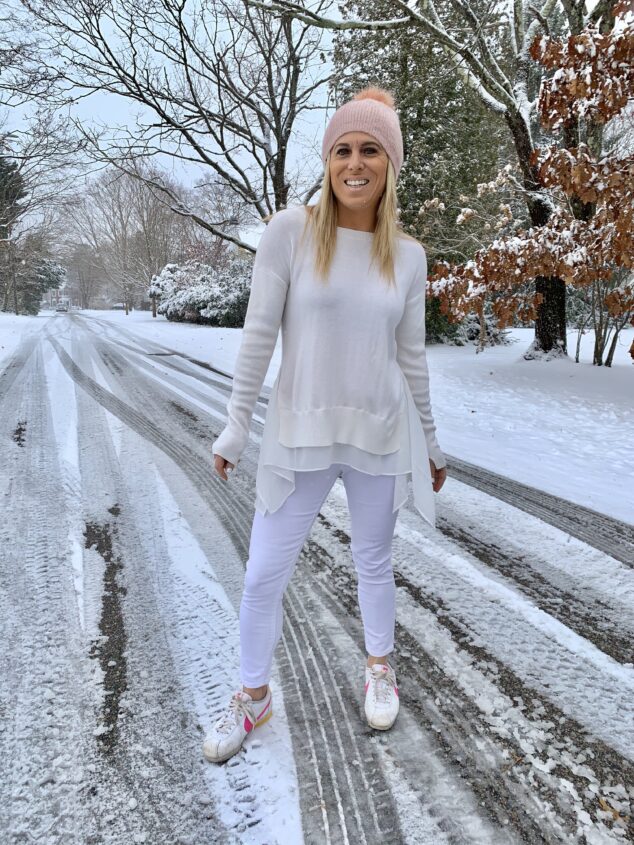 I'm telling you – it's such a fun top and I love it so much! Make sure you take the time to check out Peach, they have the coolest items and you're able to become a stylist, too. I love any company that helps women create their own businesses, too. It's something I'm so passionate about, too. I think it's great to support businesses that inspire women to go after their dreams, it's so important.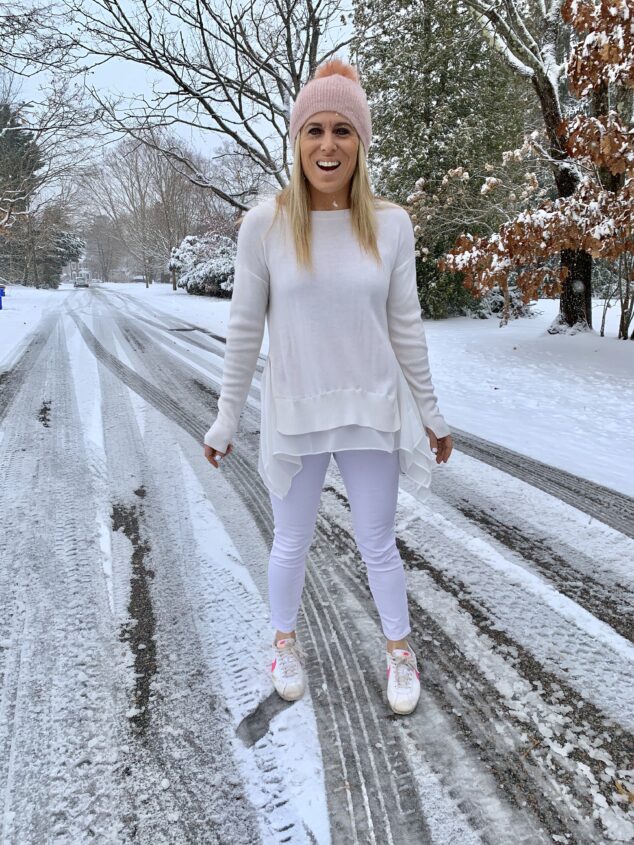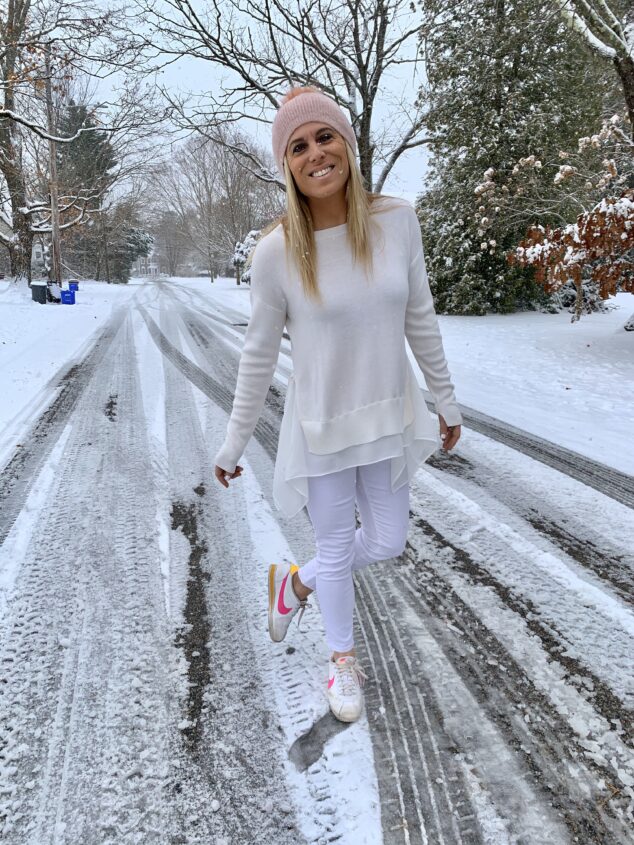 Let's talk white jeans for winter whites time! I have some white jean rules that are important for women to keep in mind when they're wearing them ANY time during the year.
1. Make sure you're wearing nude colored underwear with them. This will ensure that you don't have a underwear line.
2. Make sure you find jeans that fit you like a glove. You don't want white jeans to be too big or too small.
3. Make sure you find jeans that work with booties and flats. This isn't too tough to do, but it's something that you want to keep in mind. Shoes need to be worn, so make sure you know what shoes are the best ones to wear!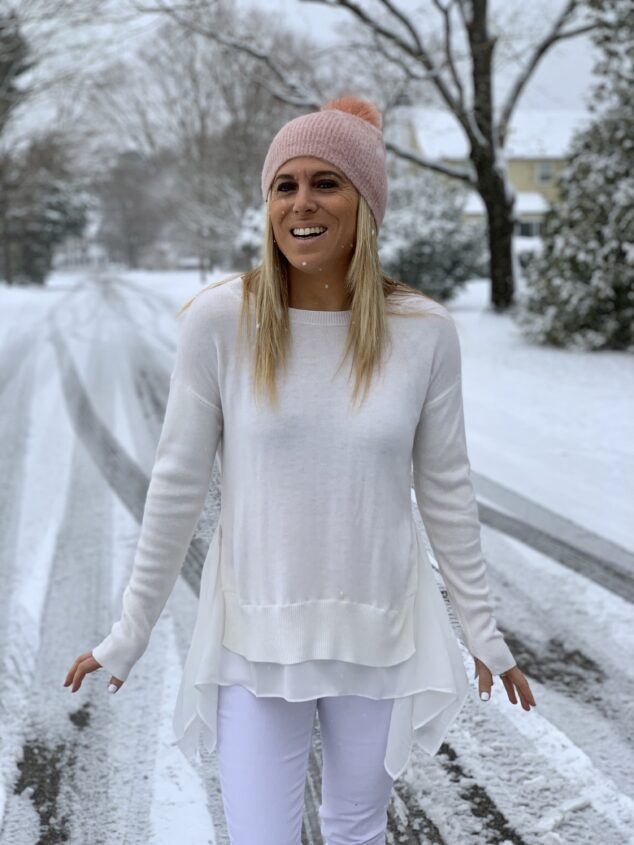 Let's talk accessories when it comes to winter whites. My top accessory is a hat. Not just any hat, a pom pom winter hat. Make sure you have a hat that works for you in the winter. I love this pale pink one with my whites because it's delicate and elegant and fun! If you're more leaning towards a bold color, wear that, too! I just thought this pink worked with this look.
I'm all about winter whites. It's one of my fave winter looks. I think I like wearing white more in the winter than I do the summer. It's just such a classic look. Not too many people do all white in the winter and I think that's why I like it so much, too. Find some white jeans that you love (big hint – you can find them so cheap right now!). Check out Old Navy for some styles. I'll link up here! Keep your eye out for some in the meantime!!
Please don't forget to join my Daily Dose of Style FACEBOOK GROUP!
And for all of my mama friends! I also have a Fashion Over 40 – Daily Does of Style Facebook Group that I would LOVE for you to join! I share trends and styles every single day in there, along with the best sales online for fashion. I fully believe that you can and should be able to look your best without breaking the bank. You want to feel confident and beautiful and you CAN! I hope my info helps! We have a ton of fashion fun in there! And you don't need to be 40 years old!!!!!!!

HEAD ON OVER AND JOIN US HERE!!!
Make sure you keep sending me what kinds of fashion and styles you'd like to see me share! It makes it so much more fun to create content when I know people are looking for certain things. I've been getting lots of requests for winter holiday dresses and jackets! I love when people let me know! So keep them coming!