When it comes to fashion, there are just some items that are fun to add into your wardrobe. For me it's a faux fur vest! It's just a fun add on and I love outfits with fur vests because they're so chic and trendy and just FABULOUS. There's just something about a vest add-on to an outfit that I love. You make an average look go from cute to HELLO LADY!
Outfits with Fur Vests
When it comes to outfits with fur vests (and let me reiterate, I'm talking FAUX FUR) you need to make sure you have a faux fur vest that works for you and your wardrobe. I once bought a light pink faux fur vest at J.Crew and wondered what I was thinking a few weeks later when it really went with nothing in my closet! Make sure you have a vest that works for YOU and your personal style.
There are 3 things you should be thinking about when finding the perfect vest to create outfits with fur vests!
1. Make sure you find a vest that fits you perfectly. You don't want to be swimming in a vest, you want to make sure it fits well. I see too many women "swimming" in faux fur vests. They just look too big for them (or too small).
2. Find a vest that is a pretty neutral color. Don't make the same mistake I did with the pink one. My recommendation is a brown one or a black one (or like me – a navy one!).
3. Decide if you want hardware on it – i.e., zipper, snaps, buttons, etc. This is important because maybe you don't want anything!
I'm going to work you through some different outfits with fur vests that I personally love and this is my personal style. I think it helps to share because it's easier to see rather than just describe. I also hope these looks serve as inspiration for you, too. If there's a look you like, try to make it work with what you own and have at home.
I wanted to feature my favorite navy faux fur vest in this post. I thought it would be cute to show how I wear it in a variety of ways. This is one of my favorite items because it's just a perfect item to wear a bunch of different ways! I wanted to showcase how you can wear it a few different ways in this post. Also – just for reference, this is from J.Crew!
#1 Outfits with Fur Vests – Monochromatic Look
I love an easy monochromatic look (meaning head to toe in the same color) with a faux fur vest. This is such an easy look with a vest because there's not much through into it! You just toss on black from head to toe and then grab your vest! It's a simplistic and elegant look with this gorgeous faux fur vest. I just love this look so much because it's also timeless, too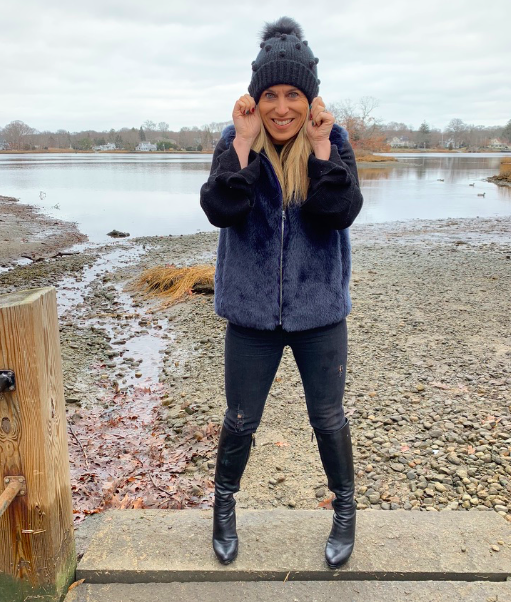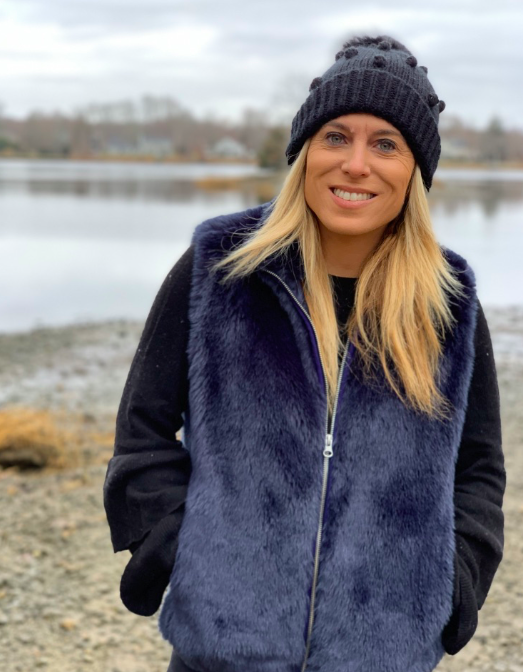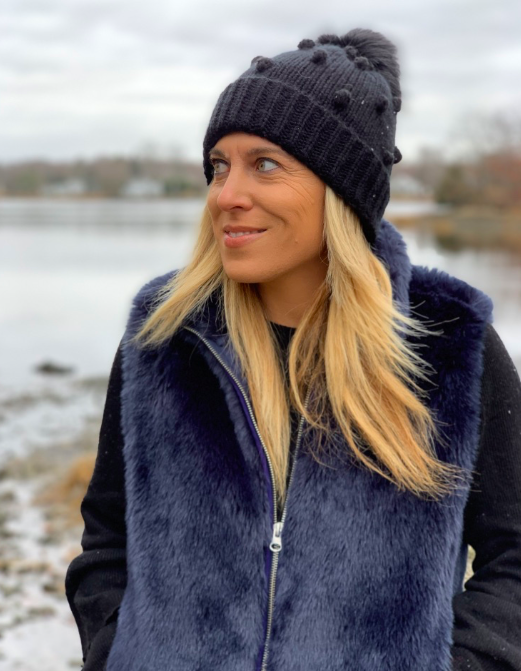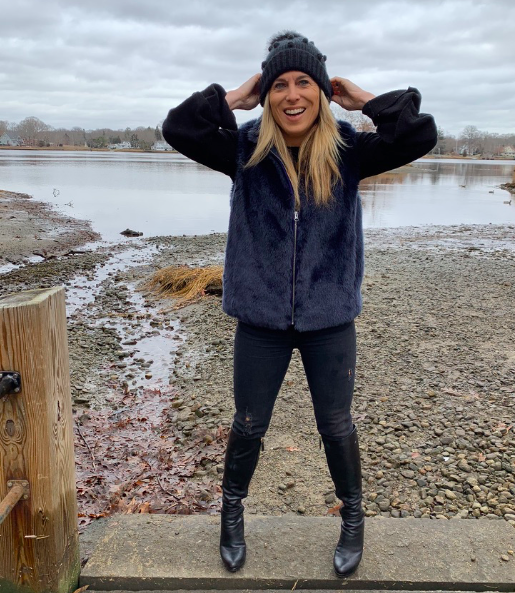 #2 Outfits with Fur Vests – Sweater and Jeans

This is probably one of my favorite looks of all because it's very much my style. I love the look of jeans, comfy sweater and high boots! This is a perfect fall and winter outfit for any woman. It's chic and trendy and anyone can pull this off! This is what I love about this look – as long as you have jeans and a comfy sweater, you'll be good. I also love tossing on a pom pom hat, too! I think it's just a cute accessory because it's a great addition.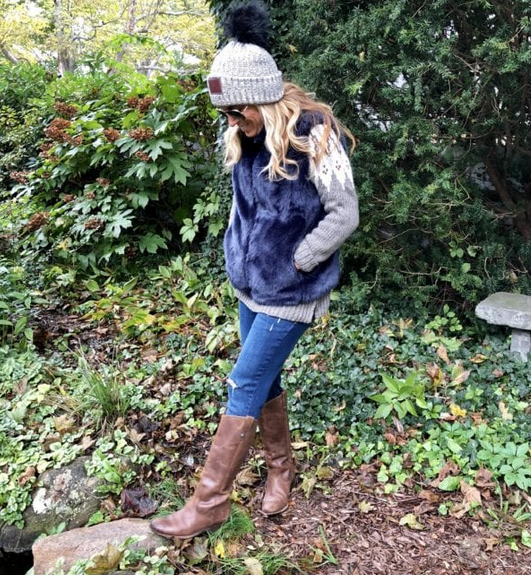 #3 Outfits with Fur Vests – Dress it UP!

If you're looking for ways to dress this outfit up, it's easy to do, too! You can grab any kind of dress – a little black dress or a denim dress – to make this look work. I wanted to be a little different and grab a denim dress, too. It's a wonderful way to make this vest work for an outfit and I'm always looking for ways to wear a vest to work, too. This is a classic and chic way to make it work. Since you know I love a good hat, I wanted to toss on my fedora with it, too.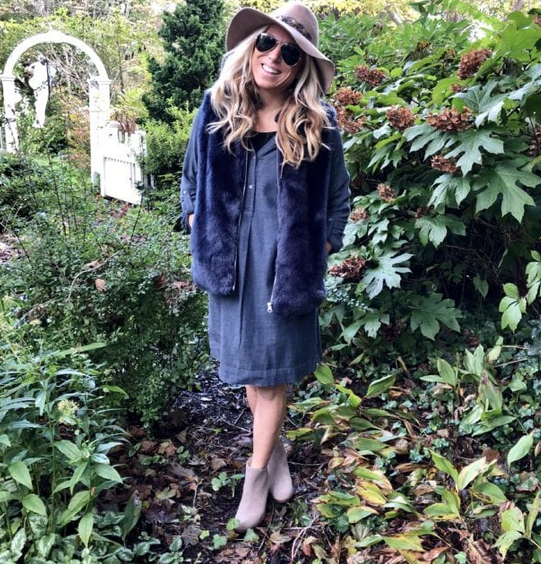 #4: Outfits with Fur Vests – Dressing it DOWN!
I'm someone who loves to workout, so I wanted to find a way to make it work for my wardrobe. I'm all about seeing how far I can make a look go and I thought this was perfect. I just grabbed my spandex and my pullover and tossed on the faux fur, too. This isn't a look that you would automatically think about when buying this faux fur vest, but it's a look you could make work. There's just something really cool about seeing the variety of different ways that you could make something work when it comes to fashion.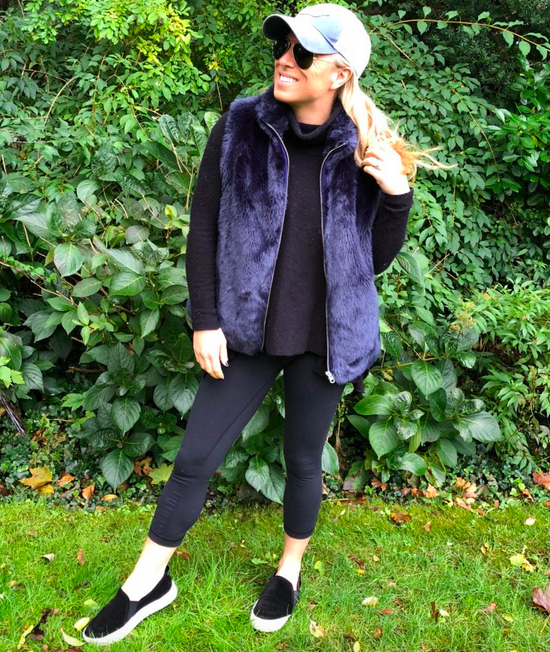 If you love this specific vest, here is the direct link to the item. Click on over here! Love for you to tell me what you think of these styles!!
Feel free to check out how to wear a vest here, too!
Please don't forget to join my Daily Dose of Style FACEBOOK GROUP! This has turned into my favorite spot online and I love sharing there every single day! It's been an outlet for me to be open and honest about my fashion loves! It's a great place to learn new things, so I hope you come on over! I'm also going to be starting a kid fashion one soon, too!
Loving this Fashion Over 40 – Daily Does of Style Facebook Group (that I would LOVE for you to join) and I share trends and styles every single day in there, along with the best sales online for fashion. I fully believe that you can and should be able to look your best without breaking the bank. You want to feel confident and beautiful and you CAN! I hope my info helps! We have a ton of fashion fun in there! And you don't need to be 40 years old!!!!!!!

HEAD ON OVER AND JOIN US HERE!!!