I've become an expert on how to detangle knotted hair every single day of my life with my daughter.  I had 4 sons before my daughter so I wasn't used to detangling hair. As a matter of fact, I never had to worry about it because my sons had super short hair. With my daughter? A COMPLETELY different story.
How to Detangle Knotted Hair
This is a true story of how I dealt with knotted hair when my daughter was around 3 years old. She's always had a ton of hair, so I've been dealing with trying to keep it smooth and tangle-free for years. There was one night when I was trying to brush her hair and I just couldn't get this big knot out.
She was crying and I was sweating like crazy. It was a HUGE knot. I didn't know what else to do, so I grabbed scissors and just cut it out. The section was a big one and the second I snipped it, I knew I made a mistake. You could tell there was a chunk missing from her hair and it broke my heart, but it was the ONLY thing I knew to do.
I needed another mom to show me the "How to Detangle Knotted Hair" ways! I actually scoured my old photos to see if I could find a photo to show you guys because it was that bad. You definitely would have been able to see it clearly missing from her hair (I couldn't find any).
As Victoria has gotten older I've gotten better and better at knowing exactly who to get knots out of her hair. I feel like I could write a book for moms called on how to detangle knotted hair because I know I'm not the only mom who goes for the scissors when they see a big knot.
Good news is – you don't have to! When you learn how to detangle knotted hair and have your go-to products to use, you'll be good to go. There won't be one hair knot that will have you stumped.
I've been doing hair tutorials with Victoria on TikTok every single day. We've been having such a blast creating fun hairstyles for moms to use on their own girls. It's been our quarantine project that turned into something much bigger than either one of us imagined.
I use hair products on Victoria's hair every single day to make sure it's smooth. She still gets a ton of knots in her hair, usually from the pool or from the beach. She also wakes up with knotted hair because she sweats so much throughout the night.
I've tried dozens of products that promise to detangle hair throughout the last couple of years, but only a few have really left a hair impression on me. I wanted to share my fave products when it comes to solving the problem on how to detangle knotted hair.
How to Detangle Knotted Hair:
(1) Pantene Pro-V Nutrient Boost Damage Resisting Detangler Repair & Protect Conditioning Mist – $4.99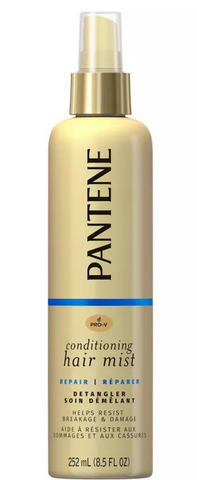 Spray some repair into your hair care. Help stop damage with Pantene Pro-V Nutrient Boost Repair & Protect Detangler. This leave-in conditioning mist treatment separates hair strands for easy styling, and it helps restore your hair to be soft and smooth with a healthy-looking shine.
Enriched with antioxidants to reduce protein loss, Repair & Protect Detangler helps hair stay stronger* against damage. The lightweight formula helps transform hair from dry and brittle to healthy and soft for a #greathairday.*vs. non-conditioning shampoo.
(2) It's A 10 Miracle Leave-In Product – $37.99

It's a 10 Miracle Leave-In product repairs dry damaged hair, adds shine, smoothes & controls frizz, seals & protects hair color, detangles, prevents split ends, stops hair breakage, creates silkiness, enhances natural body, flat iron & thermal protector.
An excellent nourishing treatment that can be used alone and/or as a restorative styling product that leaves hair soft and bouncy. Works on all hair types to bring out natural luster and manageability while also making hair stronger and healthier with every use. Can be used on wet hair for extra shine or dry hair in place of a styling cream.
(3) OUAI Leave In Conditioner – $26

What it is:
A multitasking leave in hair mist with thermal protection to reduce frizz and flyaways for perfectly smooth, silky hair.
Key benefits:
– Primes hair for style, protects against heat, and smooths flyaways
– Leaves hair smooth, shiny, and manageable
– Conditions and detangles
(4) Garnier Fructis Sleek & Shine Intensely Smooth Leave-In Conditioning Cream – $9

GARNIER SLEEK & SHINE LEAVE-IN CONDITIONER: Nourishing hair cream with argan oil penetrates into frizzy, dry hair to smooth each strand Up to 3 days sleek and long lasting frizz control even in 97% humidity*

FIGHT FRIZZ WITH SLEEK AND SHINE: Tame your frizz with styling sprays, creams, and mists that give your look a lasting sleek and smooth finish

NOURISH AND STYLE WITH GARNIER FRUCTIS: From Mega-Full to Anti-Frizz hair products Garnier has shampoos, leave-in conditioners, hair masks, texturizing sprays and more to help you care for your hair your way
(5) Living Proof – No Frizz Leave-In Conditioner – $26

Living Proof No Frizz Leave-In Conditioner is a hydrating treatment that gives an extra boost of conditioning and frizz protection. Powered by Living Proof's patented Healthy Hair Molecule (OFPMA), No Frizz Leave-in Conditioner:
Weightlessly blocks humidity
Smoothes hair texture so strands are polished and frictionless
Nourishes and conditions, leaving hair feeling moisturized
No Frizz Leave-in Conditioner is ideal for all frizz-prone hair types. It is silicone-free. Safe and formulated for color and chemically treated hair.
*Here's a bonus How to Detangle Knotted Hair Product – this is only for toddlers and babies!
(6) Johnson's Baby No More Tangles Detangling Spray $6

Easy detangling & manageability. This no more tears formula provides easier detangling and better manageability than before! Use it two ways to keep hair silky, shiny and tangle free: on wet hair after shampooing and to help unlock knots and snarls, and on dry hair between shampoos to keep hair neat and tangle free. Made in USA.
I hope these 6 products help you out as you're navigating how to detangle knotted hair. These are all products I've used and love. I think these will be great for you and you'll love them! If you use any others that are fantastic, let me know and share below!
Make sure you see my other posts on hair tutorials! See my latest, Side Braided Bun Hairstyle for Girls!