We're doing a lot of our pampering needs at home right now, waxing being one of them. I tried out Sally Hansen Wax Strips at home last night to see how they worked on my lip and chin.
Sally Hansen Wax Strips – Waxing at Home
The hair is getting out of control (I'm being mad real here) and I needed to do something. I still feel uncomfortable going anywhere, so waxing at home is where it's at for me at the moment.
When it comes to waxing at home, it's something that just needs to get done. I'm someone who (before COVID) was getting my eyebrows, lips and chin waxed every 3 weeks. I had a standing appointment and I never missed it. I never dreamed of trying Sally Hansen Wax Strips because where was no need to.
I started looking into Waxing Supplies You Need for At Home Waxing when COVID began, so I had a good "stock" pile of items that should be on your list. I hadn't tried these Sally Hansen Wax Strips on my own because I was so used to the actual wax bowl, etc. I didn't think strips would work as well on my skin.
I finally caved and bought a pack for myself because I was sick of looking at my stragglers. It was time to take some wax to them and rip them out! That sounds funny, right? Rip them right on out, but it's true.
I need them out because the plucking just isn't cutting anymore because the hairs grow too quickly!
The Sally Hansen Wax Strips are meant for face and bikini and are priced at $5.99. You get 34 strips in the box and I have to say, it's a great amount because the strips are big and cover a lot of area.
I wasn't sure if the strips were going to be tiny and only get a little section, but they weren't (thankfully!).
Here's how to Wax From Home with Sally Hansen:
I'm going to be honest with you, I was super nervous to do these strips (as you could tell). I wasn't sure if was going to hurt or work, but I was pleasantly surprised that it didn't hurt and it did work! I loved being able to see the hairs come off because it meant that it actually did do what it was supposed to do. 🙂
Here's a quick breakdown of the Wax Strips:
Get Salon results that last up to 8 Weeks!
Pre-waxed strips, Pre-cut for Face, Brow and Bikini Area
Helps to Slow the Appearance of Regrowth
#1 Selling wax brand in the U.S.A.
Buy there Sally Hansen Wax Strips here.
I also did a little digging on the strips! They are double sided, so you do get double the amount of coverage, which I didn't realize while shooting the video. I thought I had done it wrong, but I was correct. Thank goodness. So you get 34 strips to do the waxing in total.
Just for reference, too.
The Ingredients in the Sally Hansen Wax Strips: C5 6 Alkane/cycloalkane/terpene copolymer, polyisobutene, glyceryl rosinate, ethylene/va copolymer, bisabolol.Azulene Finishing Oil Ingredients: Ethylhexyl isononanoate, sesamumindicum (sesame) seed oil, C13 14 isoparaffin, phenoxyethanol, isononanoic acid, menthol, methylparaben, tocopherol, butylparaben, ethylparaben, guaiazulene, isobutylparaben, propylparaben
Working you through all of the steps:
Step 1
Wash area where hair is to be removed with soap and water. Thoroughly pat dry.
Step 2
Thoroughly pat dry. Warm wax by rubbing strips briefly and gently between your hands.
Step 3
Determine direction of hair growth before applying wax strip. PRESS ON wax strip firmly in the direction of hair growth
Step 4
Hold skin taut with one hand. With the other hand, PULL OFF wax strip in opposite direction of hair growth.
Step 5
Keep your hand as close to the skin as possible. If the strip is peeled too slowly, wax will remain on skin and hair will not come off. Immediately apply firm pressure to the waxed area with fingertips or the palm of your hand to reduce reddening.
Step 6

Repeat Steps 1–5 until the area is free of hair.
Step 7

Dispose of used strips after removing all unwanted hair. Do not save after use. Use fresh, new strips the next time you need to remove unwanted hair. After hair removal, apply a small amount of Azulene Finishing Oil to treated area with a cotton ball or tissue to wipe away any wax residue and to help remoisturize skin.
These steps are perfect and exactly what you need to do while waxing at home with the Sally Hansen Wax Strips. I definitely recommend and think that this is such a good option while trying to determine how you're going to get your waxing needs covered while COVID is still in place.
While we're on the subject of doing this at home, many of us are cutting our hair, too! I'm rounding up 5 of the best hair cutting shears for you that are under $30! Check these out if you're cutting hair at home. You want to make sure you have quality ones and not ones you're using for crafting!
You're probably doing lots of beauty things at home right now. Make sure you check out my post on How to Cut Hair at Home.
HEAD ON OVER AND JOIN ME HERE, too!! I have a Fashion Deals Facebook page that I have so much fun with and share a ton of fashion and style tips. I also share beauty tips there, too. Love your support and let me know what it is you're looking for, too! Make sure you share with me if there's something you love and I missed it on the blog!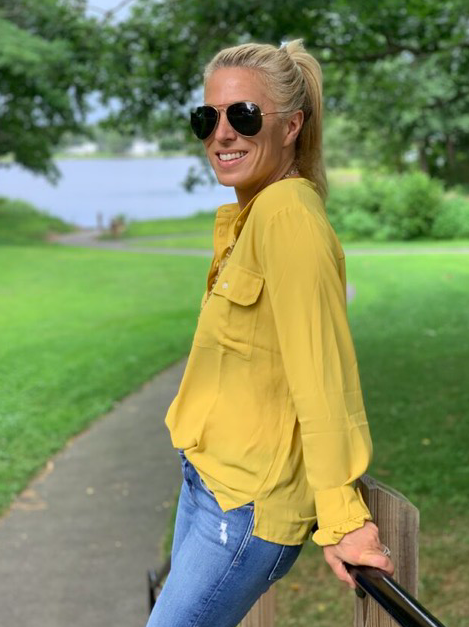 Fashion and beauty is so much fun in the summer and I hope you take the time (even right now!) to enjoy it! I love showing that simple styles are sometimes the best ones for you to have some fashion and beauty fun for yourself! It's a great way to feel (dare I say it) chic and normal again right now!