Looking for some Halloween hairstyles? I've got Spider Web Hairstyle options for you to play with for the spooky holiday! I came up with these 2 hairstyles this past week because my daughter was begging me for some Halloween hair. She wants to wear her hair all "cool and scary" looking tomorrow!
Spider Web Hairstyle for Halloween
When it comes to Halloween hairstyles, I love to be able to showcase ones that are fun. My daughter loves it when people comment on her hair, so I always try and make it a little EXTRA! I discovered a couple Spider Web Hairstyle options while playing around with her hair and some decorations at home.
I'm all about using what I can at home for hair accessories because they can be expensive, especially when it comes to seasonal styles. These Spider Web Hairstyle options for Easy Halloween Hairstyles came to me when I saw we had a ton of "spider web" cotton and random spider cut-outs at home.
Style #1 – Spider Web Hairstyle
Here's a really spooky and cute style for your hair (or your child's). It's a side braid that rolls into a bun. I love this one because it looks like the braid is a web, arching its way into the bun. It's a fun one and if you like braids and how they look, this will be a cool one to do.
It's also a super easy style to create. You just do a side braid on your hair or your child's and then wrap it into a bun. It's one of those styles that you can create any time during the year, but during Halloween it's fun to amp it up because it's fun to add in a spider!
Here's a tutorial on how to do this spider web hairstyle on hair. I love that it's a quick one to do and doesn't require anything other than 2 elastics and a spider (we bought these at Michaels Stores).
It's super cute, right? You could even add in a few spiders if you wanted to do that! There are some fun plastic rings that you can play with and they would fit in hair perfectly.
Style #2: Spider Web Hairstyle
How cute is this style? This Spider Web Hairstyle came to be when I was looking at how much spider web materials we had in our Halloween boxes. When we were decorating this year I couldn't believe the amount of spider webs we had here at home. it was out of control!
I decided to try to see how a hairstyle would work. Since I'm a BIG lover of a bubble ponytail, I thought it would be cute adding them right into the hair. It's one of those cute styles that anyone can do and even if you don't have super long hair, you can add some spooky spider webs at ANY hairstyle.
All you need to do us start popping your hair up into different ponytail sections. Once you've created your sections, you then go and puff out the hair. It's funny to say "puff," but I'm not kidding. Another way to describe it is to fan out the hair. It's just a simple and easy way to make it work.
I thought it would be easier to show you want I mean rather than trying to explain it out. It's much easier to show in a video tutorial, so I hope you enjoy this one and the music!
This one is a favorite of mine and we JUST discovered it last night! I will make sure this one is added into our Easy Halloween hairstyles next year and the year after (and after!).
When you're creating hairstyles on your hair OR your child's hair, it's important to make sure you have the right hair products. I'm always asked what we use on Victoria's hair, so I wanted to share my fave, go to products for her.
If you're looking for a product that is easy on getting out tangles and knots, I highly suggest and recommend Pantene Mist Conditioner. It's amazing! I spritz it into Victoria's hair and it miraculously gets out all of the tangles. It's truly a magic potion and I can't live without it!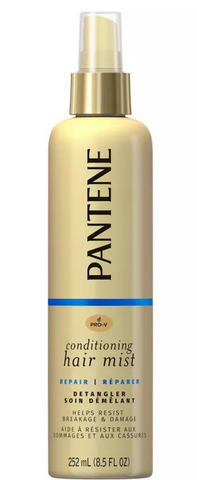 I also love to use a particular kind of brush, too! There's something about this brush that is magical because it gets all the knots out instantly! If you're never heard of it, it's the Olive Garden Brush and it's FABULOUS!
These are the (2) products I use every single day. I'm telling you, if you're looking these are the ones you need. Make sure you have a good foundation and start when working on hairstyles for yourself or your kids. I'm all about making sure I'm ready to rock and roll when we're doing hair!
If you're into or looking for some additional fun hairstyles for girls or YOU, make sure you check out (2) posts I just added to MomGenerations.com.
#1 – 3 Easy Hairstyles You Can Do On Your Own Hair – Looking for easy hairstyles? Here are 3 easy styles that you can do on your own hair without much thought. I promise, these are super duper easy.
#2 – 5 Simple Hairstyles To Do in Less Than 3 Minutes – Yes, less than 3 minutes! These are all hairstyles you can do on your child's hair, but also can be done on your hair, too. I love these hairstyles because they're cute and easy. Doesn't get better than that!