Have thick hair? Ever wonder to how to do a messy bun with thick hair? This is the easiest way to do and it only takes a minute. Simple and easy messy bun tutorial.
How to Do a Messy Bun with Thick Hair
I love sharing the best hair hacks and ways to make styles work for any kind of hair length and texture, but sometimes when you have super thick hair (which I have!) it can get tough to do certain hair hacks.

I did a post a few months back on How to Do a Messy Bun with Thin Hair and then immediately started getting the question, "Well… How to do a Messy Bun with Thick Hair?" I hear you because this hits close to home.
When it comes to a messy bun hairstyle, they reason I love it so much is that it doesn't have to be perfect and it doesn't have to be symmetrical. It just (literally) needs to be a mess on your head. I mean, it's like the golden hairstyle of all hairstyles.
When you're trying to determine how to do a messy bun with thick hair, sometimes it's tough to get all of your hair piled into one neat little bun that you can keep making messier and messier. With thin hair you have the ability to do this, but it's tough with thick hair.
Years ago my mother taught me this little hair hack when it comes to figuring out how to do a messy bun with thick hair. After she taught me I wondered why I hadn't thought of this! It's so simple and so easy and so practical.
Since it's tough to explain, I wanted to make sure I showed you exactly how to do it. Make sure you watch the video to understand it. I'm telling you, you'll get this style down so quickly and be creating this style on your hair in seconds!
How to Do a Messy Bun for Thick hair
It's pretty darn easy, right? I posted this style on my Instagram and it blew up quickly. I had about 10K views in 1 hour. I couldn't believe how many women liked it and thought it was so simple. You never have to wonder how to do a messy bun with thick hair again!
I personally love that when it's all up and done, you can make it as messy as you want. You don't have to worry about any stragglers because it's supposed to look that way. It's just a really easy messy bun style and Ilove that it's just so simple to do on your own hair.
Products for Thick Hair
If you're like me and have thick hair here are (2) products I really love to use in my hair. As I've gotten older I've discovered more and more that using products in my hair really does help keep it as healthy as can be. Both of these products are great and really help.
I'll be sharing more hair products, too on how to keep and maintain healthy hair. It's important and essential to do what we can to keep our hair healthy. I feel like sometimes we forget about it, but it's always a good thing to try and stay on top of!
(1) Moroccanoil Hydrating Styling Cream – I love this product!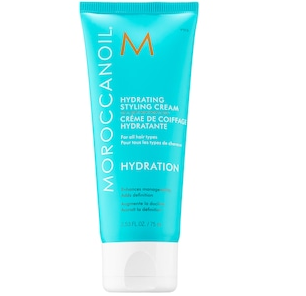 What it is: A leave-in hair styling cream that's infused with argan oil and anti-static ingredients to condition, hydrate, and reduce frizz.
Hair Type: Straight, Wavy, Curly, and Coily
Hair Texture: Fine, Medium, and Thick
Key Benefits: Prevents Dryness, Fights Frizz, and Maintains Hold
Formulation: Cream
(2) Olaplex No. 3 Hair Perfector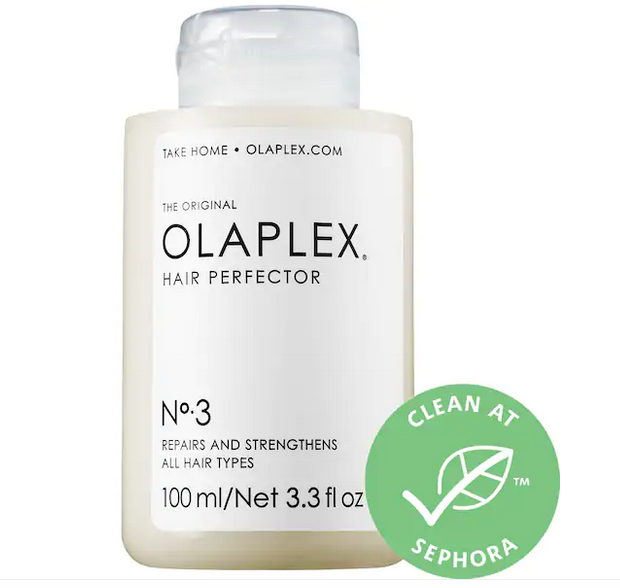 A concentrated treatment that strengthens the hair from within, reducing breakage and improving its look and feel.

Key benefits:
– Addresses damaged and compromised hair
– Strengthens and protects hair structure
– Restores healthy appearance and texture

If you want to know more…
No. 3 Hair Perfector is not a conditioner, it's an at-home treatment that contains the same active ingredient found in all professional Olaplex products.
Created by two of the top PhD's in chemistry and materials science, Olaplex products feature first-of-their-kind, patented, bond-building technology, which relinks the broken disulfide bonds caused by chemical, thermal, and mechanical damage to the hair.
This formula is made to work with every hair type, providing real, structural repair that works from within.
Hoping you love this hairstyle as much as I do! Next time someone asks you how to do a messy bun with thick hair, send them there! This hair hack is worth it and it's a fun one to do on your own hair! Love seeing this style come together so quickly, too!