Have you ever seen a mini pie making kit? They're so cute and so much fun to do with your kids. Thanks to Table Talk Pies you'll be able to make your very own special pies at home right now (*if you're local to Worcester).
Mini Pie Making Kit
With National Pi Day on March 14th, Table Talk Pies thought it would be fun to help families celebrate together with a Personal Pie Kit. They're so cute and so much fun for you to do.
We've always been HUGE fans of Table Talk Pies, so we were extra excited to see them hosting this fun Mini Pie Making Kit FUN! If you're not familiar with Table Talk Pies, About Table Talk Pies, it's a growing family-owned food manufacturing business that has been making fresh baked pies in Worcester, MA since 1924. Now in its 3rd generation of ownership and leadership, Table Talk is one of the country's leading full-line producers of pies.
The company has three large scale bakeries located in Worcester and Shrewsbury, MA – Kelley Square, Washington Street, Table Talk's largest and oldest bakery, was established in l942 – Bowditch Drive on the Worcester/Shrewsbury line, opened in 2015 and Southgate Street, opened in 2017 and the latest cold storage facility warehouse opened in 2019, next to the Southgate Street Bakery.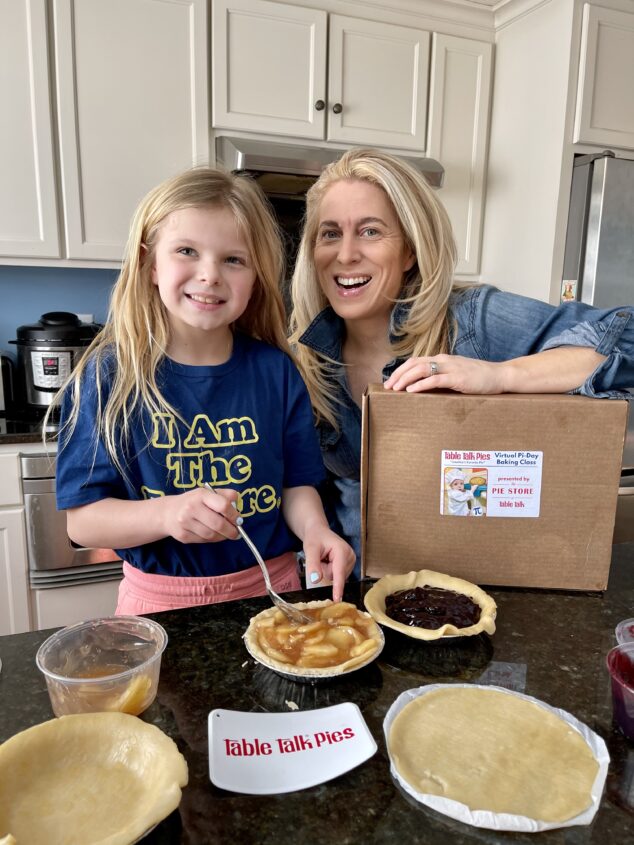 Table Talk Pies Personal Pie Kits are available for pick up only at The Pie Store starting March 16th (120 Washington Street, Worcester, MA – Tues. – Sat. 9am- 5pm) for you to create whenever your heart desires! They're only $7, too.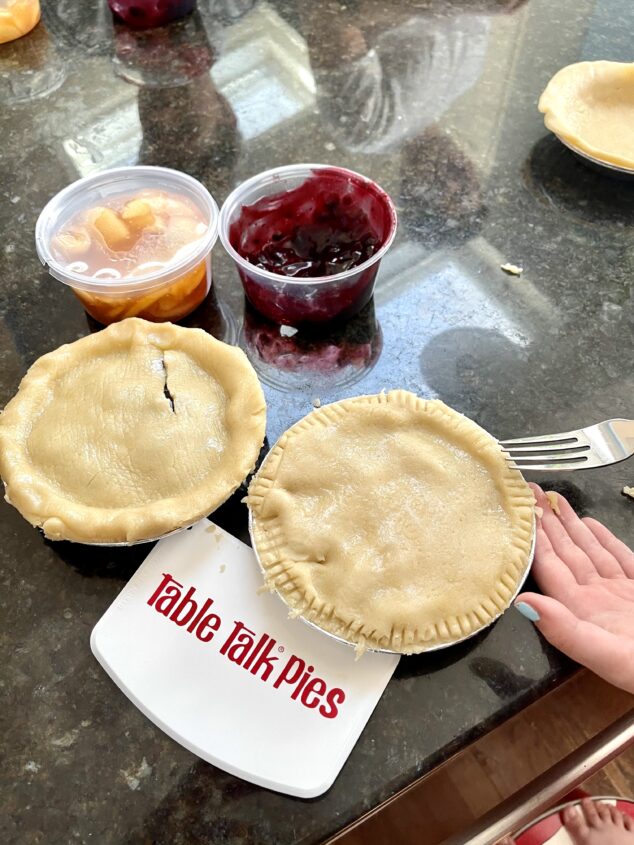 The Talk Talk Mini Pie Making Kit includes:
* Two pre-made pie crusts + tins for 6" pies
* Two pie fruit fillings (Apple + Blueberry)
* One branded specialty box
* An authentic Table Talk Pies dough scraper
If you head there and mention this post you will receive a FREE pie cutter, too!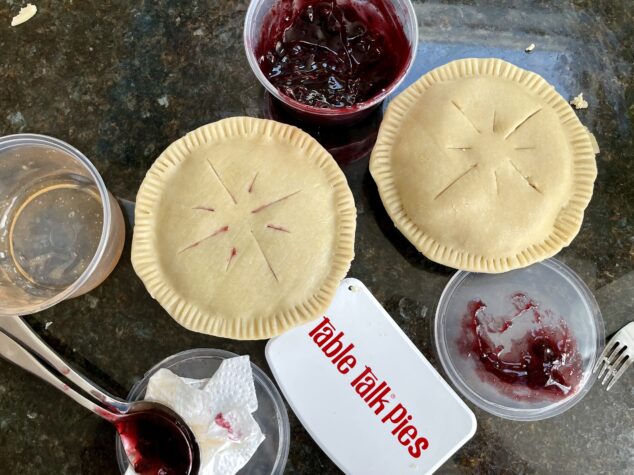 Have fun this Pi Day by making some delicious and yummy pies with your family. Don't forget, pies are "America's favorite snack" and can be easily made from the comfort of home, anytime, too! I personally love that Talk Talk Pies has just made it so easy for families. It was so quick and easy to do together.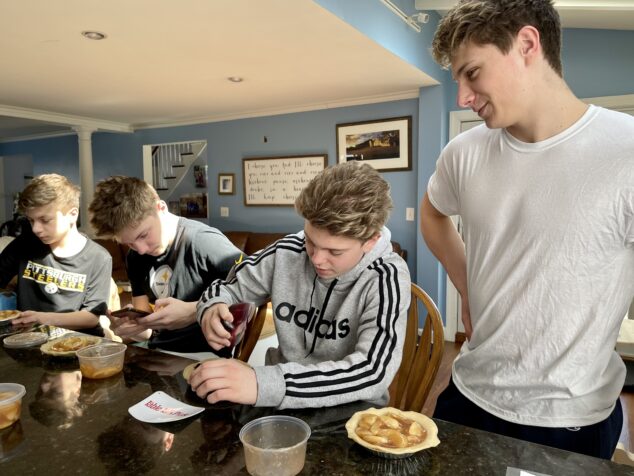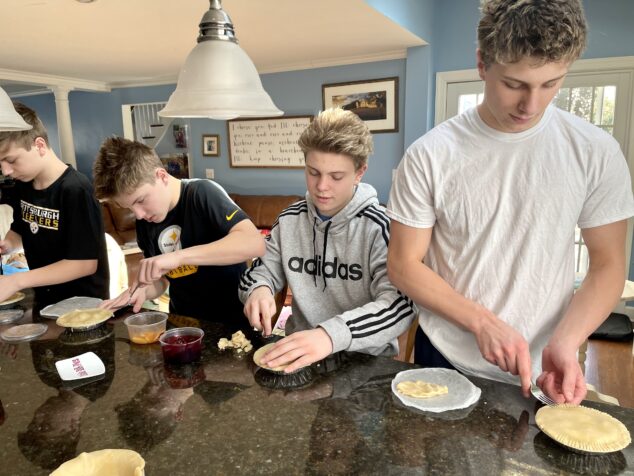 Let me tell you, you know it's a good activity to do when your teens, tween, and little ones all have fun! It was so much fun for us to do together and create some yummy masterpieces.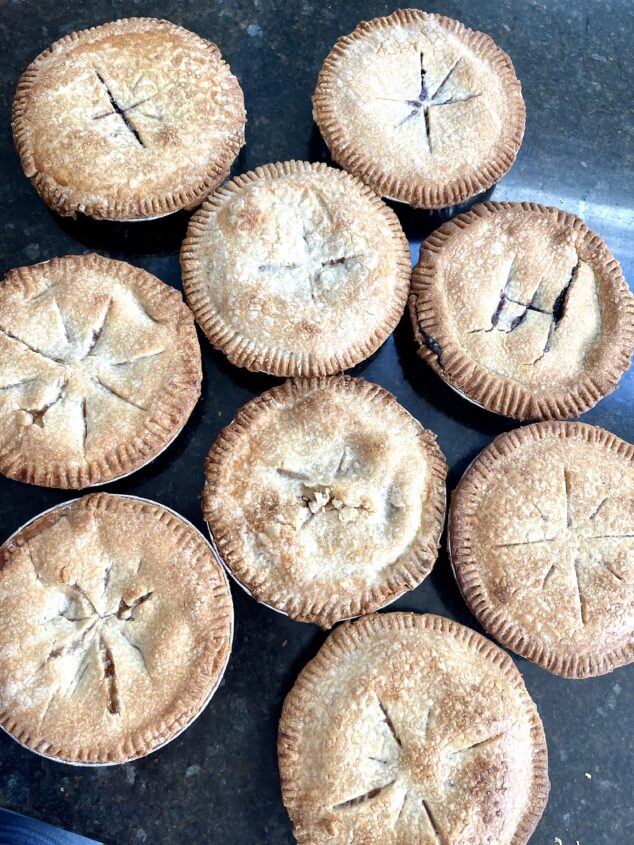 They turned out so good and so delicious, too! I loved that there were small enough to indulge and enjoy!
Make sure you check out other fun dessert recipes we have on Mom Generations, too!