A little over a year ago, I received an email from one of the members of Defenders of Animals, an animal rights and legislative groups Steve and I belong to.
It included a little information about a dog named Seth who needed a home: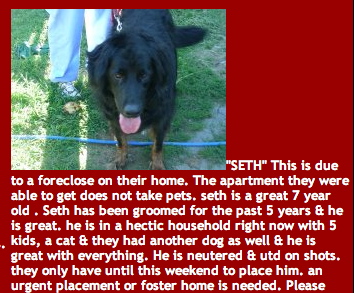 We were in a sad state in our home. We had just lost Bismarck 5 weeks earlier.
Bismarck… our son, our sweet, gentle Big Boy. Ryder's big brother, her protector.
Our hearts were beyond broken.
Steve and I had already decided that we wouldn't – we couldn't – even think about getting another dog for a long while. The wounds were too fresh, too deep.
And yet… there was something about Seth, that cute, happy face in the email.
I remember that I was working on my laptop in bed when that email came through. Steve was lying next to me, but not yet sleeping
"What do you think?" I asked. "What about just fostering him for awhile?" I just couldn't bear to think about this sweet-looking guy being homeless.
I don't know if I actually got a formal affirmative from Steve, but I went ahead and emailed the woman back to say we were interested. (I knew deep inside that Steve would be on board… or could be convinced!)
Within the next few days we were making arrangements to have Seth come to our house.
Steve and I kept telling each other that it was just a fostering situation. We would take care of Seth, give him love and a temporary home. We wouldn't – we couldn't – get attached to him.
We arranged to have Seth dropped off at our house around 8pm the night of September 6, 2007, exactly one year ago today. Steve had a football game that night, and on the way home he got a flat tire. Luckily he had a spare, but I still thought he wouldn't make it home before Seth arrived.
But he did… and we waited together for Seth to get to our house. We tried to prepare Ryder, too, telling her to be a good girl to the new guy!
When they finally brought Seth over around 9:30pm, he got out of the back of the car and walked right into our house. Ryder wasn't exactly thrilled, and gave him a little growl every time he got to close to her.
That first night he peed downstairs in our living room, but it was understandable. He was in a strange place, with new smells and new sounds and new people.
I thought Seth was simply adorable from the start, but I still tried to keep a bit of an attachment distance. Steve and I kept going with the, "It's just a foster situation until they find a home for him" mantra for a little while.
But little by little my attachment grew stronger. Seth is just a big love bug. You cannot help but fall in love with him. He became like my little shadow, and had to be everywhere I was. I loved it.
Seth quickly became my Sethy. Another mama's boy, just like my Bismarck was.
Seth is funny. He makes silly noises when he's tired and trying to get to sleep. He can't be near you without being practically on top of you. He has never met a toy he doesn't want to destroy. He is so patient and gentle with our 11 nieces and nephews.
He even won Ryder over… eventually. Ryder loved Bismarck so much and she didn't know quite what to make of Seth at first. But within a couple of weeks she had warmed up to him, and they're best buds now. She even lies down and puts her head on his paws when they're in the car together.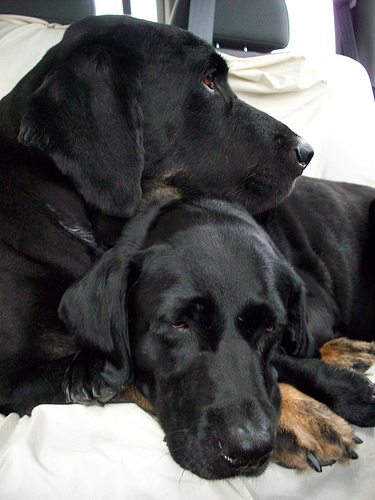 Now I cannot imagine Seth not being part of our family. And I know that Bismarck sent him to us. I never thought there could be another dog in the world as sweet and as gentle as Bismarck, but Bismarck knew there was one.
I wish we could all be together – me, Steve, Ryder, Bismarck and Seth. But that's just not possible.
I have learned it is possible, however, to open up your heart again to let love in, even after it has been broken into a million pieces.
Bismarck will be in our hearts forever and ever. We think about him and miss him every single day. But he knew that all of us – me, Steve, Ryder and everyone in our family who loved him – needed Sethy to help us heal. And he has done just that.
Today is a very joyous one-year anniversary for us. One year ago today brought Sethy into our lives, into our family and into our hearts.
We needed him just as he needed us. It is a perfect match.