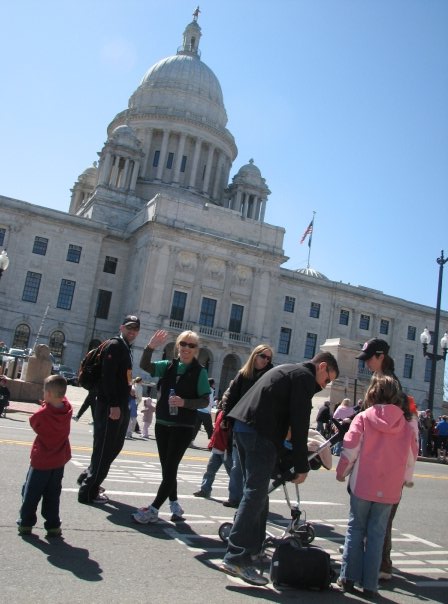 One of my New Year's Resolutions was to start "running."  I had stood on the sidelines race after race, year after year, watching with great pride as my children and in-law children participated in races. I marveled at the dedication, the training, the chatter, the competition, the shattering of personal bests. I always had the inclination to want to do it, too, but for one reason or another… well, you know how it goes.  You just don't.
Until January 2009.  I still don't know what truly drove me to purchase a good pair of running shoes and head outside.  But I did.  At first, I could run maybe a half mile.  Then one mile.  Then two.  There were days that my hands and nose and throat numbed to nothingness on my cold New England runs.  But it made me feel alive.  It was me with the wind.  Me with the road.  Me with me and me against me.  I even had Jane set up the iPod that she had given me on Christmas 2007, when that was going to be my running debut.
Well, here it is March 2009 and I have continued with my New Year's Resolution "running" path.  I try to run 3-4 times a week, often seeking new roads as well as pounding the nice, familiar ones.  I have built myself up to running somewhere between 4-5.5 miles each time I head out.  I love it.  I love it.  I love it.
I have added 5K's to my running.  I have completed 4 of them… one today.  My time for the 1st one was 36+.  My second one was 31.43.  My third one was 33.23. Before I tell you how I did today, let me just explain that my life goal for running a 5K is anything in the 29's.  29.59  would be perfect to me.
So… today.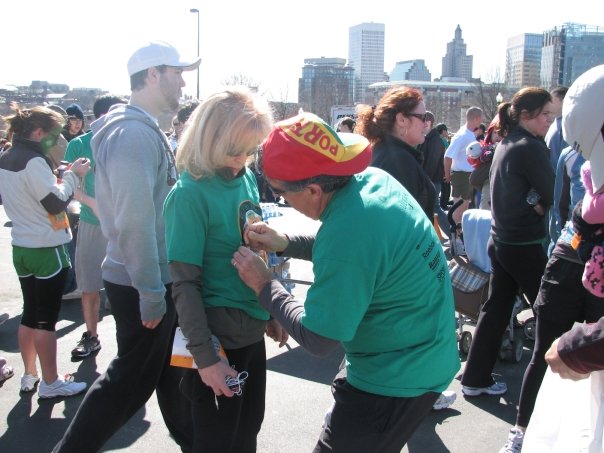 It was a spectacular early spring day in Providence for the St. Patrick's Day 5K, and the parade to follow.  The streets were lined with happy people of all ages cheering on all 2,200 or so runners and walkers. There were police cars and motorcycles with their blinking lights.  Vendors lined the streets. It was festive and fun.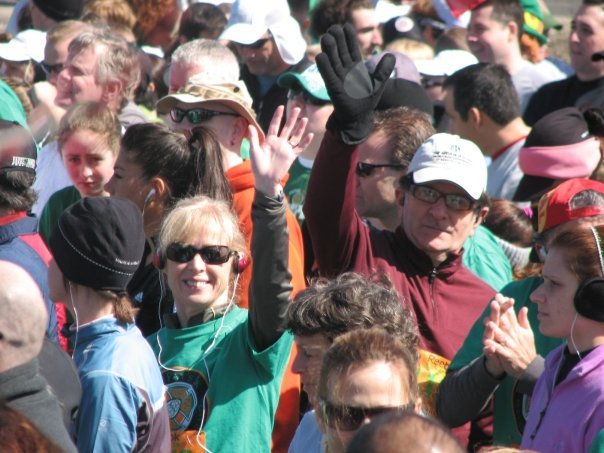 I was feeling pretty good… a bit hot… maybe over-dressed a little… but I ran along, excited and enthused by the people who had gathered for the run and the parade… as they waved and gestured "thumbs up" as we passed.
At one point, toward the end of the race, I noticed a couple of groups of kids sitting on the edge of the sidewalk, extending their hands to the runners in a sort of "slap-me 5" fashion. These were little kids… maybe 5, 6, 7 years old.  (It reminded me of when I was a kid and for fun we waved to people in other cars and hoped they'd wave back.)  Well, no-one was slapping these kids 5.  I know. I know.  It's a race.  You're in a zone.  But these kids were so cute and so happy and so excited to be part of this day and this race… so as I approached each little group, I slowed down and crouched a bit and slapped each hand as I passed.  I didn't miss one little hand.  They screeched with joy, and this made me feel so happy…
And then I finished the race.  My time?  30.11.  I was elated.  So close to my goal.  This close.  Then I began to kind-of analyze where I could slice off those 11 seconds.  11 seconds.  Hmmmm… maybe if I didn't slow down and crouch and slap 5 to those little kids…
But you know what?  This was a day to celebrate the happy people who came to watch and cheer and sit on the very edge of the sidewalk with extended little hands.  And if I could run that 5K again, I'd do it again.  Slap 5, I mean.  Because that 29.59 will come in its own due time.
So close.  But not as important as those happy little hands.