When it comes to saving money on beauty items, there are certainly ways to do it. My best advice for accomplishing this? Purchase in-store brands when it comes to particular beauty items that you need and use. Cotton balls. Ear swabs. Face creams. Facial scrubs. Lotions. Sunscreens. Makeup removals.
I know it comes down to what you feel comfortable purchasing, but the beauty of in-store products is that they often contain the same or similar ingredients as the brand-named products. Plain and simple. So when it comes to purchasing certain beauty products – for me in particular, my Facial Scrub – I go with the CVS in-store products.
CVS has always been one of my favorite go-to places. Coincidentally, CVS is based in RI. I have lived in 3 different towns in Rhode Island, and in every one of these towns, a CVS has always been less than 3 miles away. Gosh… I remember racing to CVS as a kid to buy all my school essentials – pens, pencils, trapper keepers (remember those!), notebooks and agendas. And then as I approached my first make-up rites-of-passage, I got my very first lipstick there – Revlon's Pink Foil. I felt so "grown-up" and "cool."
Now my days are filled with 30-something essentials and mom essentials. What's also a great bonus about CVS is their ExtraCare Card Program. Talk about saving money! I love it. I literally (sad, but true) get a HIGH off of the coupons that "pop" out of the register after all of my purchases. I know when I hear that distinct "beep" that coupons are coming. This is my favorite –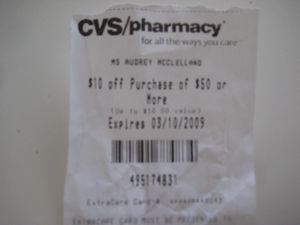 To learn more about CVS, check out 2 of my favorite money-saving bloggers: Tara of the fabulous Deal Seeking Mom and Alyssa from the wonderful Keeping the Kingdom First. Both of these ladies know how to bring you the best deals and money-saving tips from CVS and beyond. Just check out this post from Tara at Deal Seeking Mom, CVS 101 for Newbies.