We've already established that Ryder loves snuggling with objects that aren't necessarily meant for her.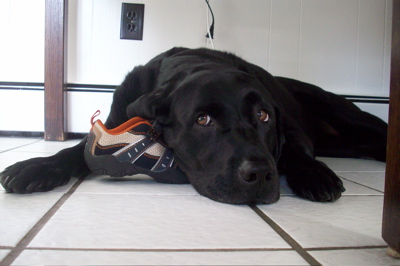 It always makes me laugh to see which new toy she decides to snuggle with – or just parade around.
It's not always what one may think. Sometimes she'll pass right by the plush, fuzzy toy and go for a sneaker.
But sometimes the plush, fuzzy toy will do.
Sometimes the toy is as big as her.
Sometimes it hasn't even been taken out of the box yet (and it belongs to her little human cousin, to boot).
But sometimes carrying around all those toys gets to be a little much, and she just wants to snuggle with a nice, soft toucan puppet. And then? I rush to get my camera as my heart melts.