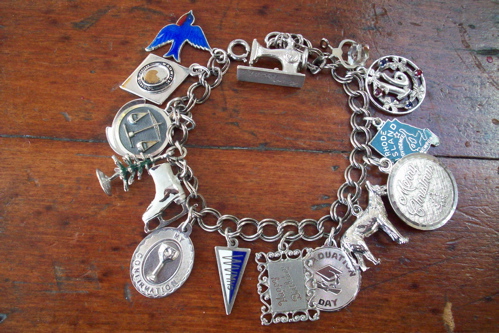 A long, long time ago, on my 14th birthday, I received a silver charm bracelet with a little engraved charm on it.  It was from a boy.  I'm sure as I'm sitting here that the boy's mom had something to do with the little gift, but it didn't diminish the thought one little bit.  
I loved that little charm bracelet even as my "love" for that boy faded.  Truth be told, that boy was so fleeting in my life that I wouldn't even remember his name but for that little engraved Happy Birthday charm with his name, Royce, on the back of it, and the date 10-6-66.
I moved onto another boy, a boy who stayed a bit longer in my life.  A boy who was not threatened by the name of another boy on my little charm bracelet, and who, instead, added several charms that he picked out himself.  There's a little enamel Christmas tree that time has chipped away the bright green of it.  There's the white enamel ice skate, because we loved to ice skate together on the frozen pond near where we lived.  There's a sewing machine, and if you look underneath, the words are still there in beautiful script:  Love, Bobby.  And there's a Merry Christmas charm from Bobby, too, with his name and the date 12-25-68.
My parents also had a hand in bringing my charm bracelet to life.  There's a Sweet 16 charm from them.  A Confirmation charm.  More Merry Christmases.  A little silver replica of my childhood dog, Chippy.  And a cute little ice tong with a crystal gem as the ice.  I loved ice back then.  I still do, actually.  Don't ask why.  I don't know.  
There's a Senior Prom 1970 charm, a Rhode Island charm, and a Libra scales charm that my dad brought back from a trip to Germany.  And there's a little blue bird that represented my flight to college.
And this is where the timeline on my bracelet ends.  
By then, Bobby was a bit of history and another boy had entered my life.  As I look back now, I realize that this boy wasn't man enough to see my charm bracelet as a little token of another time, other people… specifically, other boys.  He didn't like it and I stopped wearing it.  I put it aside and took it out once in a great while to smile at a time so long ago.  An innocent and wonderful time.
As I have written about, Barry and I bought charm bracelets and personal charms for our 2 granddaughters, Taylor and Maddie, as gifts this past Christmas.  I wanted them to feel the power and magic of a little bracelet, where time and talents and events and even boy crushes are represented in that magical way. I told them about my charm bracelet, but I didn't dig it out from the back of my jewelry box until this past Sunday, Easter.
We had dinner with Jane, my mom, Barry's brother's family and Adam and his family.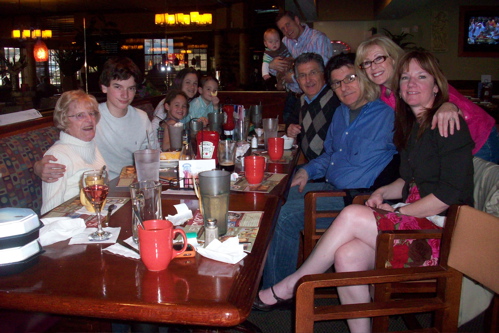 Just before dinner, I pulled up my sleeve and showed Maddie my charm bracelet.  Even all these years later, that bracelet lit up the eyes of a girl!  She inspected each one.  She turned each of them over.  At one point, Maddie scrunched up her beautiful little face, turned to me quizzically and asked, "Who's Bobby?"
I had to smile as she listened intently to my explanation while she, at the same time, looked to Grandpa as if to say… "Do you know about this?"  And she asked about Royce, and about the story of each charm.  Then Maddie said, "So your last charm was from 1970, Grandma?"
I had to admit.  Yes.
She began the subtraction in her head.  "That was almost 40 years ago!" she said, astounded.
I had to admit.  Yes.
Maddie decided then and there that Grandma needs new charms.  
I had to admit.  Yes.
As a little Easter surprise, I asked Maddie what her favorite charm is from my bracelet.  That was easy. She loves ice, just like me.  So Grandpa is going to remove my little ice tong with the crystal gem and put it on Maddie's bracelet.  Her birthday is coming up in a couple of weeks and, along with some other adorable charms (shhh… don't tell her), Maddie will have my ice tong.
Maybe someday she'll be telling her granddaughter about her bracelet.  Her first loves.  Her special times.  Her ice tong with the crystal gem.  And it will all be there… a story, a timeline in silver.