I have been asked this over and over and over again…. and I think it's such a fantastic question for us mothers trying to find some "key" and "staple" jewelry pieces.

"What is the most flattering and must-have piece of jewelry to own?"
For me, it's all about the Pearl.


Classic. Elegant. Beautiful. And Pearls go with everything. There are not many pieces of jewelry you can say that about.
I started my love of Pearls when I was a child. This is going to make me tear up a bit… but my Nana, who passed this past August, started giving me one Pearl on every birthday, starting on my very first birthday. She told me that she wanted to give me enough Pearls to make a beautiful necklace for my wedding day. This was something that used to make me smile every May 23rd as I unwrapped that little black box from my Nana. And every year my mother would have me tuck them away, with the date written on the bottom of the box, so I knew when I was given each Pearl. Well, on my wedding… I wore the most spectacular Pearl necklace in the world… but what made it so spectacular was the story behind it.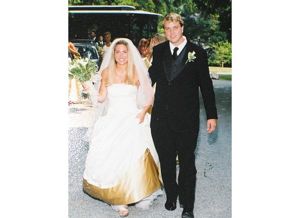 (Can you see my necklace? I was trying to find all my photos this morning, but couldn't import – so I hope you can get a look here!)
But even more… with Pearls, you have options. Simple earrings "highlight" any outfit. The classic Pearl necklace goes with anything — from a simple small strand, to a chunky necklace — Pearls are just that magnificent and easy-to-wear with anything.
And you know, when it comes to Pearls, I feel like anything goes. The beauty and elegance of the Pearl transcends. Necklaces, bracelets and earrings… they are simple additions to add to your wardrobe. Pearls can be worn to work, on dates nights, out to dinner, even to the playground. I love that about Pearls – you don't have to be dressed for an event… they are simply that unbelievably versatile.
Wear your Pearls today!