I'm a total fashionista. I love anything and everything that has to do with fashion.
I devour magazines and websites. I crave the new season fashions. I read books on fashion styles and trends and designers. Not to mention… I love perusing store after store after store for fabulous fashion finds (and not only for me — for my whole family!) I love it all.
But what has been AMAZING is seeing fashion hit TV. My favorite? Hands down – Project Runway.
I'm a huge Heidi Klum fan. I'm a huge Tim Gunn fan. I'm a huge Nina Garcia fan. And Michael Kors? Oh, my…. there aren't enough words. But… what I love most about the show is "meeting" the designers and seeing their vision and creativity come to life through clothing. There's something incredible about being talented enough to bring to life a piece of fabric. A simple piece of fabric that transforms a person… makes her/him feel more beautiful, feel more confident. It's simply – amazing.
As I await for Project Runway Season 6 to premiere on LIFETIME, I'm excited to let you all know that Project Runway online launched TODAY on myLifetime.com.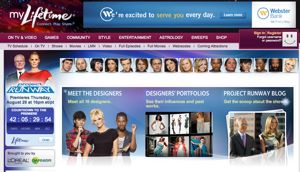 Meet all the designers! It's incredible… even if you've never watched an episode of Project Runway before… you will love the set up of this site. I've been reading and watching and learning about all the designers. There's video of them and facts. They are fabulous and oh-so-very talented.
Right now… my "top picks" are – Malvin Vien and Althea Harper. So – we shall see…
And I love how there is a countdown ticker displayed until Project Runway premieres – which will be August 20th at 10PM. Only 42 days and about 6 hours…
So head on over and have some FUN!!