I never touched a pair of flats until this past spring. I never touched them because they always made me feel shorter than 5 feet. Seriously, it's easy to feel shorter when you're actually pretty short. But — this past March I had to try them… so I bought a cheap pair of flats from a small consignment shop in my town. I figured spending $5 for a pair of flats that I may hate was the safest thing to do.
Surprise… surprise…
I LOVED them. I mean, LOVED them. Unfortunately they fell apart after about 10 wears and I had to retire them to the trash, but… it was the best $5 I had spent because I really got to see (first-hand) what this whole ballet-flat-craze was all about.
I'm asked all the time where I get certain things… and, as most of you know, I'm very open about the places I shop and the money I spend on items. I love being able to share some "sales and deals" and some "inside scoop" on some hot items in the stores right now. It's my passion and my love – especially when it comes to making mothers feel more beautiful, more confident and more in the fashion-know.
So… I have been getting the question – "Where do you go for you're own… (insert item)" quite a bit lately. Since I'm all about wearing the ballet flats right now, I wanted to share where I just got the most comfortable, cozy and delightful pair of flats.
Thanks to my good friend Stephanie over at MomTV, she's been introducing me to J.Jill. I have to admit, I had never shopped there before… but Stephanie had been sending me some of their email newsletters and I quite literally locked eyes with the most perfect pair of ballet flats.
You know when you spot something in a catalog or online or in a magazine… and you just hope and pray they are just as beautiful and amazing in person — well, they were and they are!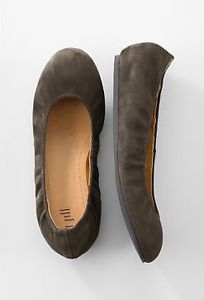 (I got mine in mocha…)
Just comfy and cozy. Two words that you want to use to describe a pair of shoes, right?
Love them. So – even if you're 5 feet… grab some Flats for the Fall. They are a hot item right now… and can literally be worn with anything. (The test of chasing a 2-yr old around the playground has already been done and achieved!) You will fall head over heels. No joke.
Check out my 10 Fabulous Flats for Fall over at Lifetime Moms!