Donna Karan New York – 7 Easy Pieces
Donna Karan is my favorite designer. I love how she designs for every woman, and truly wants to make a woman feel her most beautiful and be the most confident she can be. Donna Karan addresses needs. It's not just about the clothing, it's about the feeling you feel dressed in the clothing. I must say, I love that about her. She thinks of the whole woman, every aspect, inside and out, as she designs.
As I have mentioned before on my blog, my first job out of college was working as an assistant to Donna Karan. Every day I reported to 550 Seventh Avenue, ready for anything. I loved being able to watch this true creative genius create. I used to see her, quite literally, transform women. I could see it in their eyes, in their smiles, in their walk… they loved the way they looked. It's funny, I remember thinking before I worked for Donna Karan, "It's just a dress on a rack, so how important can it really be?" But then, I began to see what that dress could do for someone, and it's amazing.
Donna Karan is a designer who just "gets it." When it comes to designers creating pieces for women, the functionality isn't always there – at least not from season to season. What I love and admire about Donna Karan is her brilliant idea of replacing the power suit with her 7 Easy Pieces – such as a bodysuit, wrap skirt, a chiffon blouse, a longer jacket, leggings, blazer, dress. Essential pieces. And the beauty in these essential items is that they are easily interchangeable – you can go from day to night in them easily and effortlessly. You can mix and match, yet still have that chic look of simplicity. There's nothing complicated with the 7 Easy Pieces.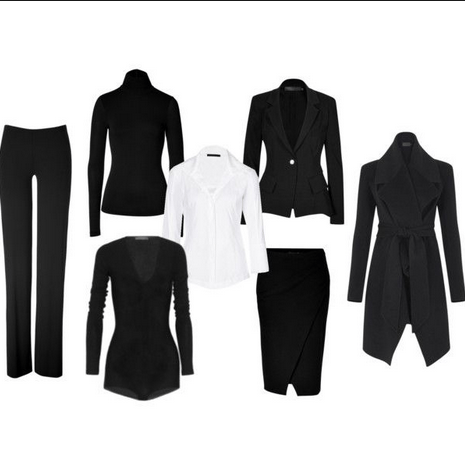 Well, the 7 Easy Pieces has been updated, and in Donna Karan style. Her Fall 2009 Collection is all about interchangeability and beauty and ease. Being a working mother and grandmother, Donna has always created for the woman who lives. This is a woman who is here, there and everywhere. She needs easy wear, but wants to still look and feel beautiful and timeless. In her own words:
"It was very important this season to create a two-piece system. Instead of just the power of an individual dress, we took apart the system and made it into pieces. It started with the seven easy pieces and it was a time to reflect back to them. The turtleneck, the skirt, the pant, the jacket, the coat, the jean. All so simple, but all about the woman, and her body, and her silhouette, and her strength. The importance of two-piece dressing truly became the foundation and the importance of what this collection was built upon." – Donna Karan
My advice. Check out Donna Karan's Fall 2009 Collection. See the need and necessity of the turtleneck, the skirt, the pant, the jacket, the coat and the jean. See how you can effortlessly mix and match these core pieces and change up the outfits even more with some incredible jewelry and fabulous heels. As you'll see in this photo before… both of these looks could be transitioned to a more relaxed look by adding some jeans. I love how Donna inspires you to look at a runway look… and see the possibilities beyond it. As moms, we need to do that. It's essential for our lives. Find YOUR easy pieces.
Mine? Jeans. Sweater wrap. Black pencil skirt. Black turtleneck. Leggings. Button down blouse.