Summer's over… maybe not officially, but school's back in session and all the local pools are closed (at least in New England). It's bittersweet. I'm looking forward to the fall, but I already miss the warm summer nights, where it was light out until 8:30PM. So it hasn't been surprising to be getting some questions regarding the summer-to-fall fashion transition. What's still in? What's now out?
I was asked the question last week from Melanie in North Carolina –
"Since the summer is over, does that mean that oversized sunglasses are now out?"
No, way! I'm a lover of oversized sunglasses. I actually just bought myself a pair of Calvin Klein oversized aviators for $30 (end of summer clearance!). And, I'm happy to announce… I just converted my sister to them, she used to gravitate solely to smaller frame sunglasses. My recommendation is to find sunglasses with dark frames (they can hide tired eyes very well!).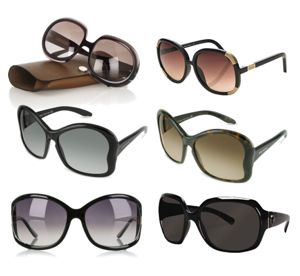 Why oversized and dark frames? Well, for moms… you can head out without a stitch of makeup on! I'm actually not kidding – 'cuz seriously, oversized glasses are fantastic for that. Toss your hair back, put on some comfy clothes… oversized glasses and you're good to go. My sunglasses are my saving grace half the time in the mornings!
Not to mention, they just look oh-so-chic.  And tons are on SALE right now!  Even better, right!?
Go big and bold.