Okay. I skydived, or sky-dove… (what is the past tense of skydive, anyway?)… last week, on my 57th birthday, and checked skydiving off my list.  And for the next 51 weeks, I'll be checking off 56 more things that I want to accomplish.
57 things in 52 weeks. 57 in 52.
#2 is just as outside my comfort zone as #1… but in a much different way.  I think you'll get the idea of #2 if I give you a few hints.
– I'm told this "thing" requires upper body strength, so we'll just have to see about that. I might make it through 1 of 6 lessons.  I might make it through 1 minute of 1 lesson.  Or I might make it through all 6 of 6 lessons.  Hmmmm.
– I need a bit less apparel than a skydiving jumpsuit.
– I need these, or something very similar…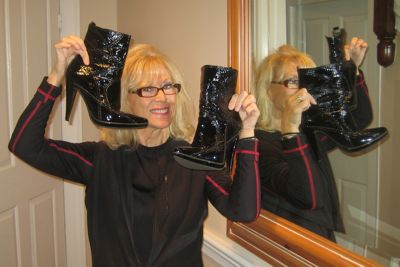 – I need totally more subdued lighting than the above photo.
– I need to give you my pole-gress as the lessons pro-gress.
– I need a sense of humor. For sure.
I start Tuesday evening.  Evening, of course.  Can you guess what I've gotten myself into?!
And, oh yeah… this is one that I might not exactly share with my grandchildren!