As a child, every Halloween was the same way…
I wanted to be a cheerleader. Then Madonna. Then a dancer. Then a skeleton. Then something with a scary mask. And then back to my original idea of being a cheerleader.
My poor mother (I love you!) would try and keep up with the many different costume changes. What I didn't like back then (but I truly appreciate as a mother now), I wasn't allowed to switch my costumes. She bought ONE costume, if I wanted to be anything else, I needed to find things in the house to create it – a true DIY Halloween costume.
Thank you, Mom… because now, I'm going through the same thing with my sons. They want to be superheros. Then they want to be dinosaurs. Then they want to be Star Wars Clone Troopers. Costumes are expensive, you can't find anything for cheaper than $20… and when you have 4 children, that's a lot of money for one night and a couple Halloween parties.
So I'm all about trying to find some cool DIY Halloween costumes for Halloween! This morning I was searching around the Internet and came across a GREAT article on iVillage Parenting called – 12 DIY Halloween Costumes to Make With Leotards or Sweats.
Talk about hitting the Halloween "motherload!"
These were some of my favorite (and so easy and so doable… !):
GRAPES! Grab some purple clothing and purple balloons and you're good to go! Try green for peas. Try red for cherries. Try yellow for a bunch of lemons.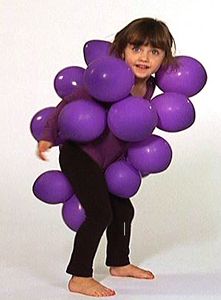 ROBOT! Grab some tin foil… you can have TONS OF FUN with foil. Tin Man (my Dad's fave costume!). Robot. Alien. Just wrap, twist and create!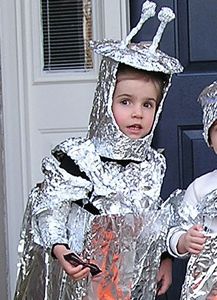 Bathtub FUN! This one I absolutely ADORE! How clever and how simple. For my younger guys in a wagon… just toss in some balloons as bubbles, throw on some pajamas and shower caps and bring on the towels.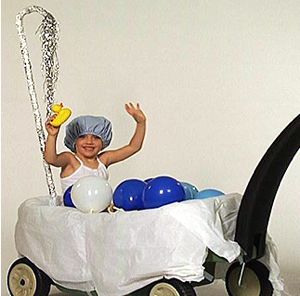 Mummy! This is one I used to do as a kid… even beyond Halloween! Grab the toilet paper and go to town! This is one of the coolest and funniest costumes to create!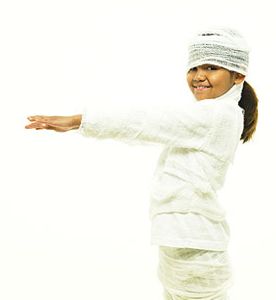 DIY this Halloween… have some fun, be creative and use what you have! Your kids will never forget that kind of costume. Thought I'd have a little fun today with some Fashion Advice for Moms… Halloween-Kid-Style!
Check out iVillage for some more ideas on DIY Halloween Costumes! AMAZING article today!