Blog World Expo is upon us! I've been getting questions about "What to wear…"
To make it easier, I have chosen 6 items that I feel would be GREAT additions to any Blog World Expo wardrobe. This way, too, you can really utilize a few staple pieces over and over again by adding/changing accessories.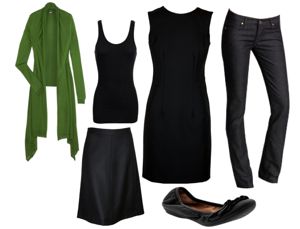 1.) Jeans
2.) Little Black Dress
3.) Black Tank Top
4.) Skirt
5.) Flats
6.) Sweater Wrap
What I love about all these pieces is that they are incredibly versatile.
Wear the jeans with the tank and sweater wrap.
Wear the LBD with the sweater wrap.
Wear the skirt, tank and sweater wrap.
Wear the sweater wrap tied in over 50 different ways.
All you need to do is pack jewelry, a couple different tops, a blazer and potentially a pair of heels – and literally… you are GOOD FOR A WEEK!
(These are great items for ANY kind of business trip.)