When is the last time the words climb, pull and spin created panic?  Toss in body inversion and put it all to heart pumping-music, sensual strobe lights and a pole… and what'daya got?
Yep. One Grandma hen and 9 spring chickies at a pole dancing class.
Pole dancing is #2 on my List of 57 in 52.  "Why pole dancing?" you ask.  Well, I've heard that mastering the pole takes strength and endurance… and I'm all for that at my tender age of 57.  (Humor me with the word tender this morning, please.)  And I don't consider myself really physically artistic in movement and dance and all that, so why not pole dancing for a total out-of-the-box experience? 
So I walked into that first class last night with that Tom Petty song in my head, Won't Back Down.  Well, first I wondered what the heck I'd gotten myself into…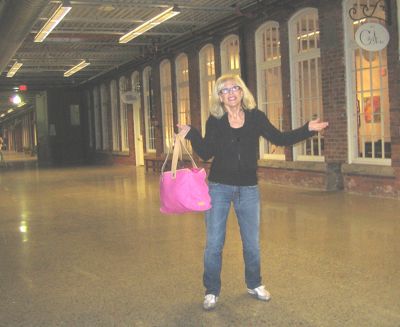 … but Barry had come along with me to that beautifully restored old mill building as moral support.  He would sit on one of the benches and read like a good old Grandpa type while I went pole dancing. Good times.
I changed into my sensible running shorts with the inner panty and sensible tank top and headed into the class.  I had decided to take this first class in sneakers, as was recommended for beginners.  The room was big and airy and small and intimate all at the same time.  The ceiling was high… very high, with soft lights casting a warm feeling over the 20 or so poles.  Yes, that many.  I looked up at all those poles attached to that far-away ceiling with an ominous feeling. But nothing was more ominous than the women… nay, girls… who were already there.  Young.  Enthusiastic.  Some in boots and short shorts.  Some in sneakers.  Grasping the poles and doin' a little dance, makin' a little love, gettin' down tonight.  You know.  Should I run now?  Nah.  It was too late anyway.  Jennifer, our instructor with the perfect body (and I mean perfect) had already arrived, blasted the music… and had us on routine #1.  Who knew that you already needed to know how to mambo, cha-cha, and basically strut your stuff as a prerequisite to this pole dancing thing?  Not me.  I had a nice little beginner purple pole (silver for more advanced) in the second-to-last line and decided to just hang in there.  Because hang we did.  The dance elements were very soon combined with our legs and knees and arms… oh, the arms… whipping us up around those poles.
Did I mention whipping around those poles?
Somewhere in all that dancing and whipping, Jennifer had us stop and introduce ourselves… and yes, all 9 of these young women are young.  A couple in college and young professionals looking for something a little fun and out-of-the-box.  Kind of like me.  Well, except I'm old enough to be their grandmother… !!  One hour of this dancing and whipping and pulling, climbing and spinning had my feet, my arms, my legs and my heart pumping to the music under the sensual strobe lights.
I cannot believe that I almost finished a complete pole routine.  Almost.  I had to watch myself in the mirror to keep myself on track… or, on pole.  Did I mention the huge mirrors? And then we had to individually complete twirls.  Oh, God help me.  I couldn't just hide next to my purple pole in that next-to-the-last line after all?  Nah…  So I did.  We all did.  We laughed.  But we all took it pretty seriously, too.  Jennifer gave us the courage and the means to do what we had come to do.  And she promised that each week would bring us closer to a full body pole routine that will bring strength, endurance, confidence and fun.  Sounds good to me.
And I loved it.  We all loved it.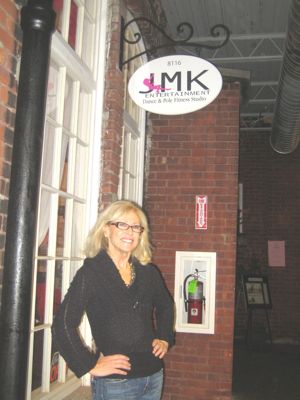 Look at my attitude after my lesson… !!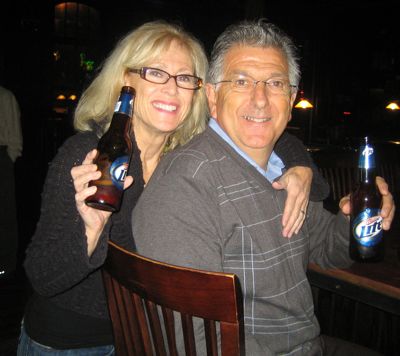 And then Barry and I headed next door to watch his brother's jazz band and have a couple of beers… 'cuz ya know what?  I'm old enough to drink!  Can all the girls in my class say that??!!