Grandma's List… minus 1.
Today, I turn 57.
Today, I jumped out of an airplane at 10,000 feet and did a 40 second freefall at 120 mph… then my awesome tandem skydive guy Justin at Skydive Newport deployed our parachute at 5,000 feet above the ground for the most spectacular parachute ride over the magnificence of Newport, Rhode Island and its surroundings.
Today, I came to know myself better than I think I ever have in all my 57 years.
It begins with a List.  My List of  57 things that I want to accomplish, or attempt, over the next 52 weeks.  It's a celebration of my 57 years.  It's a challenge to my 57 year-old self.  It's a way to have fun… especially with my 9 grandchildren.
And today I cross #1 off my List of 57 in 52… Skydiving.  I chose Skydiving as my first accomplishment for two reasons – 1) I am a fearful flier; 2) I am terrified of heights.  I surmised that if I could take these fears and challenge them, then the rest of the list may actually be do-able.  I knew that once I made the reservation to jump, I would not back out.  I did this last Friday.
Today, my husband and my mother accompanied me to Skydive Newport.  To say I was nervous is the understatement of the century, but the morning was perfect with blue sky, little wind and no clouds.  This was my first blessing.  The second blessing was Justin, the most calm, patient, kind and fun tandem instructor who ever existed (sorry to any other instructors out there, but being my first time and all, I fell… literally, for Justin!).  The third blessing was company on my adventure.  Three other people showed up to skydive as well… 2 beautiful young women and one warm and wonderful young man… and we "trained" together for our jumps.  Autumn, Megan and James.  They are the embodiment and exuberance of youth and energy.  I needed them today.  And, oh… the fabulous PINK jumpsuit was certainly a touch of inspiration, yes!?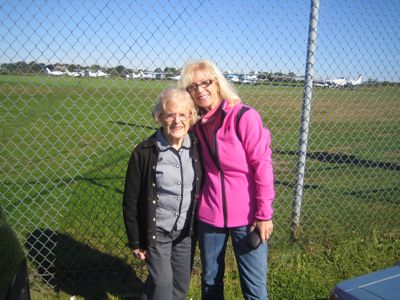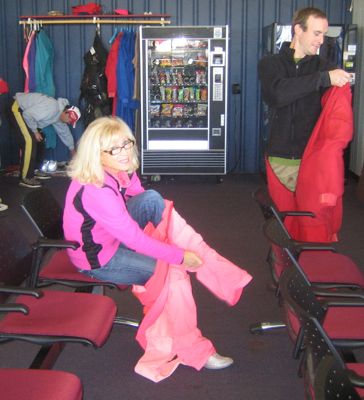 One thing that rather shocked surprised me was the size of the plane that would take us up to 10,000 feet.  Does size matter?  I thought so.  So why was I squeezing into a foot locker with Justin, James and James' tandem instructor?  Ah.  To bond.  I think.  The plane was not large enough for all 4 jumpers and 4 instructors plus the pilot… so James had been relegated to jump with me!  There we were, 2 jumpers and 2 instructors and the pilot, all sitting together on the floor of the tiny plane… talking and laughing and smiling and admiring the splendor outside the plane windows.  Nature.  Humanity.  The intimacy of companionship.  Inescapable risk.  Independence and interdependence.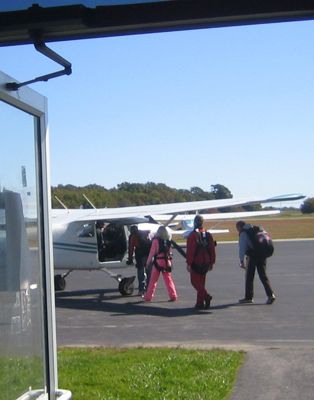 It was a remarkable ascent.
James would be jumping first.  It was time.  His instructor opened the door of the small plane and I felt the immediate rushhhhh of cool air.  My heart pounded for James.  I was close enough to the open door to see the tiny specks of a universe far, far below us and I thought, "I'm going to do this.  I'm really going to do this."  Then James was gone.
Justin called to me over the noise of the rushhhhh of wind, "Not yet." I was inches from the door.
Then he said, "Put your leg out." I had watched the video.  I was ready for this instruction.  But I was not ready for the intensity of the wind as it pushed my leg and my body to the right.  I was supposed to put my feet on the little step outside the plane… the little step 10,000 feet above my husband, my mom, my life.  Justin put his right leg out and I followed with my legs with almost calm normalcy.  I could feel the wind on my face now.  I knew I was ready to fly.
And then we were flying.  Floating.  I know we were freefalling… that's the term… but I felt like I was still.  Still as in not moving and still as in the most glorious tranquility I have ever experienced.  I felt penetratingly perceptive, as if I was understanding everything God intended me to understand.  I felt alive.  I knew the wind was whipping my hair and I knew I was telling Justin how awesome I felt and I knew we were falling… but my heart was compliant with a wish.  A wish to know myself and my courage a tiny bit better.  I was still within myself.
My wish came true because I was finishing the moment.
Then Justin engaged the parachute.  We floated back up, or so it seemed, for an endlessly beautiful moment… and I looked down to see majesty.  The ocean, in deep Fall blues.  The trees, reaching toward us.  The bridges and railways and airports of man.  I saw James a few hundred feet below us… and I watched his enchanting rainbow parachute as it danced in the wind.  I felt such happiness that he was safe.
Then I saw my husband.  And my Mom.  They were waving.  I wasn't close enough to see their faces, but I felt their smiles and pride and awe floating up to me.  I was almost at my journey's end when I realized, truly realized, what I had just done.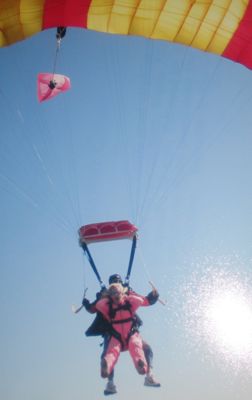 And then I was on the ground.  But something had changed.  I had flown.  I think I discovered the meaning of freedom in those few minutes of flying.  The freedom to create.  To craft.  To live.
The freedom to finish many moments.
I immediately ran to my husband and my Mom and got the biggest birthday hugs imaginable. They were my joy at the end of this little journey.   And then there was James.  My companion on this journey.  To James, I'd like to say that he inspired me to remember a long-forgotten quote from the Essays of Montaigne:  My trade and art is to live.
Thank you, Barry and Mom.  Thank you, James and Autumn and Megan.  Thank you, Justin… for giving me your wings.  You are incredible.
And my continued List?  Stay tuned.  I've got 56 things left in 52 weeks.  They may not all be as dramatic as today's… but they are all inspired by the art of living!