Today, as I was organizing and straightening and cleaning for my Thanksgiving company, I was thinking of my mother-in-law, Flo. Flo LOVED the holidays. She LOVED to entertain. She LOVED to cook and bake and plan a special treat for each person… my Thanksgiving treat was always homemade mince pie. Flo always remembered if someone enjoyed a special menu item.
At one point today, I stopped all the organizing and straightening and cleaning… because I was drawn to the special drawer where I keep so many of Flo's things. I opened the drawer of the wicker bureau that she so loved and immediately saw a little white steeple that encased a little silver bell. It was sitting on top of all the little purses and pieces of costume jewelry that I've kept in Flo's special drawer, just where she left everything. I remembered that steeple from all the years that Flo decorated for the holidays. It sat on top of a little white church that she brought out year after year after year.
But as many times as I've been in that drawer, I never remember seeing that little white steeple.
My heart soared as I picked it up and heard the tinkling of the little silver bell. You know what they say when you hear a bell ringing… an angel is getting her wings. And I smiled. I took that little white steeple with the little silver bell and placed it in a special wreath that hangs on my kitchen window. Now each time I enter my kitchen, or make a cup of coffee, or rinse a dish… or cook a special Thanksgiving dinner for Flo's family… I will think of Flo and all the goodness and love she brought to each of us, every single day.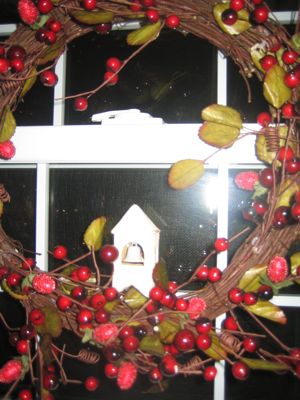 Happy Thanksgiving, Mom! I love you more than I could ever express…
… (and maybe you can tell me where to find the little white church that belongs to the little white steeple!!)