Hair Accessories for Moms.
I get it. I totally get it. Moms need to wear their hair up. Since becoming a mother in September 2004 I have worn my hair up (and out of my face) 80% of the time. It's funny because I definitely used to be a hair-down girl before I had kids. I never (ever) wore my hair up. But… as only moms know… you're holding your kids, you're feeding them, you're running/playing/chasing/dancing/climbing/rolling with them, you're reading to them, you're bathing them (oh, my… I need ARMOR for bath-time!) and (my fave) you're snuggling/hugging/kissing them… who wants hair in your (or their) face!? It's distracting and a total pain in the BUTT!
So… the Holidays. Is it possible to still wear your hair up and look"good?"
You bet ladies… YOU BET!
Here are my top suggestions: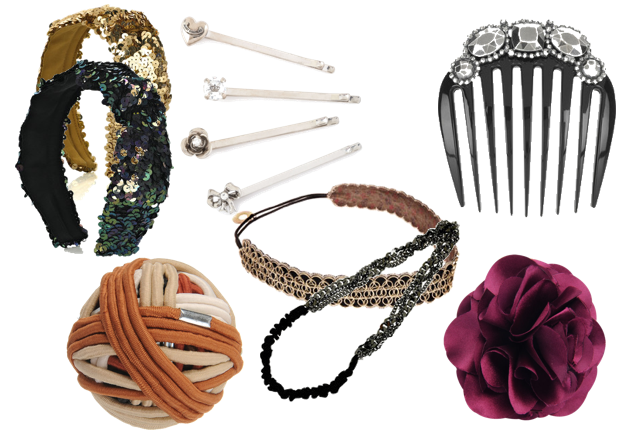 Sparkle with a SEQUINED HEADBAND…
Dazzle with a JEWELED HAIRCLIP…
Add some elegance with some silver BOBBY PINS…
Add some sophistication with some "slimmer" DETAILED HEADBANDS…
Have some fun and be festive by camouflaging your hair elastic with an elastic that matches your hair color… and add a FLOWER CLIP…
Hair Accessories are a gorgeous and glamorous way to go for the HOLIDAYS!  Be carefree and spirited!