Just yesterday, while lugging out the trash in my sensible non-skid slippers but still sliding over our ice-coated back deck, I began to dream a bit about living in a warmer climate.  You know.  Wearing my fuchsia-feathered high-heeled mules and matching lingerie while tipping the guy who will take out my trash for me in the perfectly manicured and maintained 50+ complex where I lived for those few moments in my dream.  And my car?  It would never need warming up.  My driveway?  Never require shoveling.  My furnace?  Well, I don't really deal with that dinosaur anyway.
But.  But.
But then I woke up this morning to this.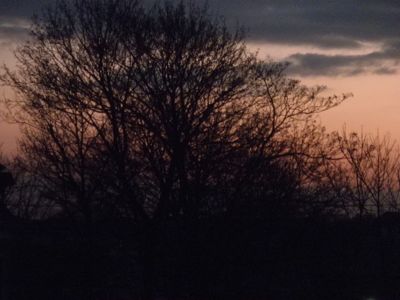 Yes.  A tree.  This tree is what I see each morning from a window at my computer table.  Today, in all of its still winter beauty, I could see the sunrise dancing all around it… intertwining color with the darkness of its branches.  The contrast is stunning.  Miraculous even.  I began to think how much I love this tree.  I love it in the winter.  The spring.  The summer.  The fall.  This tree is the cycle of life from my very window, each day.
And the tree is not even mine.  It is not on my property.  It is actually across a fairly busy street and sandwiched between an apartment building and a gas station.  The tree is sort of a universal tree… a symbol of life and strength and endurance and change.  As I look at it now, as I type, I see birds flittering about in its branches.  I am sure it has held and nurtured many, many nests in its day.  It certainly nurtures me.
Hmmmm.  I guess if I lived in a warmer climate, I would find another tree to enjoy.  But I wouldn't have those seasons that keep people like me sliding across their ice-coated decks in their sensible slippers.
But a girl can dream of fuchsia-feathered high-heeled mules.  Right?