"What is a Shift Dress?"
Last week I mentioned a Shift Dress in one of my posts and immediately I got a bunch of emails asking me to define a "Shift Dress." What makes it different from a Sheath? A Wrap? A Jumper? A Maxi? Yes – a SHIFT DRESS is different than all of these dresses! So – in answer to the question at hand out a SHIFT DRESS… I thought I would answer it for you today!
If you're interested in this Shift Dress above, head here – it's super cute!
What is a Shift Dress?
A Shift Dress is something all women should want in their closest… especially since it traditionally hangs loose from the shoulders with very little or no definition in the waist, making it a "hit" for women with different body types. In my opinion a Shift Dress should be in everyone woman's closet. Period.
It's always wonderful (a huge bonus!) to find dresses that don't hug your body too tight (and are in style)… or you need to be a size 0 to wear.
If you're looking to define exactly what a shift dress is… it's a shorter dress that hangs straight down from the shoulders. It has a simple and classic and elegant shape to it, as you can see.  It can have short sleeves or long sleeves and it can be worn year round. I feel like a Shift Dress is essential because it really is a piece that can be work dressy or more casual. You could wear a shift dress to work with heels or wear it our to lunch with girlfriends with some flats or sandals. It's just amazingly versatile.
How to Find the Best Shift Dress for YOU:
I love when people ask "What is a Shift Dress" because it's such a classic dress to have and to wear to work and beyond. My best advice as to how to find the best one for you?
Head to a larger department store like Macy's, Nordstrom, JCPenney, Kohl's, Sears and ask an associate to help you pull Shift Dresses and head to the dressing room and try a bunch of them on. They truly do have the same fit and feel, but you'll see what you like the best on you. You will obviously find them with different patterns and textures and colors. So find what will be best. You can't go wrong with a Little Back Shift Dress! It's the ultimate when it comes to easy fashion for moms and easy fashion for work. You will wear this 100 times and get the most out of your money!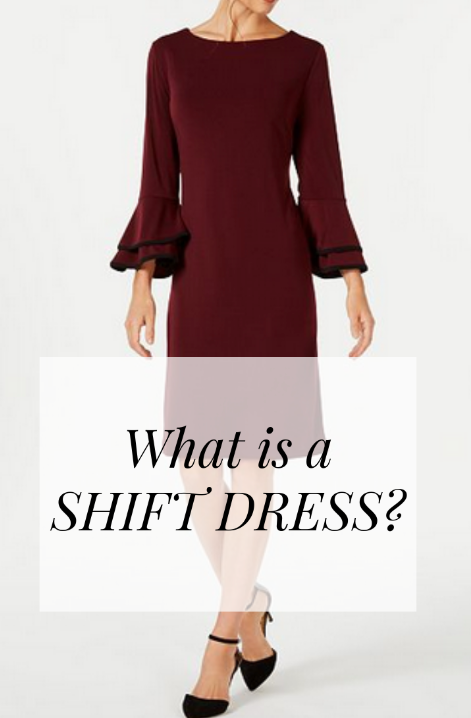 How can you change up your Shift Dress?
Another cool thing you can do with a Shift Dress is add a belt. If you desire more contouring to your body, it's such an easy fix to toss on a belt or a sash. I just love that there are a million different ways to style a Shift Dress!!
And you can have as much fun as you want with it!!!!!!  I'm adding some suggestions below for you to look into and potentially buy!!! So shift it up a bit and get one! You'll find them in a lot of places right now. If you find one that you love, let me know!!!!