Designer Bathing Suits for Girls.
My girlfriend's daughters (they're 9 and 11) just showed me the most adorable bathing suits that they just ordered for the summer. It's funny, it reminded me of how I used to want to order my backpack for the next school year in May! They were that excited about showing me the styles they picked out. *Both suits were pink from top to bottom! Not having girls of my own, (but being one and an ex-swimmer) I love to see what kinds of bathing suits are trendy and chic and hip for girls right now. It's all about colorful and playfulness and girly-girl!
Here are some fabulous Designer Bathing Suits for Girls this Summer:
Petit Tresor –
Fabulous, chic and girly, you're little lady will be dazzling in her Boheme European Bathing Suit.
West Village Kids –
Colorful, bright and energetic, you're little lady will be a shining star in this Elle Bathing Suit.
Flapdoodles –
Chic and original, she will be one fashionista on the beach and the pool deck in this Out of Africa Bathing Suit.
Hello Kitty –
If she's wanting a 2-piece this summer, this Hello Kitty is classic, fun and elegant. She'll look beautiful in this Ship's Ahoy Bathing Suit.
CWDKids –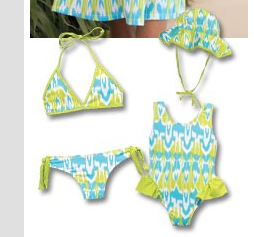 Trendy with ruffles and tie-dye print, you're precious little girl will be a star on the beach in this Anita G. Bathing Suit.