Fit2BeMom's Moisture-Wicking Headbands are A-M-A-Z-I-N-G!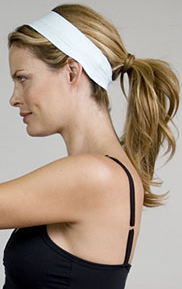 Recently I've been training for a 1/2 marathon. With layers of hair… I need more then just an elastic band. I rely on headbands to keep my bangs and front layers out of my eyes. About a year ago I was introduced to Fit2BMom… ironically enough it was right after I had my son Henry and wasn't needing to wear maternity clothes. It was then when I first tried their Headbands. I remember reading that they were moisture-wicking, but the extent of my workouts at that point consisted of chasing 4 boys. Sure you sweat… but you're not workout sweating. Still, I kept them in my makeup drawer and used them at night to keep my hair out of my eyes when I washed my face. Not a bad use, right? I just didn't need it for its true purpose…
Now I do (and I love it!).
Fit2BMom's stylish headbands absorb any sweat you're giving off on your hairline, it's crazy-cool how well they work. My hair is actually dry after a 4 mile run, they absorb that much. Made with 92% Supplex, 8% Lycra, Fit2BMom's signature moisture-wicking fabric… they'll keep you cool, too. They're thin and lightweight, and stay put (you're not readjusting throughout your whole workout!). I can't say enough about them… if you're into working out, you need one. Not to mention, they're only $5 and come in a variety of colors.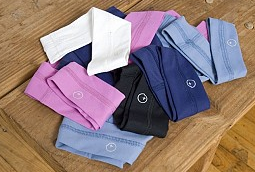 *One reason why I needed to mention this today was because yesterday when I went to the gym, I noticed I forgot my Fit2BMom Headband. My girlfriend had an extra headband in her bag that she let me borrow for the workout. Well, this band was just a regular cotton-stretch headband. When I say that I could have rung it out about 3 times after my run, I'm not exaggerating. It was crazy to see the difference when you're wearing a non-wicking one.*