One of my good friends (thank you Lindsay Lu!) made this for me (and one for my sister, too)…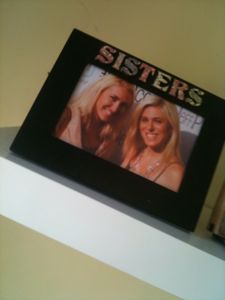 It was taken at Jeff Pulver's 140 Conference last June in NYC. It was that very trip that made Jane decide she wanted to move to NYC. I'll never forget the feeling that went through my body when my sister told me that she wanted to try NYC. It was a feeling of sadness, emptiness and wanting to say please-do-not-move about a million times. But who was I telling her to stay? I had done the same thing 10 years ago and I had loved every single second of it.
But this was my baby sister. Fresh off a divorce. My best friend in the whole wide world. Moving to the "BIG CITY."
Well… Jane did move. She moved in September (8 months ago)… as difficult as it was for me, I never once let on to her how sad and lonely it was without her "home." You know how sisters are… there are certain inside jokes that only "she" gets. Who else can you totally vent to about Mom and Dad (my brothers just aren't girls!). Who else can I call up at 9PM to come get a sundae with me? Who else could I go to to get an honest opinion on things (brutally honest)? It was a tough time.
To make a long story short, Jane moved back from NYC 2 weeks ago. I happened to be in NYC for work on her last day and drove home with her. There's no words to describe the feeling I felt to know that my sister would be back "home" again. I still can't believe I can call her up and know she's a few miles down the road. I love it.
It's just that photo that got me last night. I guess I had tried so hard to mask the feelings I felt about Janie moving, that when I saw the photo last night… tears just came to my eyes. That photo means more to me now than anything… I know the moment that photo was taken was the beginning of an adventure for my sister… one that she will always and forever never regret doing. She needed to do it… she needed some wings to fly.
And now those wings have brought her home.