Today's the Boston Marathon. 26,000 runners will run in the Marathon today… and I'm beyond proud to say that 2 of them are my siblings – Jane and Keith. Even as I type this I feel a surge of excitement for them… they're running the Boston Marathon! How cool is that?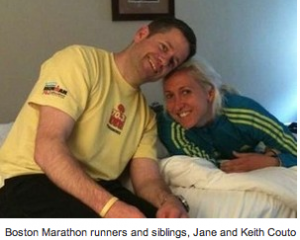 They've been training for weeks upon weeks. Getting stronger and stronger with every mile they've clocked in. As their sister, I have just watched in awe and amazement. It really takes something deep within you to train for a marathon… never mind getting yourself mind-boggling excited about it. That's how they've been for the last few weeks.
I've seen my sister come a very long way in the last year. After her divorce last year, she decided that she wanted to start training for some races. She wanted to train and become disciplined and put all of her time and energy into something bigger she ever dreamed possible. For her, it was crossing the finish line… from 1/2 Marathons to 1/2 Iron Man Races to Marathons… she has simply come alive again. It's something that has been the biggest treat to see in someone you love so much. Not to mention… along the miles of training, she's fallen in love. And Brian (GOOD LUCK, Brian!) will be at the finish line, too – he's RUNNING!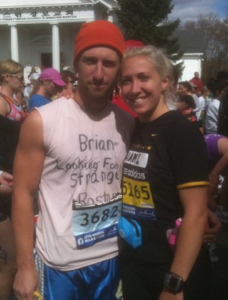 My oldest brother Keith is running for something that simply warms my heart. He's running for the Children's Hospital Boston. Keith has been fundraising for this amazing Hospital for the last few months in such an honorable way. He raised over $5000 and will be running today in honor of his Patient Partner… Christos. I cannot even begin to explain how proud I am of my older brother… he's been so committed to this, and today – at his 1st Marathon – I'm sure when he crosses that finish line there will be a HUGE smile across his face.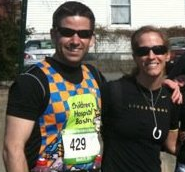 They've inspired everyone around them. And today… I hope you both KICK SOME BUTT and ENJOY the RACE!