Potty training Benjamin began about 4 weeks ago. William and Alexander both had to be potty trained by the time they turned 3 years old or they weren't allowed to go into preschool. Talk about lighting a fire under us… we were on a mission. With Benjamin – he won't start preschool till September, so the 3rd-birthday-deadline wasn't something we were concerned about. But… we knew it was time (and if you know Ben, you know what I mean!)! Considering that Ben has been asking to go on the "big boy potty" for a few months now, I thought it was only fitting that we got the ball rolling.
William and Alexander both took a couple of weeks until they "got" it. We never did the crash-course weekend potty training thing. With Benjamin, I attempted the crash-course approach at first… and failed miserably. Benjamin would sit and not go and then walk away and pee all over the floor. To say it was a little stressful is an UNDERSTATEMENT. Especially the day (sorry if TMI…) he pooped on the floor and stepped in it. I was dry-heaving as I was cleaning it up… that was the day I waved the white flag and said, "We're waiting until the summer."
That was 3 weeks ago.
And then a few things started to happen…
Corelle sent us their Paul Drink-and-Wet Bath Baby for Benjamin.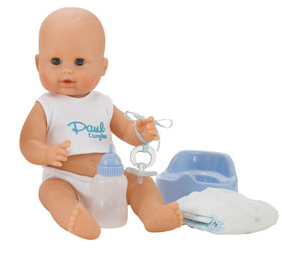 Paul actually comes with his own blue potty. Immediately Benjamin started to show Henry how Paul goes to the potty and that Paul is a "big boy." I couldn't believe it… here I'm thinking I'm going to show Ben how Paul goes to the potty – and he's showing Henry! It worked like a charm. When we start to train Henry, I'm definitely using Paul again because it made everything easy and very non-intimidating. I know Benjamin has his 2 older brothers to watch and want to be like, but in this case… he was the "big boy" with Paul. Plus, I spilled water on the floor and told him Paul had an accident. Benjamin got towels and cleaned it up for me, and it was adorable because he said to me, "Mommy, that's not good for Paul." My heart melted. He was "getting" it. I highly recommend Paul (or Emma, there's a girl, too!) if you're looking for a great potty training aid.
And then… Boon sent us their Potty Bench. Oh my word… this is like the potty cadillac!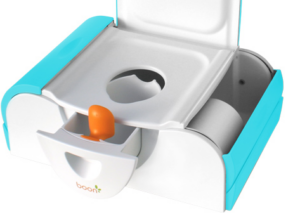 Boon's Potty Bench is sleek, modern looking and just looks cool! Benjamin loved it immediately. He sat down and (ahem…) got right down to the job at hand! There's side storage on both sides of it and the best part for us, it doubles as a bench. When Ben's done on the potty, he just pops the top down and uses it as a step stool to wash his hands, as do his brothers, too! If you're looking for a solid, sturdy, good-quality potty – look no further!
So… back to my original story. I had waved the white flag with Benjamin, I was done till the summer. I knew the summer would be easier, it would be nice out… and I could attempt crash-coursing. Then something magical happened about 10 days ago, Ben ASKED to go on the potty. I thought it was fluke, but I brought him in and he went. Then an hour later, he told me he had to go again… and he did. And he has been going like that for the last week and a half, no questions asked… NO ACCIDENTS (OK, one little one outside)! I don't know what shifted. I don't know exactly why he decided to just go and do it. I don't know why… I just know he's GOT IT and I couldn't be happier! He still uses a diaper at night, but during the day time – he's like a machine – he's got it down!
After 5 years of non-stop diapers…
And then there was 1…
You know what that means.