I'm not working on an official Mother's Day Gift Guide this year… but I would like to toss out a few good ideas here and there. Since I work online and talk with moms all day and night… there have been a few really cool and different items and gift ideas pass my way. I wanted to share the coolness of Vivabox. Honestly… if you're in a pickle about what to get your own mother or your mother-in-law… look no further. This is a GREAT option!
There's one thing I always get nervous about when I'm giving a gift… "Will they like it?" How many times have you opened a gift and done that polite smile (meanwhile in your head you're thinking – what-in-the?)? I've done it a few times… and you feel so bad because someone really spent the time picking out something sweet for you.
Well… with Vivabox, you're combining the freedom of choice with the personal touch of a real gift. You're giving a gift… but you're also giving them an enclosed gift card for them to purchase something of their choice. So it's a gift for them and then an added bonus gift for them, too! Cool, right? I love the amount of choices you get from Vivabox. You get to choose from over a dozen different themes gift boxes… there's wine, BBQ, Spa, Tea, Fun with Photos, Movie Experience, etc. You find what best defines and would relate to the special person in your life.
This was my Vivabox experience…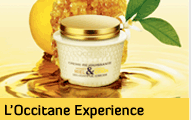 L'Occitane Experience was my gift of choice. What is Included:
* Honey & Lemon Delightful Cream (2.6oz)
* Shea Ultra Rich Body Cream (1.7oz)
* Almond Milk Concentrate (0.28oz)
* Olive Luminous Body Cream (0.28oz)
* Gift certificate for a full size body cream.
* *Bonus* Shea Butter Hand Cream (0.5oz)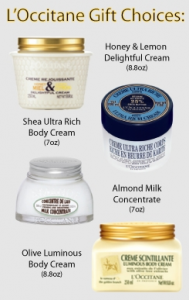 I got to try and indulge all these samples… I don't know if you're familiar with L'Occitane, but the products are exceptional! They're luxurious on your skin and just absolutely fabulous. They products are rich in natural active ingredients and essential oils… not to mention, they smell heavenly!
But the best part… after I got to try all the samples, I got to take the gift card enclosed and choose the what product I wanted in its full-size (I chose the Olive Luminous Body Cream). It allowed me to have decide exactly what I wanted and needed.
I just think Vivabox is wonderful!! Keep this in mind as you're looking for some Mother's Day gifts… ! **AND until May 9th… order a Vivabox and get 20% off by entering the code: mom2010. And… if you do! The next business day you will receive an email giving you a top secret code for an 40% another Vivabox order!!**