I started this week out with a bit of rage directed at the scale.
Yes, yes, I know no one is going to be hinting that I apply for The Biggest Loser anytime soon, but I definitely have what I once heard The Hills' Lauren Conrad refer to as "the boyfriend layer" – that extra little bit of weight you gain when you're (happily… but still) spending more time with your boyfriend, which equals eating dinner out more and exercising less.
When I got on the scale Sunday morning, I saw the number (I hate talking numbers… I don't want to talk numbers… but I'm going to talk numbers – it was 130) and I determined that I needed to lose 10 lbs. in order to feel really comfortable.
Yes, yes, I know it's not all about numbers… but I know that I feel best about my body when I'm around 120 lbs. And right now I'm not there.
(I'm actually at 126 as of this morning, which is 4 lbs. less than I was Sunday morning… I think those 4 extra lbs. were pre-period bloat. Sorry if that was TMI, but I feel close enough to you that we can share in these special moments together.)
Anyway, I usually need to have concrete goals in order to stick to a schedule of working out and eating right, and a couple things are coming up to help me stay on track:
1) Ironman 70.3 Rhode Island, which is a little over 8 weeks away. You can't (or, I should say, shouldn't) one day decide to compete in a Half Ironman and just jump in and do it. You have to train. I did Ironman 70.3 Rhode Island last year, after seeing how much fun Keith and Nicole, my brother and sister-in-law, had training for and doing it the year before. (Brian actually did it that same year, too, but I didn't know him then.)
I trained really well for it last year and was very happy with the experience. I want to have a similar race experience this year, and the best way to ensure that is to train, train, train for it. I'm really looking forward to competing in it this year because I'll be doing it with Brian, Keith and Nicole, my mom and Audrey's husband Matt (who recently transformed himself into Adonis). Because I'm cool like that, I call the 6 of us The IronFamily!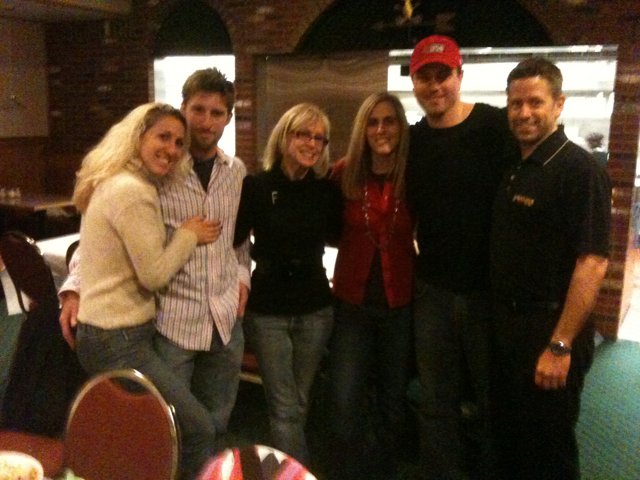 2) This is very a short-term goal, so I have to kick it into gear this week. My incredibly talented photographer friend, Amy, owner of Amy Ro Photography, is going to be doing a couples session with me and Brian next week!! Another of my friends, Dawn, is always looking for a conspiracy (she was CERTAIN the title of my last post meant that I had "said yes" to a particular question), so let me preempt any theories by stating that this is not an engagement session!!!! (Seriously, I'm not even legally Jane Couto yet. Gotta get on that.) Amy is a super popular and talented maternity, baby and family photographer, and she has started also doing "love shoots" lately, so I was only too happy to volunteer myself and Brian. It's going to be so much fun… but I want to feel confident, so that means buckling down on the eating and exercising!
3) It's bikini season! I tortured myself with a bikini buying experience this year, so I'm determined to not let it have happened in vain.
So there ya go. As far as working out, I'm loosely following a plan for the Half Ironman. My training needs to stop being so loose.
This week I have done:
Monday, 5/10 – 5.09 mile run in 41:17 (8:06 min/mile)
Tuesday, 5/11 – Nada
Wednesday, 5/12 – Abs class + 1 hour Spin class at the Y (and I'm planning on swimming tonight)
As far as eating goes, it's been about 80% clean. Last night I couldn't resist the chocolate peanut butter ice cream in Brian's freezer. (Or the ice cream sandwich, either.) But we (the ice cream and I) had our moment and today is a new day.
But for the record: it's much easier to enjoy a moment with chocolate peanut butter ice cream than with baby carrot sticks.