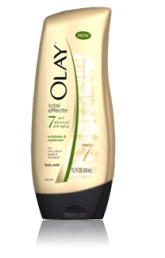 To get you to my first touch of Olay, I first must take you on a little trip… !
Way back in the summer of '62, my family moved from La Mesa, California to North Hampton, New Hampshire. My Dad was in the Navy and had been transferred from the Naval Base in San Diego, CA to the one in Portsmouth, NH. As much as my parents loved California, this move back east was a good one for us. My Mom had grown up in Boston and her entire family of mother, brothers, sisters, cousins and all of their children had settled in New England… and although my Dad had grown up in Michigan, he was happy that my Mom was so happy to be "back home."
I was almost 9 years old when we made that automobile trip across this great country of ours. We had a '56 blue and white Chevy station wagon that my Dad had fixed up for the long trip. I remember he made a bed, of sorts, for the "way back" so my two brothers (ages 6 and 10) and I could sleep on the road… or maybe it was to keep us separated for long stretches of time. (But we still managed to fight the whole way back, of course. You know… he touched me. He looked at me. He took my book. She made a face at me. All that good stuff.)
Those were days of no car seats, no seat belts, no air conditioning, no safety locks, no multi-station radios, no cell phones… just wide open windows and Route 66 and maps and lots and lots of land. I think my parents must have had patience beyond anything I can imagine to make this trek with 3 children. In August. For one week. One l-o-n-g summer week.
We drove all day. Every day. I remember my Dad carrying us into little motels at night. Then we drove again the next day. All day. New England bound.
I still remember pulling into the driveway of my Aunt Jean and Uncle Ed's home. It was dusk… just turning summer-night-dark. Aunt Jean was one of my Mom's three sisters. They had recently moved from Boston to North Hampton and we were going to stay with them for a couple of weeks until my parents found a place to live near the Navy base. My aunt and uncle had 2 daughters, my cousins… Debbie has just turned 8 and Donna was about 1 1/2. (A little boy, Edward, would come along a couple of years later.) Everyone came bounding out of the house with outstretched arms and giant kisses. I hadn't seen these relatives in 4 years, and the homecoming was one for the books. My Aunt Jean was beautifully, incredibly demonstrative and welcoming. When she hugged, she took you in… right to her heart. And she smelled beautiful, too. I remember she said my name, Sharon, with an elongated first syllable. Shaaa-ron. And Aunt Jean was the first person I had ever heard who sounded just like my Mom… with their Boston accents. (My brothers and I had spent enough time in California to sound unlike Bostonians!) My Uncle Ed was a big guy with a big bear hug. Debbie and I sort of eyed each other with that "hmmmmm-I-guess-we're-cousins-who-are-supposed-to-be-best-friends-some-day" look. And Donna was just about the cutest baby I had ever seen.
I looked from them to their house. It was an early 60's sprawling ranch house… with a huge garage and giant back yard with rose bushes. I don't think I had ever seen rose bushes… but I would discover that my Uncle Ed with the big bear hugs was a gardener at heart and he planted, tended and loved those rose bushes. (I would spend lots of time out there in that yard with my Uncle Ed and his rose bushes… and I think of him even now, all these years later, when I see a rose garden.) There was also a big net in the center of the back yard that I would soon learn was a badminton net… and I'd play years of badminton in that big back yard before our stay in New Hampshire was over. I thought these relatives had to be movie stars or something or at least the richest people on the face of the earth. My family had just moved from the suburbs of San Diego, from a tiny little pink stucco house with 2 tiny bedrooms (my brothers and I shared one bedroom with bunk beds and one single bed) and one tiny bath and a tiny, tiny back yard… and it was attached to another tiny house identical to it. There were rows and rows of these tiny, neat little stucco houses. Mostly Navy people lived there. I had loved my home, but this house was… well, incredible. And I hadn't even gotten inside yet.
My cousin Debbie would give me the inside tour. She pointed out her bathroom and her bedroom first. I would be staying with Debbie in her bedroom… which was big enough for princess-style white twin beds, a couple of white bureaus, lots of toys and room to spare. Donna had her own bedroom, too, and Debbie called it the nursery. Holy mackerel!
And then Debbie showed me her parents' bedroom. I had never heard the term master bedroom before, but here was one, right before my eyes. In it was a big bed, a big dresser with a huge mirror and a giant chest of drawers. But the part that was like California dreamin' was the MASTER BATHROOM.
The WHAT? I stood there for-almost-ever staring at that thing in the corner of this master bedroom. That thing with a toilet, sink, shiny vanity mirror and a shower stall with a glass door. A glass door. That thing covered in lovely tile, with lovely matching towels hanging over a lovely towel holder. That thing was a MASTER BATHROOM… "just for parents" my cousin would tell me.
I tiptoed inside that bathroom, not caring at all that it was "just for parents." To me, it was like our family trip to Disney Land. I breathed in its loveliness. I could hear my Mom and Dad and my Aunt Jean and Uncle Ed and my brothers laughing outside in the back yard from the window of that bathroom. I couldn't get enough of it. It was all magic and marvelous and almost forbidden… and then I did the unthinkable. I couldn't help myself. I could almost hear my Mom saying "no. no. don't." But my 8-year old brain said "do."
I did it. I watched myself in the shiny mirror of the vanity cabinet as my finger, which did not seem to belong to me anymore, slowly pulled the mirror open to reveal the secrets of the inside.
And there it was. The bottle. The simple, elegant bottle. On the bottle was the word Olay. I didn't even know how to pronounce it… but it didn't matter. I found myself taking the bottle from the vanity cabinet and opening it. The inside smelled just like Aunt Jean. It was magic and marvelous and pink. It was smooth and silky and oh so touchable. I stuck my finger in that bottle and it came out with that liquid loveliness and I rubbed it into my hands.
Those few moments are still with me 'til today.
I'm not sure if it was Debbie who hurried me out of there… or if I felt I'd better go… or the laughter outside was calling me… but it wouldn't be the last time I visited that magical bathroom. I later asked my Aunt Jean about that bottle with the pink magic and she said I could use it any time I wanted. Aunt Jean was like that.
It's amazing how we remember certain things… generally around our senses. For me, Uncle Ed is still roses and Aunt Jean is still Olay. Even this morning, as I opened my luxurious Olay Total Effects 7-in-1 Advanced Anti-Aging Body Wash (no glass bottles anymore), I thought of Aunt Jean. Even though I am now a grown-up, a Grandma even, using a delicious product to make me feel young and beautiful, I still think of Aunt Jean and those wonderful memories of so long ago.
My family would move right up the street from my Aunt Jean and Uncle Ed. My parents bought a little brown New England cape-style home… with an unfinished upper level. That would mean that I would again share a bedroom with my 2 brothers for another year while my Dad and Uncle Ed finished the upstairs into 2 bedrooms and a bathroom. My parents never had the magic of a master bathroom in that little home. But that didn't matter one single bit, because Aunt Jean's magical place with her magical Olay was right down the street.
(Oh, yes… I did talk my Mom into getting some Olay, too. But I guess that first scent and that first touch will always belong to my Aunt Jean.  And Debbie and I did become best friends for life… and, oh, the other stories we could tell!)
Olay Total Effects 7-in-1 Advanced Anti-Aging Body Wash… you really make me feel like a kid again!
**Sponsored by Olay.