Yesterday morning I hosted 10 of my girlfriends for a Kellogg's breakfast! It's funny, usually when I get together with my girlfriends it's over dinner… it was wonderful to switch things around and have everyone over for breakfast. Since most of my girlfriends have little ones not yet in school, I made it clear that kids were welcome (especially since I had my 4 guys home and they were just as excited to have playmates over for the morning!).
I grew up with Kellogg's cereal in my house. My father has been a lover of Frosted Flakes for years and years and years. I remember as a little girl reciting the Tony the Tiger line with my dad, "They're… ggggrrreeeaaatttt!!!" about a zillion times. My parents would keep our pantry stocked with cereal that we loved – Rice Krispies were always a big hit in our house.

Now, as a mom myself, I've realized the power and wonder of cereal… it's quick, it's easy and it's nutritious. Not to mention, it keeps my mornings simple and non-chaotic! With 4 boys all wanting something different, cereal is the best option because they're all getting what they want… William loves Apple Jacks, Alexander loves Rice Krispies and my Ben and Henry DEVOUR Frosted Flakes (the tradition continues and my father couldn't be prouder!).
Back to my Kellogg's Mom Breakfast!
Kellogg's is working with the incredible Emily and Cooper from The Motherhood in creating Mom Breakfast Clubs to start conversations with moms about breakfast routines, breakfast choices and how cereal plays a role in a mom's life. I was honored to be brought into this Mom Breakfast Club because with 4 sons, and 3 of them in school right now, I'm just beginning this "breakfast morning routine." I only know what I know, so this I really wanted the chance and opportunity to see what other moms are doing, and certainly what my mom friends are doing. 12 of my girlfriends were here – all of us with a different take on breakfast and morning routines – it was really cool to get an inside look/glimpse at what my friends are doing with their mornings… because – quite frankly, sometimes I feel like I'm all alone with morning chaos! Kellogg's did an amazing job at helping me create a space where we could have open conversations and… one of the best parts, Kellogg video skyped Senior Brand Manager Trinh Le into my breakfast. She answered questions, she shared information and she put out thought-provoking questions to us all. It was wonderful!
I put together a Kellogg Cereal Bar…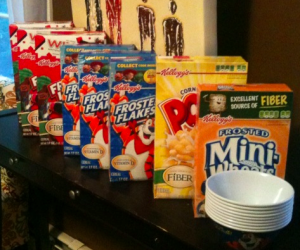 Had the kids join in on the FUN!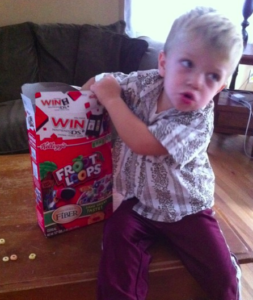 And snuggled up with my favorite Kellogg's cereal!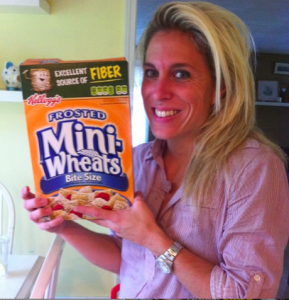 It was great to realize some incredible things about cereal…
1. Cereal provides a small proportion (only 5%) of the average child's daily intake of sugar.
2. Cereal is not heavily processed – many begin as grains of rice, grits of corn, shredded wheat berries and grain-based doughs.
3. Eating together as a family for breakfast (not just dinner) is one of the best ways to start a day. It's togetherness and family-time.
4. Kids' cereal does not contribute to childhood obesity. No single food causes obesity, it's about moderation and balancing calories and physical activity. The average serving of Kellogg's cereal, with a 1/2 cup of skim milk contains 150 calories.
5. Many moms love cereal because of the ease of it, the nutritional value and the economical value. It's a win-win-win!
*This is a paid campaign through The Motherhood and Kellogg's. Kellogg's supplied the food and a stipend for other breakfast must haves. All opinions are my own.