There's nothing like dressing your children in a little luxury. Nothing. Like. It. That's what it's like dressing them in Petit Bateau.

I have been a fan of Petit Bateau for years… I will never forget the ladies in my Donna Karan office giving me beautiful striped pajamas for my baby shower with William. He (along with his brothers) wore them about 500 times! I couldn't get over the quality of them… regardless of how many times William wore them or I washed them… they still looked brand new.
William is now almost 6 years old (which still baffles me!). He's turning into a "little man"… but not without Petit Bateau.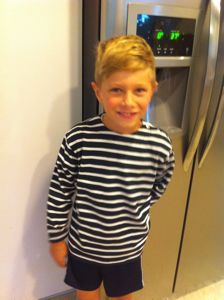 I love William in stripes, he looks so handsome!
I'm excited to announce that PETIT BATEAU is having a photo contest! There will be 2 winners – both winning a $100 gift card to Petit Bateau!
Here's how you enter.
"Like" Petit Bateau on Facebook and "Like" Mom Generations on Facebook… Then upload your favorite photos of your child in stripes to the Petit Bateau Facebook page!
We will pick 2 winners on October 7th, 2010 at 5PM EST.