Before I begin this story, let me assure you: it has a point. Just bear with me and I will arrive at it.
I went to cheer Brian on at the Amica Half Marathon in Newport this morning. Even though over the past few months he hasn't run more than a few miles per week, he was set on running this race because he was able to get a 50% discount off the entry fee. I gently reminded him that if he didn't run the race at all, he would get a 100% discount off the entry fee, but… he went ahead and signed up for the race, so obviously he didn't want to reason with my logic.
When I go to a race, it's usually to compete in it myself, so it felt kind of weird to be there this morning and not feel butterflies in my stomach. I just followed Brian around, holding his bag in one hand and Tansy's leash in the other, while thousands of runners around me – both a marathon and a half marathon were held today – did their pre-race thing: stretching, fueling up, getting their iPods ready, finding creative ways to go to the bathroom without waiting in the unbelievably long port-a-john line… (well, the race did start and finish at the beach – home to a rather large ocean.)
Brian was very busy with work all summer and only had time to some shorter-distance runs (like, 5 miles, tops), and rather infrequently at that. So he had decided that this half marathon was going to be his getting-back-into-racing race. So, just to re-cap: His longest runs as of late have been around 5 miles. He decided to get back into racing with a 13.1 miler.
Yup, makes perfect sense to me, too.
But my role today wasn't judge; it was supportive girlfriend. 🙂
Watching the start of the race was pretty exciting. I never get to see the lead runners during a race, so I got a quick shot of those fast freaks of nature: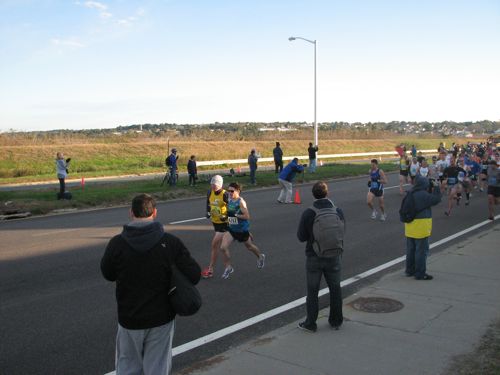 And then while attempting to get photos of Brian and all of our other friends who were racing, I was able to get photos of everyone BUT Brian and all of our other friends who were racing: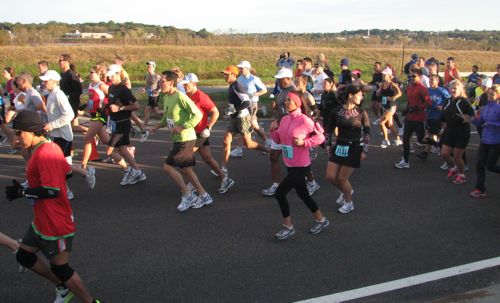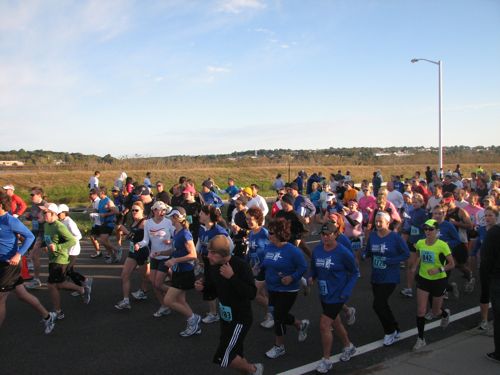 After that, I had some time to kill. Because of the way the course was mapped out (one big loop)…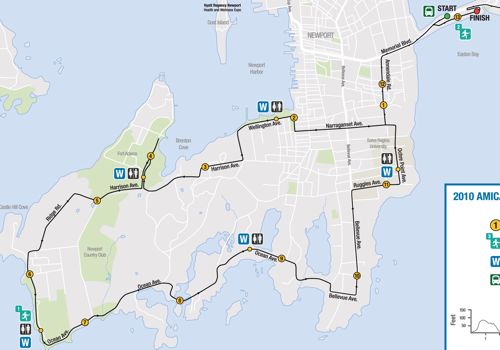 … there was no way for me to position myself at different spots along the route. I had seen the start, and now I had to wait around for the finish.
The car was parked about a mile away, so walking back there was kind of pointless. I was carrying my pocketbook (weighed down by my camera) and Brian's race bag, as well as holding Tansy on her leash, so the round-trip would have taken me about 45 minutes. Plus, sitting alone in my car in a school parking lot for a half hour? As thrilling as that sounded, I decided to stick around the finish area.
Since the finish line was right next to the beach, Tansy kept trying to pull me over to the ocean. She loves to swim… but I didn't think it would be a good idea to let her go in the water because: a) there were a lot of people on the beach and there are leash laws; and b) it was really cold and windy and I didn't have a towel to dry her off. However, when I ended up having to weigh the options of: a) my arm being pulled off; vs. b) the possibility of getting fined, I decided to take a chance with the latter. Tansy won.
She went right for the water, of course. Just watching her made me cold. But she loved it and that little dip was all she needed. I put her back on the leash, walked back over towards the finish – and guess what? I found a towel!
Well, not a real towel per se, but it did the trick. You see, runners tend to ditch their layers once the race begins and they start getting warm. So, you'll find a lot of stray sweats, hats, gloves, etc. along race routes (consider that a heads up in case sweaty hand-me-downs are your thing). And I found one such sweatshirt in the grass, so I dried Tansy off with it.
I doubt the sweatshirt's owner went back to retrieve it at the end of the race (usually you wear "throwaway" layers knowing you'll leave 'em behind), but if he did, well, that's why he smells like wet dog.
I wanted to secure my position at the finish in order to get a good view of the action, so I headed over and found a spot along the finish barriers. I had my camera and my iPhone, so my goal was to get photos of Brian with the camera and a video with the iPhone. Ambitious, I know.
At first, I was one of only a few other people at the finish barriers, but soon enough the crowd grew larger. At one point, I scooted over to make room for another girl. She proceeded to make more room for her boyfriend and the huge backpack he had on his back, effectively making me become intimate with said backpack. Then he proceeded to lean way over the barrier, practically blocking my view of the runners.
That was going on to the right of me; to the left of me I had a family of enthusiastic cowbell ringers, enthusiastically ringing cowbells (written twice for effect) in my ears at the runners.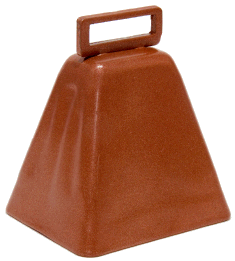 Brian couldn't finish soon enough.
On the plus side, while I waited I was able to watch runners really kicking it in at the finish. Where else is it completely acceptable – if not slightly gag-inducing – to see grown men and women parading around in public with drool dripping down their chins? (Though, one guy overdid. Even Tansy agreed.)
And when Brian finally came in? I was so proud of him. He ended up with a time of 1:35:57, which is a 7:20/mile pace. It's an awesome time anyway, but the fact that he didn't even train and got that time is even… awesome-er.
Of course, you would have thought I have never used any technological device EVER if you saw me try to capture Brian with my little gadgets. I was able to get just one photo of him sprinting to the finish: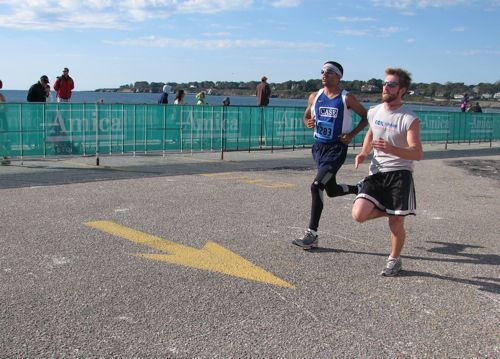 And as for that video? Major fail. But at least you can get an idea of what I was dealing with re: backpack boy and enthusiastic cowbell family.
[youtube]http://www.youtube.com/watch?v=NHwFY22ewLY[/youtube]
Now, I promised you I had a point, didn't I? Here it is: watching this race made me want to race again.
I had lost some of that desire lately, but watching all those people come in, some with smiles on their faces, some looking like they were never happier to see a finish line and yes, some with drool dripping from their chins (seriously, dude, use your sleeve!), made me miss being on that side of the finish barrier.
Tomorrow morning at 9:00am, registration for April's Boston Marathon opens up. My time from last October's Marine Corps Marathon qualified me for the 2011 Boston Marathon, so I'm signing up.
Training begins tomorrow!