There are many things in life that I consider "pinch me moments." Besides the huge pinch me moments of meeting my husband and the births of my 4 sons, I have had a few additional "pinch me moments" in my life. Moments I'll never, ever forget. Moments I will cherish and carry within me forever. I guess one would say, moments you dreamed you could have… but never quite sure if you would ever have them.
I had one of these moments in July of this past summer when the Estee Lauder team reached out, asking if me, my mom and my sister would be interested in working with them for their Breast Cancer Awareness Campaign. They were very honest and up front that we would be taking the breast cancer pledge by covering our bare breasts with our right hands for the photos. There wasn't a moment of doubt whether we would be doing this or not. We knew the importance, the power and the necessity of a campaign like this to help educate and bring more awareness about breast cancer.
When we saw the final shot…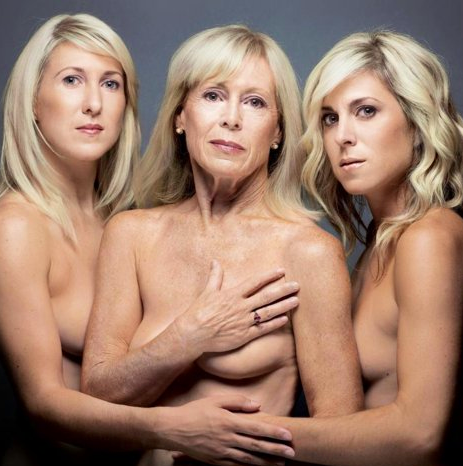 … we cried. It was that moving and powerful for us. It was a pinch me moment.
But the pinch me moments didn't stop there. We headed to Bloomingdales for the launch of the campaign on September 29th, and we met Evelyn Lauder and Elizabeth Hurley, two women who have brought so much awareness to breast cancer through Estee Lauder. Actually, Evelyn Lauder herself developed the pink ribbon. I couldn't get over the passion and the love and the commitment they have for bringing awareness to everyone they can. It was inspiring beyond words.
And not to mention… another huge PINCH ME MOMENT was to see that our photo and the cause appeared in WWD on Wednesday, September 29th. For me, this is my news source for all things fashion and beauty related. To see this…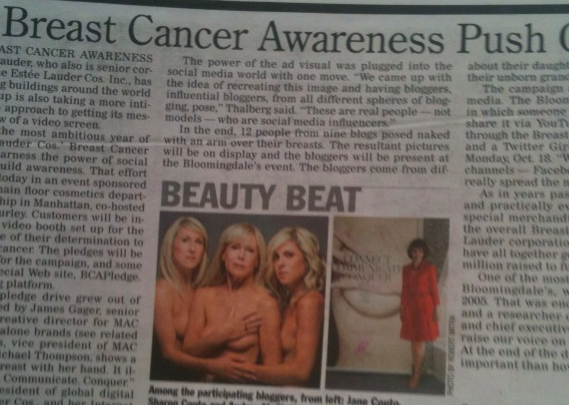 To be part of a campaign of this importance, reaching out for breast cancer awareness and prevention and research, is a "pinch me" moment that will keep on going and keep on giving to Connect, Communicate and Conquer breast cancer.