On October 5, my countdown began: 30 days until my 30th birthday. In honor of this, on each of the 30 days leading up to my birthday I will recount one memory from the past 30 years… either one that has helped define me, one that makes me laugh, one that makes me think, one that encourages me…  or maybe a little of everything. If possible, I will post a photo to go along with the memory.
It's my 30/30/30 Project: 30 years. 30 memories. 30 days.
Here is my memory for Day #10:
I have many, many memories from my childhood home… a tan Dutch Colonial with a blue shutters; the only home I knew from the day I was born until I was almost 18 years old.
It was where I learned to walk, learned to talk, learned to love…
It was where I made my first friends, my sister and brothers… and then Jessica across the street, and David and Betsy next door.  We would build Lincoln Logs or play on the Space Trolley in my back yard.
It was where I learned to read, ride a bike, swing on a swing-set and climb monkey bars.
It was to that house that we brought my childhood dogs as puppies, which began my lifelong love of animals. Cracker and Carmel were just 8 weeks old when we rescued them and took them home to enjoy a lifetime of love. They taught me the importance of an animal's love and I loved them unconditionally.
My bedroom in that house took the wrath of my pre-teen obsession with sunflowers… I covered my room with sunflower wallpaper, I had a sunflower comforter, sheets and pillowcases.   I had a framed picture of a sunflower on my walls, and basically everything sunflower that I ever found was on my shelves and desk.
My Mom and Dad even planted seeds in the garden below my bedroom so I could look out my window and see sunflowers every August.
In my childhood home, I learned how to get through the break-up of a friendship, how to nurse a broken heart, how to break someone else's heart as gently as possible…
I waited by the phone at that house – and tried to keep the rest of the household off the phone – hoping to get a call from my crushes.  I was picked up at that house for my first "real" date, and got ready there for all my high school dances and proms.
I stayed up late studying for tests in that house, worried about grades there… I applied to colleges, and waited for my future to come through the mail slot of the front door.
When my parents decided to sell the house and move a few towns over the summer after I graduated high school, I really wasn't sad.  I loved our house and knew how special it was to me and my childhood, but I realized that my life was entering another chapter.
I was about to turn 18, I was heading off to college, and leaving my childhood home behind was just another step toward adulthood for me.  It was time to make new memories in new places.
Six years later, my then-boyfriend would bring me back to that house and propose to me.
Sure, I could have left that part out, but it's part of the house's history for me.
Besides, it was because of this that I was able to see how my childhood home had transformed with its new owners. With the exception of the front porch…
Back on Father's Day in 1994, my parents had me and my siblings each put our handprints in cement squares on our front porch. When the new owners bought our house four years later, they liked that those handprints represented a happy family with a lot of kids (they would go on to have 5), so they kept our handprints there.
In fact, they liked the idea so much that they had each of their 5 kids put their handprints in cement squares on the back patio they built.
In early 2008, I was interviewed by a writer for the Associated Press who was doing a story about how people stay attached to their old homes.
I was again able to go back to my childhood home, and this time an AP photographer took some photos… including one of me putting my hands in my handprints from 1994.
When I put my hands in that familiar mold, I clearly remembered writing my name and the date in the cement 14 years earlier, putting a little smiley face under my name and drawing a heart around a peace sign at the top. (I was 13 years old, what do you want?) It made me smile.
I'm glad the new owners of my old house are as sentimental as I am.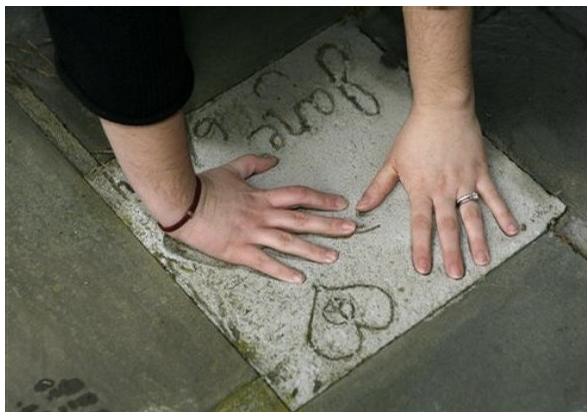 *Pieces of this post were taken from an old post I had written about my childhood home.