If you have ever pumped air into a tire, changed a flat (or at least attempted to) – or even just ridden a bike – you know it can get a little dirty. When I'm on my bike, it's like I'm trying to attract grease. (I'm not.)
My rides as of late have been shorter and at a rather leisurely pace (read: not 3.5 hours long), but even spending less time on the bike hasn't slowed down my grease attraction.
Recently, I was sent some Grease Monkey Wipes to try out. I felt as though creators of this product were kindred spirits of mine when I read that Grease Monkey Wipes were, "created by frustrated cyclists who wanted an easy, portable way to clean up after getting greasy from changing a flat tire."
OK, I may not have mastered changing a flat yet, but doing this…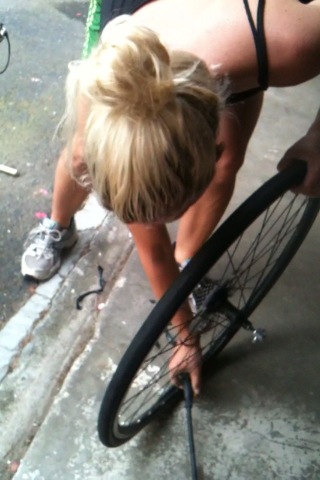 …can get messy.
Like, this kind of messy: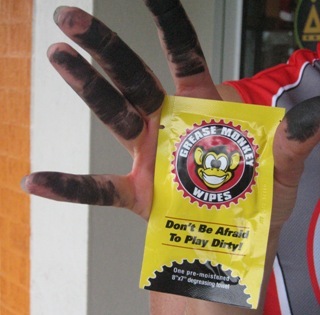 But honestly? These wipes did the trick.
The matter-of-course grease on the insides of my calves after a ride? Quickly and easily wiped off.
The grime on my hands after pumping my tire?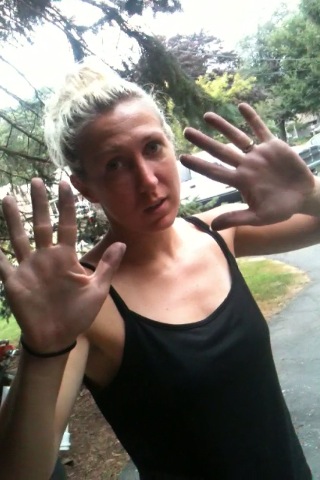 Gone!
So, what exactly are they?
From the site:
"Grease Monkey Wipes are multi-purpse cleaning wipes that use an all natural, citrus formula for heavy duty cleaning. Each wipe removes grease, grime, oil, paint, marker and other stubborn messes from skin and other surfaces without using harsh chemicals."
They do have a pleasing citrus smell, and they work well not just on getting grease off my hands and legs, but off my actual bike, too. My bike is white, so when it gets dirty, it kind of shows. 🙂
To learn more about Grease Monkey Wipes, check out their site here!
*Grease Monkey Wipes sent me samples to review. However, anytime I work with a company, I always give my honest, unbiased opinions, findings, beliefs, or experiences with those products.