On October 5, my countdown began: 30 days until my 30th birthday. In honor of this, on each of the 30 days leading up to my birthday I will recount one memory from the past 30 years… either one that has helped define me, one that makes me laugh, one that makes me think, one that encourages me…  or maybe a little of everything. If possible, I will post a photo to go along with the memory.
It's my 30/30/30 Project: 30 years. 30 memories. 30 days.
Here is my memory for Day #15:
Registration for the 2011 Boston Marathon opened yesterday. In order to register, you were required to have met the qualifying time for your gender/age group in a previous marathon, within a given period of time (i.e. for the 2011 Boston Marathon, you had to have qualified sometime after September 20, 2009).
For the 2010 Boston Marathon (my first Boston), I had qualified at the Cox Sports Marathon in May 2009. Later that year, in October 2009, I again met the qualifying time when I ran the Marine Corps Marathon in D.C., which meant that that time would carry me over to 2011 if I didn't qualify again in 2010 (good thing… because in the only marathon I ran in 2010, I missed qualifying by 9 minutes).
Last October, when registration opened for the 2010 Boston Marathon, I told Brian I wanted to sign up right away in order to secure my spot. He assured me that it wouldn't sell out anytime soon. We had plenty of time. Turns out, he wanted me to hold off for a reason: registering me and paying my entry fee was one of his birthday presents for me. Luckily, my birthday is in early November because by mid-November, Boston was sold out.
The fact that registration filled up so quickly last year meant that a lot of people who put off registering got cut out of competing. So, it was anticipated that this year people would be scrambling to register as soon as registration opened. And that's exactly what happened.
Registration opened at 9:00am EST on October 18, 2010. At 5:03pm that same day (8 hours later), the 2011 Boston Marathon had reached its capacity.
**
I took a little blogging break late last year when I moved to NYC, so I didn't get to share my Marine Corps Marathon experience here at that time. Since that's the race where I qualified for the 2011 Boston Marathon, and since Brian and I are now both officially signed up for Boston, I will share my memories from the 2009 Marine Corps Marathon.
**
The Marine Corps Marathon was set to take place on Sunday, October 25, 2009. Brian took a bus to NYC on Friday night and I went to Port Authority to pick him up. Brian is not a city boy. He had only been to NYC twice before – once for a class trip in middle school and once to help me find an apartment. We walked out of Port Authority into the middle of Times Square and I think he was a little overwhelmed with, well, everything. That's why when I was living in the city and people would ask me, "Do you think your boyfriend will ever move here?" I didn't even have to think for a second about the answer: No!
The next day my parents drove to the city to pick us up, and soon we were all on our way to Washington, D.C. together.
I was nervous about running the marathon because I didn't feel completely prepared for it. My training since I had moved to NYC about 4 weeks earlier had been inconsistent at best. I was doing my long runs on the weekends, but my mid-week runs were… lacking in frequency. I had run my previous marathon in 3:37:10, but I was super prepared for that one. I didn't know what to expect in D.C.
Do you remember when Oprah ran a marathon back in the day? Well, it was the Marine Corps Marathon and the year was 1994. She ran it in 4:29:20.
My goal for this marathon was to beat Oprah's time.
We lucked out with the weather on marathon day. It was partly cloudy and about 60 degrees, with very little wind. I knew I would see my parents at the beginning and the end of the race, but Brian told me he would find me at some point in the middle, too.
We looked at the race route and he decided that after the race began he could make his way over to the mile 9 marker to wait for me to run by. He even bought a bright green pair of shorts so I wouldn't miss him.
I felt great those first 9 miles, but I was definitely excited to see him and get some moral support. I looked for him on both sides of the street as I ran by the mile 9 marker, but I didn't see him anywhere. For the next mile, I kept looking out for him, but by the time I reached the mile 10 marker, I realized I had missed him.
Mile after mile went by, and I figured I would just see everyone, including Brian, at the end of the race.
Then, around mile 23, I heard someone say, "You are very hard to find!" It was Brian.
He had, indeed, been at mile 9, but we missed each other. He had then traversed D.C. – a city he didn't know at all – by foot and by Metro. He found my parents at the end of the route, then ran the course backwards until he found me at mile 23.
Shortly after, we ran by my parents and my brother (my sister-in-law was running the marathon that day, too!), and my mom snapped this photo: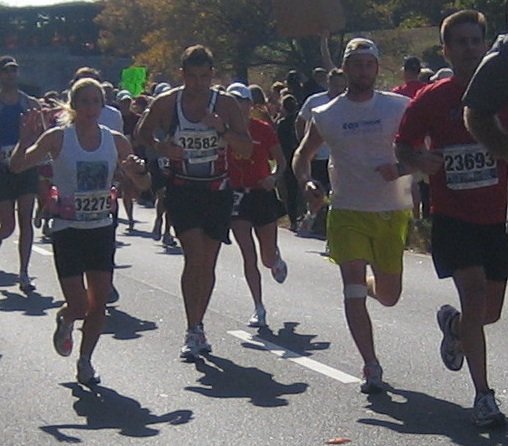 I felt good pretty much the entire race, but seeing Brian at mile 23 definitely gave me a much-needed boost as I entered the final few miles.
I ended up with a time of 3:40:44 – qualifying for Boston by 16 seconds… and yes, beating Oprah.