I'm all about trying out some new boots.  Especially ones that (someone hold me) have body-toning soles.
Wondering where you can find boots like this?  Because seriously, they do exist.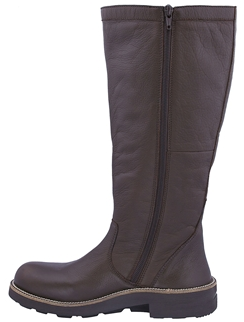 I was sent a pair of Acclaim boots to try out.
As a mom, I'm all about finding comfortable and casual boots that I can wear out and about.  I'm also all about finding boots that have that chic factor.  What I loved about the Acclaim is that they look like riding boots. I paired them with skinny jeans and a cozy sweater wrap and viola!… I loved the look! Classic and simple. The perfect weekend boot with the kids.
But it's beyond the comfort and style that I love about these boots…
They tone.  Actually, all of Earth Footwear shoes have body-toning soles because of their 3.7 incline. This 3.7° incline helps you strengthen and tone your body with every step.  It's like they were made specifically for MOMS. I love it!  Plus, the Acclaim boots have stretchy material behind the adjustable buckle and near the calf so the boots fit more comfortably.
You need to check them out!

And… you need to enter this GIVEAWAY for a FREE PAIR BOOT of EARTH FOOTWEAR BOOTS!!!!!!
Tell me why you need these boots! I will pick a winner on Sunday, October 31st!!
Disclosure: I was sent Earth Footwear boots to review.