I'm BEYOND EXCITED to announce that I'm working with Staples this Holiday Season as one of their Spokespeople.  I'm all about finding some amazing and incredible items for the ones I love (Kindle, camera, notebooks, earbuds, video camera, games, etc)… and Staples is one of my go-to places this season to shop (because I can get all that and more!)!
So… as the Holidays are approaching and before I get going in full mode trying to cross everyone off of my Holiday Shopping List, I get the house organized and DECORATE!  Decorating is one of my favorite things to do this season, it gives me so much happiness and joy to see my sons light up when the house is in full Holiday decor!
Staples is teaming up with Lorie Marrero to help you declutter and destress.  Lorie is a Certified Professional Organizer® and author of The Clutter Diet: The Skinny on Organizing Your Home and Taking Control of Your Life.  She's also the creator of ClutterDiet.com, an innovative program allowing anyone to get expert help at an affordable price.  I grabbed some of Lorie's time to ask her how to stay decluttered and remain destressed through the Holidays.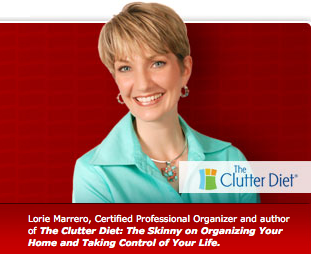 1.   Lorie, what's the best advice you give moms who are utterly overwhelmed at the thought of decorating the home for the holidays?
First, talk to each member of your family about what they love most about the holidays. You might be surprised to hear that it's the small things they love the most, like drinking cocoa out of Santa mugs. They may not even notice some of the things you think are so important that are difficult and time-consuming. Secondly, I really want people to stop comparing their homes to the pictures you see in magazines. The rooms in these photos are fussed over for hours or even days by teams of stylists and decorators, and they are often not realistic for the average homeowner to achieve by themselves. So let's all relax a little with the expectations we set for ourselves! And finally, remember that what goes up must come down, and what is purchased must also be stored. Halls that are decked at some point need to be "undecked." As fun as it is for us to set it all up, in January you'll need to put it all away—somewhere—when all of the holiday joy has passed. So begin with the end in mind and keep it simple for your own sake.
2. As we're unpacking the decorations for the holidays, do you suggest keeping in mind the re-packing from an organizational standpoint?

Absolutely! When you're unpacking, if you see anything that you already know you won't be using, donate it to an organization like Goodwill®, or if it's broken, dispose of it. It's all too easy to just keep mindlessly storing those things year after year. Once you have your rooms set up the way you like them, take a photo. You can store all of the accessories for one room in a box together with the photo placed inside on top to remind you how to set it up and show you what is in each box.

3. How do you suggest storing decorations?
Assuming we are talking about Christmas decorations specifically, there is a tree and all that goes with the tree to decorate it.  Put all of the tree items together, like ornaments, garland, and lights. Then you can store other decorations in bins by room, as I described with the idea of having a photo to guide you. As you are in this process, remember not to store candles or other heat-sensitive items in your attic or garage. One of the best strategies for "undecking" the halls and getting ready to store is to quickly gather and centralize everything in a certain area so you can get the rest of the house looking normal fast. A dining room is great for this, using the table to stage everything for storage. And then, buy some fresh flowers when you're finished, because the house can tend to look bare after you've put it all away!
4. With 4 little boys, organizing around the holidays can get crazy in my house. Do you feel that toys for the kids should be put away throughout the holidays, as not to add to any chaos?
I believe the pre-holiday time, anytime after Halloween, is a time of great opportunity for teaching kids some valuable lessons about giving while getting organized too. Going through their toys with them prepares your toy storage areas to receive all of the new presents they are about to open, and it teaches them that donating is a great way to help other kids who might not have the happiest of holidays. I will never forget the year that my son somewhat painfully gave away his wooden trains. He knew he'd outgrown them and still loved them in a way, but he wanted so much for other kids to have them instead. It was entirely his decision and it was beautiful to see.  So when you go through the toys and pare them down, that helps a lot to keep them out of the way and tame the chaos too.  You can also keep a basket in each room where they play often and quickly throw toys in there to clean up, like little satellite toy box stations apart from the main playroom or bedroom.
5. How do you recommend organizing all of my holiday recipes? I would like a place to keep all of my family favorites and the great ideas that I find in magazines.
The best way to organize recipes, in my opinion, is with binders. You can group all of your holiday recipes into one "Holiday Binder," if you like, and have other sections for things like gift-giving records, storage information about your decorations, and other holiday information.  Or you can just merge all of your recipes together in general with dividers for sections such as "Appetizers," "Main Dishes," "Side Dishes," "Soups," etc.  A great choice for binders like these, that you need to last and will get heavy use, is the BETTER Binders from Staples. I also love their BETTER Dividers, which allow you to slide the tabs and position them the way you want!  I like to use sheet protectors and photo sleeve pages to hold the actual recipes so that you protect them from splatters, and so that you can fit all different sizes of clippings and index cards in without a problem.
6. What's your top organizing tip for the New Year?

I am super-excited about these new Arc customizable notebooks from Staples®, and they are coming out just in time for the New Year.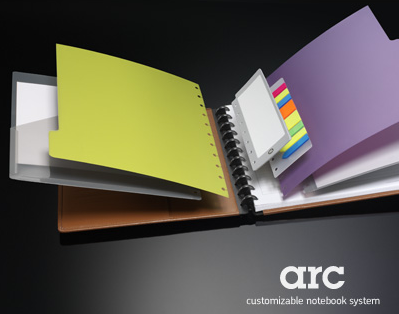 Moms are always asking me about the best way to keep all of their various lists, and this system allows you to create your own notebook and actually take out and move the pages around easily. There are different components like tabbed dividers that you can use to keep information categorized, like lists for tasks, errands, gift ideas, and notes from meetings. You can use the very first page and write something down quickly, then move that page to the right section later. And the designs are beautiful! I think these notebooks are going to be just the answer for many people this year.
http://www.staples.com/sbd/cre/marketing/clutter_diet/sneak_peak.html