Disclosure: This party was sponsored by Orville Redenbacher's
Oscar Night is one of my FAVORITE night's of the year.
I have always stopped everything for Oscar Night… even hosting quite a few parties back in the day (before motherhood) for my friends.   We actually hosted an Oscar Party one year while living in NYC in a studio apartment… that's my true love for this very night.  There's something about dressing up, having fun and getting together for a fun event… it's the perfect opportunity!
And so, in true Oscar style, last night I hosted an Oscar Party at my house – courtesy of Orville Redenbacher's – for my girlfriends.
We had a lot of fun getting ready for my girlfriends to come over… my husband helped me deck this house (inside and out) in true Hollywood style…
1. RED CARPET?  Check.
2. STEP & REPEAT?  Check.
3. GORGEOUS SPREAD OF FOOD? Check. (with LOTS of POPCORN!)
4. Paparazzi? Check. Check!

(Thank you to my husband for helping me figure out how to do this!)
5. CUT-OUTS for the guests to take photos with? LOL… CHECK!
6. LADIES in GOWNS and having FUN… ? CHECK!!!!!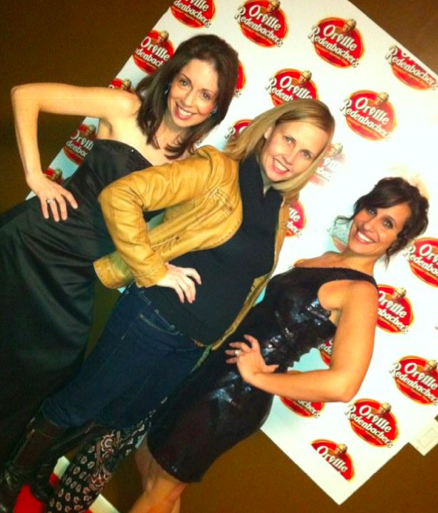 7. Parents come? CHECK!
8. Oscar present? Check!
9. Husband in tux? Check. (and watching the kids!)
10. FUN BY ALL? CHECK! CHECK! CHECK!